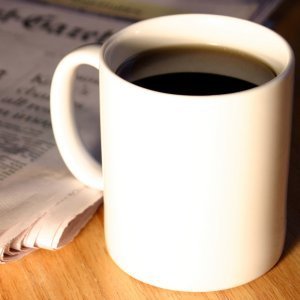 You have just enjoyed a steaming cup of hot coffee. When you move the cup, to your dismay there is a heat mark on the table. This is a guide about removing heat marks from furniture.
Solutions
Share a solution for this guide today!
Questions
Here are questions related to Removing Heat Marks from Furniture.
How do I remove heat marks from an oak dining table?
By Beth S
How do you remove white ring marks from furniture left by placing a hot cup on the surface?
By Lindsay from Caldicot, Monmouthshire
---
Most Recent Answer

By profile.php?id=121829627606/21/2012
I have had good luck masking dings on wood by rubbing a walnut on the surface and then buffing a bit. I tried this once on a water mark (with the white ring) and it worked pretty well. Of course, if you are talking about an antique or something else of potentially high value, I really cannot say that this would be a good answer... There may be a more suitable solution? Best of luck! :)
How do you treat heat marks on stained wooden table?
By Max
---
Most Recent Answer

By TXBetty01/20/2011
This is what I did once; think I read it somewhere. I sanded very lightly with fine grade sandpaper then used Old English Scratch Cover. Worked. I think I tried mayonnaise first and it didn't work.
I used steam on a wood table to take out water marks. It worked wonderful but now I have stains from the steam. I've tried mayonnaise, toothpaste, baking soda, Old English, and wax. Any answers?
By Kathryn from WI
---
Most Recent Answer

By gorbachov04/30/2010
Steam iron marks on teak dining table were removed by laying a white t-shirt doubled over on the marks and then using the steam iron over the area using the steam function! I know it doesn't make sense but it worked. I don't know how or why!
How do I remove white heat stains from polished wood?
---
Most Recent Answer

By Lee (Guest Post)12/09/2008
Cannot believe how well the iron trick worked. I started off with a cool iron over a piece of cloth and worked up in heat going in circular motions until it went away, suppose that was the cowards way. Top tip, saved me a fortune as I was going to call out a french polisher.
I tried the iron and steam treatment to remove white marks on my table and I don't know what happen it failed, and only left more bigger white marks. Help! Has anyone any ideas?
By Lynne
---
Most Recent Answer

By louel5305/02/2013
The white marks are likely from water, so therefore, more white marks mean too much steam. Try another method. I know that my mother removed some water stains from a wooden tray for me, but unfortunately, I don't know what she did. Try googling for info.
I have a wooden kitchen table that has a lacquer finish on it. How do I get white heat spots off? Also I have a solid wood bedroom suite. How do I fix the worn off parts of the stain?

By Smcallum
---
Most Recent Answer

By momangel76 (Guest Post)09/08/2008
I have a black painted dining table, I put something hot on it and it put a big white spot on it! What can I do to get it off?
I bought a used cherry bureau with some areas of small splatter like marks on it. The finish is still shiny and bright; it almost looks like the spots are under the gloss. Any ideas on how to remedy this? I would hate to ruin the finish by using something to pumice it.
By Brie from Keene, NH
I have a very beautifully painted black chest of drawers. It has white marks on it from a steam iron. The paint is matte. How can I remove the white mark?
By Marie from South Africa
Archives
Thrifty Fun has been around so long that many of our pages have been reset several times. Archives are older versions of the page and the feedback that was provided then.
How do you remove white heat marks from furniture?
Nick from Jersey
---
RE: Heat Marks on Wood Furniture
I mixed mayonnaise and cigarette ash, and left it on about an hour. When I wiped it away the white heat ring was gone too. (03/12/2008)
By I need help
RE: Heat Marks on Wood Furniture
Rub with cigarette ash. (03/13/2008)
By Kings Kid
RE: Heat Marks on Wood Furniture
It sounds crazy, but if you use a medium hot iron on a clean white linen tea towel in circular motions this will take out the white heat marks. I was hesitant to try it on my oak table, but figured it looked bad with the marks, so what do I have to lose. It took the marks out beautifully and now my table looks like new. (03/14/2008)
By grammakim
RE: Heat Marks on Wood Furniture
I've used the mayo trick and the ash trick above both with great results. Leave mayo on overnight. (03/24/2008)
How do I get white heat rings out of furniture?
By Wendyann from Albion Park, NSW Australia
---
RE: Heat Marks on Wood Furniture
I have found the best way to get rid of the white rings from heat or moisture on furniture. I have tried, with no luck, using mayonnaise, cigarette ashes, toothpaste, hot iron and towels. What I have found that works is the Mr. Clean Magic Eraser. Dampen the eraser rub gently with the grain of the wood and then polishing as usual.
I happen to like Armor All as a furniture polish, if it's not a bad white mark the Magic Eraser will removed it completely, if it solid white you may have to do it several times. It may leave a bit of a ghost, but that's still better than having a big white mark.
This was not a bad one, you can see on the right it's gone. Now that I know how to fix them nobody's making them. (06/09/2009)
By BABBIE
How can I get a heat spot out of furniture?
By Minnow from MN
How do I safely remove white heat marks from a coffee table?
By Helen from Scotland
---
RE: Heat Marks on Wood Furniture
We have a dark stained wood table with a beautiful painted edging. I used a white bath towel and iron between medium and high. Didn't work until I switched to steam. Then it worked amazingly well. We had come to the conclusion we'd have to get a tablecloth to hide the hideous stain. Now it looks great! (06/21/2010)
By Jenns4x4pu
RE: Heat Marks on Wood Furniture
Try a small amount of mayonnaise with a soft cloth, rub with grain. It worked on my sewing machine cabinet. Hope it works for you. (06/21/2010)
How do I repair a white ring left from a hot cup being set on wood furniture?
By Sondra from NC