Do Shih Tzu dogs shed?

Rebecca from Louisville
By Rebecca
Ad
---
By Annabelle (Guest Post) 06/07/20070 people found this helpful
They shed once from 8-10 months, its so they can loose their baby fur. They dont ever shed after that though, they are hypoallergenic doggies. :) I have a shih-tzu. The only thing with them is they are high maintence need to be bathed once a week, and they need to be brushed daily or their fur will knot. They are prone to gum disease as well so they cant have wet food, and their teeth need to be brushed daily. They need to have their eye goobers cleaned multiple times a day as well or they will get infections in their eyes from rubbing at them. They are cute little dogs though. :)

This is my shih-tzu, Venom.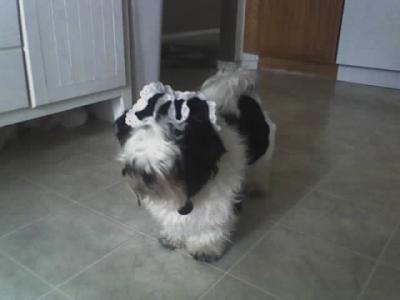 By edieparks (Guest Post) 06/07/20070 people found this helpful
I am a dog groomer.

They shed VERY very little. Mostly if they scratch it out.

edie
By kathy 06/08/20070 people found this helpful
My Shih Tzu does not shed. Mine also is not as high maintance as Annabelles. Louie gets a bath once every 2 weeks and gets groomed (cut) once every two months. We keep his hair short so he doesn't need as much brushing either.
By Vicki (Guest Post) 06/08/20070 people found this helpful
No they do not..
By (Guest Post) 06/09/20070 people found this helpful
my experience with a Shih Tzu is no shedding...we had multiple health concerns and in later life...major skin problems..however, he was SO sweet and smart that I would go through it all again if I could have him back. My husband said ours had all those health problems due to too much in breeding, we got him from a private breeder.
Good luck, start with the teeth when a very small puppy, we tried later in his life and could not do this, get them use to this early on. Mine did not have eye troubles, skin, ears, and stomach trouble for a period of 4 mths.
By Cookie 2 2 01/03/20080 people found this helpful
No They don't shed. I have two they do alot of things but shedding is not one
By michellecreamer 01/18/20080 people found this helpful
I have a 17 week old shih tzu and so far he does not shed. only when I brush him or if he scratches alot from dry skin and some might come out. thats the only time.And really be careful not to bathe too often.I bathe mine 1 time a week and sometimes I think its too often. Their skin is real dry.Use a well moist wash.Brush everyday too.my son is allergic to dogs but we have had pudgy(our shih tzu and he hasnt been sick at all.I hear they are hypo allergenic. well, love and take care of your doggie....mine is spoiled rotten. hehe
By Mickey <3 Ginger 2 3 12/12/20140 people found this helpful
I have a 1 year old Shih Tzu and he does not shed at all.