I know a lot of you ThriftyFunFans have Shih tzus. We have two. One of ours makes this funny noise like he can't breath from time to time. We just try to get him to calm down and it eventually goes away. Does anybody know why they do that? I've heard several theories from allergies, heart problems, etc.
Thanks,
Peggygv from San Antonio, TX

Answers:
Shitzu Breathing Problems
My vet said it's because they have such a short nasal passage, pug nose. Mine tends to choke sometimes so I pat his chest and it seems to help.
Also, they seem to have more allergies than most breeds, too. Mine gets a foot fungus in the summer.
They are precious though, mine will be 18 soon (04/20/2006)

By CEIL ACHS
Shitzu Breathing Problems
My Shih Tzu also has this problem. My daughter said it is a reverse sneeze and a friend called it "herfing". I know this is scary, but it seems to pass with patting her on the back. My Gwendolyn is about 12 years old and her brother, Galileo, is well over 15 now. Both are precious. (04/20/2006)

By Marilyn
Shitzu Breathing Problems
We just took our Shih tzu to the vet. He said it could be 3 things, reversed sneezing, nose mites, or allergies. We are in the process of eliminating these to figure out what is going on. I will keep you updated. (05/11/2006)

By Donna
Shitzu Breathing Problems
We too have two Shitzu's a male and a female brother and sister.
They have this extreme problem you have just described.
It's horrible listening to either of them when they really get going.
The breathing really sounds as if the trachea is collapsing and she can't catch her breath unless we calm her down.
The male does not do it quite as often, but he's just as bad when he gets going.

It only seems to happen when they are either just falling asleep or are already asleep and suddenly awake and they can't catch their breath.
I really don't have an answer, but I am looking for
one too!
The last time she had an attack was just 1/2 hr ago and I usually kind of massage her throat and talk to her and try and calm her down which usually works eventually.
This time by accident I grabbed her lower jaw and slightly opened it trying to open her airway and this had a very positive quick response, so next time I will try this again. I think from reading how many shitzu's have this problem it seems that the trachea collapses and if you open the airway it helps.
Thanks.
(02/05/2007)

By Frank
Shitzu Breathing Problems
Have you had the dogs nostrils checked? Sometimes they are not as open as wide as they should be, which is why air cannot pass through the nostril as well as when the dog is not excited. Simple surgery will correct the problem, but it is not always needed. It is like having a stuffed nose, and not being able to breath correctly. Many dogs have this problem, but often it is not a major problem. (03/30/2007)

By Bell
Shitzu Breathing Problems
We have also had breathing problems with our 11 year old Shitzu. Our vet has used the term reverse sneezing or reverse hiccups. Rubbing the throat with head up helps. It seems to be worse during allergy season (summer). His recent bout led to antibiotics and prednisone to calm his spasms. (07/29/2007)

By Cola
Shitzu Breathing Problems
My vet also said it was reverse sneezing. It was scary when my dog did it the first time. One thing I found to work is to use your fingers and plug it's nose. It makes my dog breath through her mouth and it stops it immediately and she goes on about her way as though nothing has happened. (11/09/2007)

By guest
Shitzu Breathing Problems
My mom just bought a Shitzu yesterday and took to the veterinarian today and he said that many of these dogs have nostrils that are too small. He said that as the dog gets bigger its nostrils will, but many have to have a laser surgery to correct the problem. However this will not happen until it is around six months old. The laser surgery is not suppose to be a big deal and isn't very expensive.
(02/05/2008)

By Cindy
Shitzu Breathing Problems
Our vet told us the most un-evasive method to help our dog with the reverse sneezing is to blow into their nose when they do it and after until they are back to normal.
This forces them to actually focus on their breathing.
(03/23/2008)

By Mike
Shitzu Breathing Problems
I have a 4yr old Shih Tzu. He sometimes starts making an awful snorting noise. My vet is also a Shih Tzu owner. He describes the condition as "reverse sneezing." He suggested cupping my hand over the dog's nose. This will cause him to swallow and this somehow stops the distress. It works for our dog and it works for his. I hope it works for yours! That sound scared the poop out of us the first time it happened. (11/21/2008)

By Jay
Shitzu Breathing Problems
I also have a Shih-Tzu that did the reverse sneeze. My vet said it's nothing to worry about and to just rub her neck to calm her down. She did this at least once a day when she was a puppy. She will be 2 next month and has not had an episode for almost a year. I don't know if she out grew it or because we moved and whatever was bothering her is now gone. It might be allergies. I moved from a carpeted apartment to a house with wood floors. Even my allergies have gotten better! (01/24/2009)

By Riki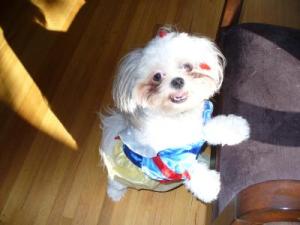 Shitzu Breathing Problems
I suggest that everyone that has a dog research that breed and see the things associated with the breed. I did about a half year research on my Shih-Tzu and investigated the breeders to find one that had purebreds and mine has a 200 dog history of only Shih-Tzu. I asked many questions to find out what I was getting into beforehand knowing that was the fair thing to do for my dog.

I found that when you buy them they should be checked for something that is similar to the bulldog. Soft pallet issues. If there is a soft pallet problem it may need surgery to prevent that flap of skin from blocking the wind pipe. I would suggest that anyone with a Shih-Tzu have a reputable vet check the puppy when it is young to rule that out and not rely on postings about people's other dogs, that is not your dog.

It is a suggestion, but to make sure I would check that first. Once you know that is not the problem then ask your vet what the other possibilities are. I treat my animals as I would my kids and I would not guess or rely on my friend for anything that had to do with their breathing unless I knew for sure she/he was an expert or very, very experienced. That is my suggestion and opinion and you know what they say about them. (02/06/2009)

By another shih-tzu owner