November 1, 2010
2

found this helpful
Best Answer
Is your dog overweight? If so, that causes breathing problems and she need to go on a diet and the breathing problems will go away. If this is not the case then you need to take her to the Vet. It could be something serious. Better to have it checked out.
April 10, 2020
0

found this helpful
I have the wheezing problem with Mollie. My vet said it is a pallet situation. I also cover her nose or gently rub her neck. Talking softly also seems to help.
November 1, 2010
2

found this helpful
Best Answer
My 10 yr old Shih Tzu Darby has the same occasional wheezing, gasping, abnormal breathing noises. Vet said most smushed nosed dogs do this. I just baby him till it's over, about 30 seconds to a minute.
March 23, 2016
0

found this helpful
Thank-you for sharing. It helped with my 11 month shitzu . molly
Can you tell me what helped you with the last question regarding the breathing issue please. Thanks desperately wanting more information
May 30, 2018
0

found this helpful
Maybe read about *Collapsed Trachea*, as it happens in small breeds and actually is quite common. Your vet may have some solutions to help, as I don't think there's anything that can be done.
My little dog had what they call the collapsed trachea issue, and the vet told me that over exertion, or over excitement were triggers, and they were.
August 16, 2018
0

found this helpful
My shiz tau does this as well as if hes gasping for breath,when this happens I put my hand over his nose and he then starts breathing normally,by covering his nose it forces him to breathe normally through his mouth,I was told this happens as they have a small nasel passage,this works for me every time,hope this helps
January 13, 2019
0

found this helpful
Thanks helped my shitzu a lot
January 13, 2019
0

found this helpful
Thanks for the info I'm definitely going to try it
August 23, 2019
0

found this helpful
When my shitz tzu does this I rub her throat and it does go away but it is scary to me and her! But her vet told me she will get over it on her own.
November 2, 2010
2

found this helpful
Best Answer
This sounds a little like "reverse sneezing." It is fairly common. However, I would have a Vet check her out to rule out other possibilities, especially given her age.
October 30, 2017
0

found this helpful
I have a little baby has this problem its killing me it really bothers me and him hes 11 years old hes a Shih Tzu I wish I could find out whats making this happen
February 10, 2011
1

found this helpful
Best Answer
We have a Shitzu and we're pretty sure that what most of these comments are referring to is a snoring-type noise, and we're 99% sure it's caused by Heartburn. i.e. an acid bubble coming up from the dog's stomach, and popping in their nose. Squeeze the nose lightly, and get the dog to drink some water if possible, to clear the acid.
Then, give a little chunk of an antacid tablet. That works. But, what we're concerned about, is different. Like having a stuffed-up nose,+difficult night-breathing, and we'd like to know if anyone has experience with a Shitzu that has had laser or other correction for that.
February 10, 2011
2

found this helpful
Best Answer
I have learned that when either one of my dogs has this problem, I just pick them up and blow in their nose and they stop right away. I think I read that on this site and it seems to do the trick.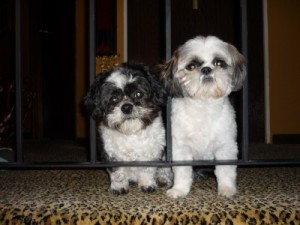 January 4, 2017
0

found this helpful
Yes my vet said the same thing and it does help
April 27, 2018
0

found this helpful
I just tried it
November 2, 2010
0

found this helpful
Hello,
Plese take her to your Veterinarian to rule out any medical problems.
November 8, 2010
0

found this helpful
It's good to know that other shih tzu owners have this same breathing episode with their shih tzus. My baby girl is going on 6 and has been doing this more frequently recently.
We live in Texas and there are a lot of allergies here. I just rub her back and wait for it to go away, but it does scare me.
January 19, 2017
0

found this helpful
That's just happen to us
February 15, 2017
0

found this helpful
This is normal, it's called a reverse sneeze there bodies tighten up and they look like they can't breath . I seen something on you tube about tilt there head back and cover one nostril helps the calm.down my 9 year old does they all the time..
Can you please tell me where I can find the YouTube video to see if its the same thing we experienced the other night. My 8 month old Shorkie was sound asleep on her back and just woke up making a weird noise and gasping for air!
I woke my husband up he blew breaths in her like cpr it seemed to work after about 4 min she never losed consciousness but I was crying and praying Im afraid its going to happen again:( help
April 22, 2012
0

found this helpful
Posted from email:
My shitzu mollie is 6 years old this coming November, she snores really bad and also has acid her breath smells of sick sometimes when she hasn't been sick and I am convinced that she has an acid problem.
She sleeps on the bed and every morning at 4 o'clock without fail she starts grunting and making noises this is besides snoring most of the night, which annoys my husband as he cant sleep and has to get up for work. My dog is very clingy and doesn't like to be on her own so we always let her sleep on the bed I am wondering if she had a operation this may help her as it must be very uncomfortable for her.
angela h.
April 14, 2013
0

found this helpful
My 10 year old Shih Tzu also has breathing problems, but she is constantly sniffing around the floor. I think she gets dust in her nose as I have to clear her nose once in a while.
January 28, 2016
0

found this helpful
Hello my name is Margaret. I have a 5 year old shihtuz name Jazz. I believe he is alergic to the dust in my carpet because I am. He sneezes so I give him a little allergy medicine because he sniffs the carpet. He stops and goes to sleep at night when I give him the meficine. I also believe he's a little over weight. He use to be up at night because he was sneezing so much breathing through his mouth and sneezing. I know I let him eat too much. Almost every thing I eat in addition to his food, but he's still happy and playful.
July 3, 2016
0

found this helpful
Hello, I was thinking the same thing about my 10+ year old Shih Tzu that I recently took in. I don't have any medical history on her so it's difficult to know what may be going on with her, but she has these little episodes where she starts making these squealey snorting type noises while forcibly breathing in & out thru her nose, mouth always closed during, & depending on the length (usually 30-60 seconds or longer) & severity of the episode, she is sumtimes left a little shaken up & needs a few minutes to get up & start walking again or just to move, depending on what was happening at the time. I read your comment & was wondering, how exactly do you go about clearing your Shih Tzu's nose? My Shih Tzu Gracie is also very sniffy that's what got me to wondering the same about her. She also gets these eye crustose & green goo in hereft eye, but she won't let me get it out or put the eye drops in that the vet gave me for her. She didn't make the noise while we were there of course but when I asked about it & described what she does when it's happening, they said it sounds like maybe a reverse sneeze. I've never heard that one before.
November 25, 2017
0

found this helpful
I hold one of those Vicks tubes up to my Shih Tzus' noses, I have three, and that seems to help. Or the jar of Vick's. I make sure not to get the jar close enough to get any on them. And, of course, I tell them that all pretty babies get the snorts.
April 11, 2018
0

found this helpful
What do u do to clear her nose? My shih tzu has allergies, stuffy, running, nose. She sneezes and at times seems to have brearthin problems. We'very been to the vet multiple times since January 2018. The vet prescribed two different antibotics, & a short course of Prednisolone. None of it stopped her symptoms. She has a very flat tiny nose, I've been told that she would likely have breathing problems as she aged. She'll be 9 in November. It breaks my heart to see her like this, I'm trying to adjust but it's been difficult. I hope there's an inexpensive way to fix the problem completely.
June 26, 2014
0

found this helpful
I just rescued a 4-5 year old Shih Tzu male about a week ago. Poor thing has had 3 "breathing" attacks...2 of which were today. His body was totally stiff while he gasped for air. I did try to blow air into his nose but that didn't work. I picked him up and rubbed his belly and under his chin-that didn't work either-started to place him in the car to take to vet and it stopped. Now he's resting. It's pretty scarry. He loves being outside. We're in Oklahoma and it's summertime. May be allergies but will check with the vet on this. I took him for a physical once I brought him home and the vet said he's in real good health. That was a week ago.
February 10, 2016
0

found this helpful
My dog has had these little episodes and I can't remember where I heard this but it shortens the episode - Besides blowing in the dog's nose, try this: take just 2 fingers ant actually cover the dog's nostrils - for some reason when they have this attack they are not aware that breathing through their mouth would ease it - covering the nostrils forces them to open their mouths and get air in. Sometimes he will start again, but I just repeat while soothing him and he opens his mouth again. It's better than watching them suffer through it for sure.
September 15, 2015
0

found this helpful
It's called reverse sneezing , my Shitzu had the same problem last week , she had a bit of a cold and started doing the snorting , also if she got too excited , it lasted about a week , I took her to the vets they gave her a steroid injection but she had got better on her own really . I read up on it and it's mainly the short nosed dogs that have this problem . If you go on U Tube you can see other dogs with the same problem . Hope your dog is better soon
July 25, 2017
0

found this helpful
dogs sometimes get pollen grass seed stuck up their nose especially in the summer let the dog clear it don't offer fuss as dogs react to you if you give attention they may do it all the more. failing that take a phone video with you of it whrn you go to the vets hope this helps.
January 11, 2018
0

found this helpful
My 10 yr old shih tzu Sasha has these fits for years and she has severe allergies and asthma and she is and has been overweight... I thought these attacks were caused from her asthma... and some were caused by that condition...BUT I have learned from vet this is acid reflux now... Sasha licks the air gulpin sometimes, pauses while eating and looks up at me, gets burby between meals and burps up stuff in her mouth between meals and HAS THESE SCARY fits where she is choking and her tounge turns blue as she gasps for air! She is burping up what i now know is stomach acid and it is very PAINFUL and eats away at her. if she is laying down and gets up quickly this acid risies into her throat and causes these breathing fits... The acid rising up from stomach is very painful and eats away at their lil throats..and has to be managed, and stopped before permenant damage is done. I now split Sashas food into 3 smaller meals, and give her 10 mg pepcid every 12 hrs about 30mins to 1 hr before she eats to manage her acid reflux and help her thraot heal... She may be able to get off the pepcid in 4 to 6 weeks, and then just get 3 smaller meals a day... or she may need to stay on the pepcid indefinately...BUT THE PEPCID is HELPING...ALOT ..she is 20 lbs and gets 10 mgs Pepcid, 2 times aday, 12hrs apart.. 30 mins to 1 hr before meals or 1 hr after meals....
January 21, 2018
0

found this helpful
My Little has this and his is A collapsing trachea. This is committed n for this breed. The doctor said not much can be done but hes not in pain.
March 17, 2018
0

found this helpful
My Shih Tzu is 13 years old and he just recently started making the breathing noise I was told by my Vet to hold his nose to make him breathe through his mouth and it definitely does help.