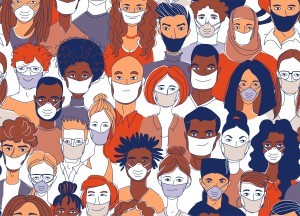 The CDC has finally recommended that people wear a fabric mask when out in public. Fabric being the key here, as they really don't want everyone hoarding medical masks when people in the medical field need these the most and our country is currently in short supply.
If you happen to have a supply of N-95 respirators or surgical masks that are in an unopened package, please consider donating these to people working in the frontlines and making a fabric mask for yourself.
It has been reported that as many as 25% of people with COVID-19 might be asymptomatic. This is why it is important to wear a mask. Wearing a mask helps stop the spread of the disease by containing respiratory droplets released by people who might be sick. Wearing a mask also helps people remember to not touch their face.
There are thousands of tutorials online of making masks from bras, paper towels, tea towels, and even vacuum bags. It can be hard to wade through them all to find one that is best.
There haven't been studies on which mask design works best and so experts are not willing to recommend one mask pattern. There are a few things you should look for in a mask that I have listed below.
Good Facemask Design
The mask should fit well. It should reach above the bridge of the nose and down below your chin.
It should be snug with no places where air can get out.
A wire piece in the top of the mask helps remove the air gaps around the nose.
Three layers of woven cotton or a pattern with a pocket for a filter helps add protection.
Non-woven material such as shop towels, coffee filters, and vacuum bags have been shown to decrease the likelihood of droplets getting through compared to woven fabric. However, caution should be used with vacuum bags as they may contain fiberglass.
It should be easy to breath. You shouldn't be getting lightheaded or wanting to remove the mask in order to breath better.
If the mask is to be reused It is very important to clean them after each use and to hang them in the sun, if possible. There have been some studies where medical staff used fabric masks and they found that cotton can be a breeding ground for bacteria because of the way that it retains moisture. So please make sure you clean them often. If you are planning on making masks for your family it would be best for each person to have a few so that some can be in the wash.
Proper Mask Wearing Tips
Before putting on your mask, wash your hands. Once the mask is on do not pull it off and on. There might be a likelihood of contracting the virus by touching the outside of the mask then touching your face. Wash your hands after removing the mask and putting it in the wash.

Good Mask Patterns
With these things in mind here are a few masks that I found online that I think meet this criteria.
Suay Mask Pattern:

https://suayla.com/pages/suay-community-mask-coalition

Suay has done a lot of work trying to make the best medical mask alternative. They have even tested the filtration abilities of their mask made with different materials. This mask is a bit more difficult, novice sewers beware.


Pleated Fabric Mask with a Pocket for a Filter:

https://leahday.com/pages/how-to-make-a-face-mask-free-pattern

No-Sew Mask Made From Shop Towels:

Shop towels are made from non woven polyester which have shown to have the better filtration capabilities than woven fabrics such cotton which is highly breathable. It has been suggested that you could even use one of these towels as an insert to a cotton mask. Here is one video I found that uses these towels to make a no-sew mask.

Fu Face Mask

I like this design because it forms to the face well.

https://freesewing.org/blog/facemask-frenzy/
Alternative Mask Ideas
When you can't make a mask, there are a few things you can do that may be helpful and better than nothing.
Folded Bandana Mask Attosa shared a way to fold a bandana mask here.
Scarf: You can wear a scarf around your face.

Neck Gator:You can use a Neck Gator: Neck Gator on Amazon (Affiliate Link)

Bandana: You can tie a bandana around your head like an outlaw.

T-shirt: The CDC shared a way to cut a t-shirt to make a quick mask here.
What mask designs have you liked? Share them below.