I began walking again, to counteract the shelter in place order in our state. We can walk our pets, do any essential things and such but nothing else. So, while I can keep my brain sane with crafts, I have to keep my body as fit as I can get it, plus get some fresh air.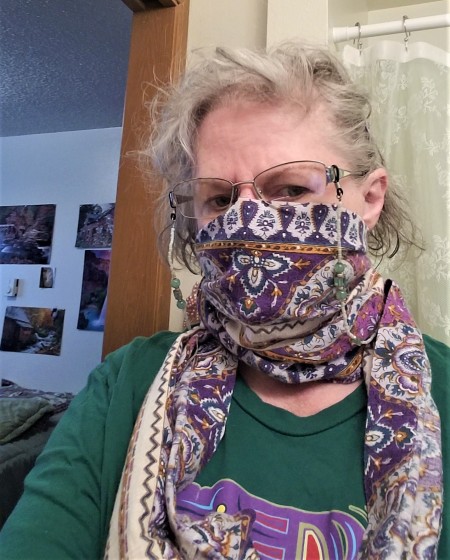 Read More...

I have been looking for a bandana to use for the face mask that they say everyone needs to wear for now in our area. Everytime I find them online and then go to the store they are out of them.
I am not good at sewing so a lot of people around here are using a bandana. Where do I find them?
Answers
April 27, 2020
0

found this helpful
You don't need a bandana as such. Any tightly woven cotton fabric will do. If you have old sheets that are at least 250-thread count, they will work. Also if you can find men's handkerchiefs, that will work.
The main reason bandanas are recommended is they are tightly woven and measure about 12 inches by 12 inches. That is the size square you want to work with to make a no-sew folded mask. Hope this helps.

Ana
Bronze Post Medal for All Time! 140 Posts
April 27, 2020
0

found this helpful
Try stores like Michael's , Target, Dollar stores ,Amazon, eBay. Most of these places you can order online and have it sent to your home ,or choose store pick up. Often with store pick up your order is reserved just for you. You drive up and they bring to you if this is available in your town!
April 28, 2020
0

found this helpful
I dont know if you have a PARTY CITY near where you live, but, they were selling it by kits.
Variety of colors (pink, red, blue, black, yellow, white, green, orange, etc) with rubbers bands. I think it was a total of 10 individual bandanas with 20 bands per kit. I cant remember the cost but its would be between $10-$20.
If there isnt a PC nearby, they can probably mail it to you if you order it online.
Hope this helped. Good luck & stay safe! ALOHA!

Jess
Silver Post Medal for All Time! 267 Posts
April 28, 2020
0

found this helpful
I have seen mask designs that are made just with a t-shirt and rubber bands and another that uses a mismatched sock. That one is no sew and looks very easy. Tea towels are also highly recommended.

poehere
Bronze Post Medal for All Time! 105 Posts
April 28, 2020
0

found this helpful
If you are forced to wear a task mask then at least get one that will protect you and help you. Bandanas are not that safe and can't really protect you that much. If you can't sew and need a face mask they have some tape that can be used to iron on to make your seams.
I would do this and make a nice mask that can protect you from this virus and not just wear a bandana on your face.

Pghgirl40
Bronze Feedback Medal for All Time! 196 Feedbacks
April 28, 2020
0

found this helpful
The CDC has this no sew (scroll down) post on how to make them from tee shirts:
www.cdc.gov/.../diy-cloth-face-coverings.html
As long as the tee shirt is clean and has no holes, there is no need to use a new one, gently worn will be fine.
haydemon
Gold Answer Medal for All Time! 617 Answers
April 29, 2020
0

found this helpful
I would go to Goodwill or another thrift store, if you can't find them in Targets or other stores.
YOu might just use a shirt, cut it up, and make your own, even if you don't have a sewing machine to fix the edges.
November 19, 2020
0

found this helpful
You can cut the legs of a pair of jogging pants off .They already have the elastic in the bottom of the legs..The fit over the head easily ..
Answer

this Question