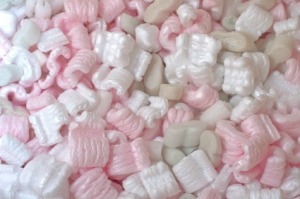 This loose packing material can be reused for shipping and for a variety of other things. This guide is about uses for packing peanuts.
Ad
---
Solutions: Uses for Packing Peanuts
Read and rate the best solutions below by giving them a "thumbs up".
Like many others I use packing peanuts in my flower containers. I don't have to use as much potting soil, and it keeps my containers lighter. This year I went to go change out the soil in my biggest container. I had to hand pick out each peanut from the soil. What a chore! When I went to replace the peanuts this time, I put them in an onion net bag and tied the bag off. Next time I go to change out the potting soil it will be a snap!

By Liz from New Baden, IL
Recyclable packing peanuts made from peanut starch make a great sculpting medium for an activity for kids. Wet the ends and press them together to build fantastic sculptures. I got this idea when I worked at a children's museum.
By Vaylmer from Boston, MA
While teaching visual arts and elementary math, packing peanuts were desirable freebies from my students' parents. They served as visual counters for math operations. With art-on-a shoestring budgets, a frugal teacher can use them for multiple projects in painting, printing, texture, and gluing.
If you have extra packing peanuts that you want to reuse, then you can put them between your toes while polishing and doing your pedicure.
By Robyn [373]
Save all the styrofoam peanuts you get in packages. When storing potatoes, apples, onions or fruit, just sprinkle the peanuts between layers to keep the items separated and allow air circulation.

By Ted from Leavenworth, WA
You can use a large needle with fishing line to string together packing peanuts for draping over trees in the yard at Christmas. It won't hurt the tree, but if you live where there is significant wind, forget it. You can also use them indoors on the Christmas tree.

By Great Granny Vi
Do you have some Styrofoam packaging peanuts lying around? String them together using a large needle and sturdy thread (or fishing line). You can even spruce them up a bit by painting the peanuts in Christmas colors.
Save those postal peanuts! A nice decoration can be made from them.
Give a "thumbs up" to the solution that worked the best! Do you have a better solution? Click here to share it!
Questions
Here are questions related to Uses for Packing Peanuts.
Where can I purchase the non-biodegradable, non-dissolvable packing peanuts for large planters?
By Deanna H
AnswerWas this interesting? Yes No
Ad
---
---
Most Recent Answer
By Grandma J 54 1,040 02/17/2013 Flag
Stationery stores, UPS, etc BUT I would check with local drug stores, or shops which get in alot of glassware to sell, etc. You'd be surprised at what they are willing to give instead of throwing out. Also, check your local recycling center. They may have an idea for you to check out.
Certain companies I order from use TOO LARGE of boxes to send, and pack the rest with styro. So I bag them up, let friends know of them, and recycle them out that way.
By the way, I also use them for planters too.
---
I placed packing peanuts in my plants, now they emit a horrible odor. What can I do?
Hardiness Zone: 10b
By Lev from Sarasota, FL
AnswerWas this interesting? Yes No
Ad
---
---
Most Recent Answer
By JazzyMe 12 79 05/14/2012 Flag
Yes. Remove them from the pot and all the soil. Toss it in a hazardous waste receptacle. Wash the pot 1st with hot water and soap. Then use a scrub brush and scrub the inside vigorously with vinegar. Sprinkle in some baking soda, scrub some more.

Wash again with just hot water (no soap). Let dry in hot sun. Take plant and gently rinse off ALL the soil, you now have a bare-root plant. Trim off any really sick looking branches and leaves closely so there are no little "nubs". Fill the pot with "Potting Mix", not "Garden Soil" as Potting soil is designed for potted plants.

Garden soil is fine, but Potting Mix has special things that help both in maintaining water in the soil yet designed to let excess drain away properly. Also for an ill plant it is fortified with a low/gentle level of fertilizer for starting plants off on a new life. If you want something for drainage in the bottom of the pot, use clean pebbles about twice the size of peas. These can also be bought at the nursery.
---
Could I crush the packing material for making a potting soil? Will this packing material be dissolved in water, making a mess?
By Sabine Wei
Does anyone know where I can find a pattern for a Kansas City Royals baseball tissue box cover made out of plastic canvas?
By Linda from Kansas City,MO
Archives
Thrifty Fun has been around so long that many of our pages have been reset several times. Archives are older versions of the page and the comments that were provided then.
Looking for uses for packing peanuts? Use them to create a drainage layer in the bottom of your planter. This is wonderful for large planters because it helps keep them lighter when you need to move them. Make sure to use styrofoam peanuts. Biodegradable peanuts are great, but they will not work as a drainage layer since they will decompose.
RE: Packing Peanuts For House Plants
Is it true that biodegradable packing peanuts make a good fertilizer, (organic?)

Diane
RE: Packing Peanuts For House Plants
Although I cannot vouch for this myself, I have read somewhere on the web that one can identify biodegradable "packing peanuts" by their green color. Non-biodegradable "peanuts" are, supposedly, white.

Ralph
RE: Packing Peanuts For House Plants
Way back in the 70's I used the the packing peanuts in pots that hung in the neat macrame pot hangers, to keep them from being too heavy. I also put them in the kid's beanbag chairs. The bags seemed to go flat after a while, and that add some more puff to them. Broken up styrofoam packing can be used in both planter and beanbags!! Worked well for us and it was cheap!!

Post by trashcrafter
RE: Packing Peanuts For House Plants
This is a great idea that I've used several years now. I did find that if you pack the "peanuts" in an old pantyhose leg, it saves picking out all those "peanuts" when you repot or empty pots in the fall.

Julia
To lighten the weight of a planter (indoors or outside), fill the bottom quarter of your pot or planter with packing peanuts or Styrofoam. This is really a four in one tip:
It lightens the total weight.
It enables you to "stretch"' your potting soil.
It is good for the roots of plants.
It aids drainage.
And it keeps that expanded foam out of your local landfill.

Regards- Farmerella from rural WI
Feedback: