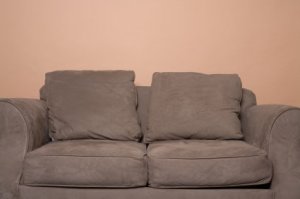 Microfiber is a favorite upholstery for furniture. Because it is generally used on couches and chairs, it is subjected to a lot of use and abuse. This is a guide about cleaning microfiber furniture.
Ad
---
Solutions: Cleaning Microfiber Furniture
Read and rate the best solutions below by giving them a "thumbs up".
Microfiber is polyester based so most things can be used to clean polyester. If your couch has a tag: W means you can use water based cleaner, S means you can use a solvent cleaner, S-W means you can use both, and X means vacuum only.
For S-W fabrics: Use a mixture of rubbing alcohol and water in equal parts, or vodka (a clear alcohol). The fabric usually becomes hard after cleaning, so gently scrub with a soft scrub brush. It will fluff up the fabric to make it soft again.
By coville123 from Brockville, Ontario
Give a "thumbs up" to the solution that worked the best! Do you have a better solution? Click here to share it!
Questions
Here are questions related to Cleaning Microfiber Furniture.
How can I clean microfiber furniture? Most of the stain is skin oil, but there are other spills that I don't know what they are. I don't want to ruin the fabric.
By Michelle from USA
Ad
---
---
Most Recent Answer

By Home Office Furnishings05/04/2011
Believe it or not I have used those small packages on single "Shout" stain cleaners. Those things seem to work on everything. Good luck.
How do you clean a dried pop stain off of a microfiber couch?
By Tiffany from Casper, WY
Ad
---
---
Most Recent Answer

By Carly St.Clair [4]05/12/2010
50/50 vinegar and water

if still there, sprinkle with baking soda and then a little vinegar
It will fizz and get it out. Rinse well or it will bleach over time.
I need info on how to clean a cream microsuede couch and love seat.
By Freda from Portsmouth, VA
---
Most Recent Answer

By Judie04/10/2010
After working for La-Z-Boy furniture, I can tell you the only thing ever recommended was soap & warm water. The cleaning code for Microfiber is W (water). Be very careful with chemicals and solvents, they can destroy the fabric. Never go near Microfiber with something like nail polish remover, it will eat it up.
Can anyone tell me how to get Carmex (lip balm) out of dark green micro fiber sofa. She tried a shampooer and it only made it worse. It is a large area as my niece's daughter smeared it all over herself and then rolled on the couch. Thanks.
By Nancy from Mokena, IL
---
Most Recent Answer

By leanne chaisson [44]11/25/2009
Nancy,
I am assuming that lip balm is wax based, if so an old issue of good housekeeping magazine suggested using an iron and kraft paper to get wax out of fabric. I would suggest using a low heat on the back of the couch as I am not familiar with what microfibre fabric is, if it does not harm the fabric it would be worth trying the above suggestion on a small corner of the stain, and deciding whether or not to continue
Hope this helps. Hugs, Cinnamon

I am looking for a homemade cleaner to clean my microfiber couch. I need suggestions to remove spots and pet odors from my microfiber couch.
By GK
---
Most Recent Answer

By tpoldberg08/23/2012
I used a microfiber cloth on mine worked great. My sister said she used a magic eraser and it worked great too.
I have a few ring stains on my micro fiber couch (from my little one's sippy cup). So far I have tried Resolve upholstery cleaner, but that did not help. Does anyone have a better idea?
By Erin J. from Chicago, IL
---
Most Recent Answer

By washingtonapple03/21/2012
Try baby wipes. What color is it?
Our love seat and couch is microfiber and the whole thing needs to be cleaned. The arms are especially stained. Any good ideas to clean the entire couch and love seat?
By Marianne
---
Most Recent Answer

By redhatterb [1]02/24/2012
I would probably have it professionally cleaned, that way you wouldn't end up with mixed spots and stains. A solid color is awfully hard to keep clean and if in the cleaning process it gets more damp in some spots, you might get uneven degrees of clean.
I have the new microfiber on my chair and it collects every crumb and piece of lint! Is there any way to prevent this or clean it easily when it collects crumbs.
By Denise C.
---
Most Recent Answer

By Linda Lou Whitfield F. [6]10/31/2011
I hate my microfiber recliner. I have purchased a cover for it, but I did use window spray on a rag to clean for a while. But the dirt just got worse and worse. I'll never buy microfiber again!
Can I use Oxiclean on my microfiber couch?
By Renee
---
Most Recent Answer

By Marti S. [20]06/03/2011
Don't know about Oxiclean, but on ours we use rubbing alcohol, the higher percentage the better. Dries quickly, and doesn't stain as water would.
I have a male dog that likes to get on my microfiber couch. At times he leaves little white stains. How can I get this to come out? All I have tried was water and dish detergent, that did nothing. Please help.
By Tracy from WI
---
Most Recent Answer

By MellyMel 02/06/2011
Try babywipes. I prefer huggies! I have a bulldog and he drools all over the couch. Somehow his eye boogies get on there too. Baby wipes have taken blood out of the couch too!
I have a microfiber sofa and love seat, that are two months old. The color is beige. I have no problems getting stains out. My husband has a woodshop and sawdust gets on the furniture. How can I get it off? I have tried to vacuum it, but it just does not come off. I have to take a damp towel and almost beat the sofa to make the dust come off. My cushions are not removable. Any help would be appreciated.
By RachelleD from LA
---
Most Recent Answer

By Denise C. [2]10/29/2011
Have you figured out any thing? I have a similar problem.
How do I keep off white microfiber furniture from getting dirty and stained?
By Phyllis from Lawton, OK
---
Most Recent Answer

By kathleen williams [23]04/18/2010
Step 1 Vacuum the furniture thoroughly to remove any dust, debris or sharp items that might tear or damage the furniture.

Step 2 Dampen a white cloth with a small amount of dish soap and gently swirl it over any marks, stains or food spots. Take a clean, dry white cloth and briskly rub the newly cleaned area, circling widely into the already dry areas to blend the two together. Repeat occasionally until the furniture is completely dry.

Step 3 Remove food that is stuck to the fabric by gently rubbing until the food dissolves. Do not try to pry or pick it off as this will tear the fabric, causing permanent damage to the furniture.

Step 4 Use a baby wipe to remove ink, crayons, marker and other tough stains. Baby wipes will also clean away water rings left by washing with straight water or an incorrect detergent.

Step 5 Wet a magic eraser and ring out excess moisture to remove sticky substances like gum and candy.

Step 6 Keep your microfiber furniture clean with occasional cleansing with the fabric attachment for your steam cleaner. If you don't have a steam cleaner, you can rent one. Good luck.
Can I use OxiCLean on a microfiber sofa. They are brown and they have black water ring stains on them.

Lourdes from New York
---
Most Recent Answer

By Cyinda [214]12/15/2007
I first t