How do I get ink (black) out of my brand new microfiber sectional couch without harming it?
By cody from Salt Lake City, UT
Answers
March 12, 2010
0

found this helpful
My daughter colored on my micro fiber sofa with a black sharpie, I got it out (all of it)with a tooth brush and 409 and blotting with paper towels. it took a little effort but it came out. Love my micro fiber there has not been a stain I could not get out. Only wish my carpet was the same way. Good Luck
April 1, 2011
0

found this helpful
I want to thank everyone for their suggestions on how to get ink out of the microfiber couch. We just purchased a brand new set and while we're paranoid that the little ones will ruin it, I accidentally got ink on it. I knew my husband would flip (he wasn't home at the time) and I ran online and came across this website.
I had read that rubbing alcohol and hand sanitizer would work, so i was getting ready to try that until somebody suggested a baby wipe. I pulled one out and began rubbing the ink spot and it came right out!! So thank you, thank you, thank you! You're a lifesaver.
January 10, 2014
0

found this helpful
On our medium brown microfiber couch, my son saturated(!) black ballpoint pen in several spots - probably about 8 inches in diameter total. It came right out with aerosol hair spray rubbed in with a dry white cloth. Amazing!
November 5, 2014
0

found this helpful
I just made a 1/2 inch ink line on my micro suede (microsuede) couch. This page came up first on google. After reading the advice, I ripped a small square off the cleansing wipe I have in the bathroom and dabbed the ink line. It came out almost instantly with no effort. Looks like nothing ever happened.
Thanks Thrifty Fun. I'm going to browse your site now.
December 12, 2015
0

found this helpful
thank you so much!!! i used the baby wipe
and it worked like a charm!
Answer

this Question

...
Request:
How can I get ink out of my microfiber sofa?
Marjorie from Staten Island, NY
Answers:
There is a cleaner just for microfiber that we received from Rooms to go when we purchased our furniture but you can also get it from bed bath and beyond. You just place the cleaner on there an rub it out with a towel, it should disappear. I wrote on the couch accidentally while writing thank you notes, it came right out.
Post by amy (Guest Post)
Read More Comments
I have a microfiber couch, my granddaughter got purple marker on it, the company I bought it from told me to use baby shampoo to clean it. I have tried that and also tried a small amount of alcohol, but neither of these is bringing the marker off, any suggestions? Please help.

Thank you.

Shar02822 from Cynthiana, KY

Answers:
Ink on Microfiber Furniture
We spent $3000 on a microfiber sectional and recliner 9 months ago with our tax return. My 2 year old got up the other day and found his brother's pens for school and colored on every cushion of the couch, love seat, and wedge with a blue ballpoint pen. We tried the cleaner for heavy soiling that Sofa Mart gave us as part of the warranty and it didn't do anything.
A baby wipe lightened it with a lot of scrubbing, but didn't make it go away. We didn't have any rubbing alcohol so we tried some Germ-x and that got rid of a line so hubby went and bought a bottle of 91% alcohol (probably works better than the standard 70% that used to be all you could buy, the 91% has a red label due to its flammability).
That got it up with minimal scrubbing. I gave all the cushions a once-over with the Sofa Mart stuff once I got all the ink up with alcohol and when everything was dry I couldn't tell where a single line had been and I was looking hard. Thanks to everyone for the info and tips, you have saved my furniture and possibly my marriage since hubby was sitting on the couch "watching" the 2 year old while he did it. The pic shows the difference in one of the cushions, you can even see a wet spot where we'd been trying to get it off. (11/02/2009)
By DixieKGirl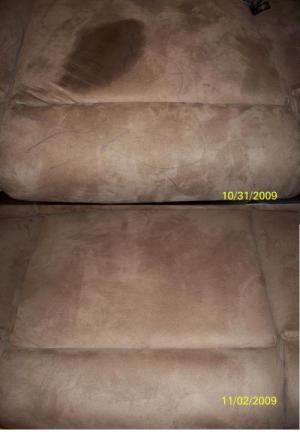 Read More Comments
My son colored our cream microfiber couch. I heard Windex will remove ink, but how do I go about cleaning it? Scrub with a washcloth? Blot?

By Tonya from Spokane

Answers:
Ink on Microfiber Furniture
Always blot. Spray and blot. Safest approach to remove anything. When you see progress, you might try rubbing a spot about half the size of a fingerprint and watch results. Rubbing can grind stain, ink, etc. into fibers which are twisted into thread and woven into fabric. Think about removing a stain from the middle of a rope or piece of yarn. (02/04/2010)

By PENNY K
Ink on Microfiber Furniture
Test your microfiber sofa for colorfastness first by dabbing a bit of either rubbing alcohol or hand sanitizer onto an inconspicuous part of your sofa.

Dampen a portion of the cloth with rubbing alcohol or hand sanitizer.

Rub the stain with the dampened cloth, working from the outside in. When one section of your cloth becomes dark with ink, dampen another section with more rubbing alcohol or hand sanitizer and continue until the ink is removed.

Blot out the rubbing alcohol or hand sanitizer with a dry portion of your cloth or a new cloth.


Tips and Warnings

You can substitute clear vodka for the rubbing alcohol or hand sanitizer. The key is the alcohol, so any product containing mostly or all alcohol will do the trick so long as it's clear. If you don't work from the outside in on your ink stain, you run the risk of spreading the stain further.

http://www.ehow.com/how_5626876_remove-pen-marks-microfiber-sofa.html
Good luck. (02/04/2010)


By Robyn Fed