Belts can be used in crafting rather than being discarded or donated. This is a guide about craft uses for belts.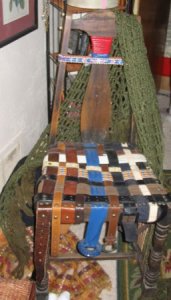 Make a chair seat from old belts! I used as many leather belts as I got after my mom died a couple years ago and wove them onto where the seat was missing from this chair. I secured each end of the belt onto the wood with upholstery tacks.

By melody_yesterday from Sedalia, MO
By Michael 1
Chair Seat Made From Belts
Chair
I was in a local second hand store and saw an awesome wood framed chair; they removed the old caning that formed the seat and weaved old belts onto the seat frame for a new seat. All the belt buckles were on the bottom so all you saw was the leather part of the belt. It really looked nice and it was very sturdy.
By Marn
Shoulder Straps for Purses
I've used them to make shoulder straps or purse handles for handmade bags. I also made one into a collar for my dog when his turned up missing.
By LadyLeonesse
Western Artwork
Find or make some flat wood picture frames and then cover them with cut-up belts that you have mitered the edges on. It makes for a nice western look frame.
By Kendy
Macramé
Borrow a book on macrame crafts from your local library. That's where I found macrame belts using the leftover belt hardware. Great way to recycle, and makes a good project for Boy Scouts to use their knot tying skills. The naturally formed "loops" in macrame belts hold carabiniere, flashlights, knives in knife-cases, compasses, etc.
By gidget
Post your ideas...
How can I use my husband's leather belt?
By Richa
---
Most Recent Answer
November 6, 2014
Make a bag and use it for the strap; could be a purse, book bag, shopper; handles on a basket or tray. Wrap around a vase or planter.
Use as if were ribbon or fabric trim on curtains, pillows, furniture, frames.
Make a fashionable draft stopper for a door or window.
Cut it down to a pet collar.
Coil it onto a shadow box frame and hang it on the wall.
---