I live in an old home and many times the plastered walls have cracks in them. Here is an alternative if the cracks keep showing up soon after you paint. I "papered" my walls in brown paper and rosin paper that have been painted.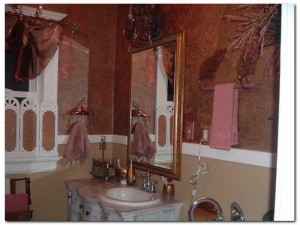 I wanted to go with a copper theme and have always wanted an elegant bathroom so I took pieces of brown craft paper and tore them into irregular pieces, saving some of the ones with a straight edge for where the ceiling and the wall meet. I then crumpled them all up very hard and then semi smoothed them out so that you could clearly see the wrinkles in them.
I used a sponge brush and brushed on copper leaf paint on some, barely touching the surface of the wrinkles and then used gold spray paint on others. Let them dry (doesn't take long at all) and then apply them with wallpaper paste. The wall should be sized first.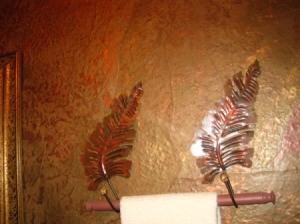 I already have a claw foot tub and my kids inserted a sink into a dresser that I faux painted and applied copper paint stenciling. I had rough plastered walls so the roughness of the walls added to the dimension of the treatment. My curtains are copper colored and I made a shower curtain with some copper color in it and put copper colored beading on the edges. I painted the bottom of my claw foot bathtub brown.
By Elaine from Belle Plaine, IA