I am looking for a 1960's wooden roller exercise machine in good shape. If you know where I can find one or suggestions on where to look I would appreciate it. Thanks
By Vivian
Ad
---
Recent Answers
Here are the recent answer to this question.

By chad sluder12/14/2014
I have one for sale.

By stev2all200012/19/2013
I have this machine for sale.
You can contact me I live in San Diego, CA
6194337623
Steve

By ChanJ04/21/2011
I have one. Check it out on the los Angeles craigslist. Title "1960's Exercise Machine"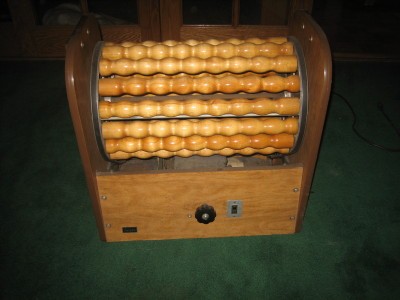 Questions
Here are questions related to Looking for Older Roller Workout Machine.
Is there anybody out there have one of these? It is named Walton I believe and looks like a barrel. I am trying to find one.
Thanks for your help.
By Doris B.
I am looking to purchase the 1970's wooden roller exercise machine, and the exercise machine with the belts made by Walton. Sears sold them. Thank you.
By Kelly
---
Most Recent Answer

By aroragirl8201/02/2014
I am interested in buying your wooden roller machine. Can you tell me the price? I live in Atlanta.
I am looking for a 1960's wooden roller exercise machine, in good working order. Does anyone know how I might find one?
By Tamm from Canon City, CO
---
Most Recent Answer

By cathypohl11/10/2014
Are you willing to sell your machine, if so how much? I had one but when my mother passed away her 2nd husband didn't give us what belong to us so I've been looking for one since she past away 10 years ago. I had loaned her my machine and never could get it back since I lost my mom. Thank you, Cathy
I am looking for an older wooden roller workout machine. They were popular during the 1960-70s. It must be in working condition, I intend to use it. Any ideas where I can find one?
By Vivian L
---
Most Recent Answer

By Cheryl06/01/2011
Try ebay or check newspaper ads, call sporting goods store to see if they have a similar machine.
Archives
Thrifty Fun has been around so long that many of our pages have been reset several times. Archives are older versions of the page and the feedback that was provided then.
I'm looking for one of those old roller work out machines, the ones that had wooden rollers that rotated in a circle and you would lean against them to "vibrate" your "chubby" areas. Not the exercise belt. If you know of one let me know.
By Kimobean43
---
Answer This Question
Add your voice to the conversation. Click here to answer this question.