I am looking for a 1960's wooden roller exercise machine in good shape. If you know where I can find one or suggestions on where to look I would appreciate it. Thanks
By Vivian
Ad
---
By ChanJ 1 04/21/20110 people found this helpful
I have one. Check it out on the los Angeles craigslist. Title "1960's Exercise Machine"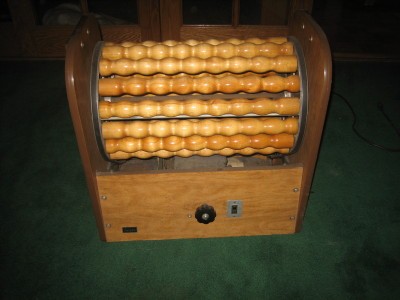 ---
By stev2all2000 2 12/19/20130 people found this helpful
I have this machine for sale.
You can contact me I live in San Diego, CA
6194337623
Steve
By chad sluder 1 12/14/20140 people found this helpful
I have one for sale.
---
By Jeffrey Johnson 1 02/06/20150 people found this helpful
I have a vintage Sears 28870 electric massage roller that is in very good condition. If still looking for or interested, please send email to jeffreyjohnson365 AT gmail.com
---
Archives
Thrifty Fun has been around so long that many of our pages have been reset several times. Archives are older versions of the page and the comments that were provided then.
I'm looking for one of those old roller work out machines, the ones that had wooden rollers that rotated in a circle and you would lean against them to "vibrate" your "chubby" areas. Not the exercise belt. If you know of one let me know.
By Kimobean43
Feedback: