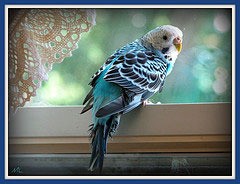 Violet is a parakeet. She is young, not sure, less than a year. I got her at Petsmart on July 12, 2008.
She likes to look out the window and watch what is going on outside, and sing and fly around.
I'm looking for tips on best way to get her finger trained. We have several books, but would like to get additional tips from experienced parakeet owners.
By Mary Lou from MD
By Mary Lou