If your freshly washed clothes have a bad or sour smell, some sleuthing may be called for to determine the cause. This is a guide about when clothes smell bad after washing.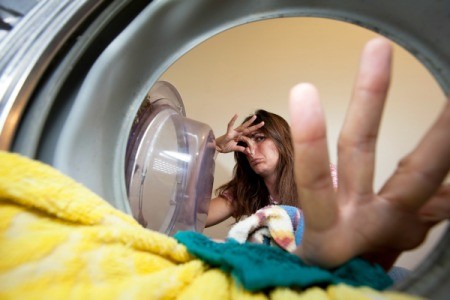 My clothes smell real bad. I have tried washing them twice each time I visit the laundromat. I followed your instructions regarding vinegar and today when I on the train everyone started sniffing around me. When my fellow employees past my desk the smell themselves. I am desperate and need advice asap.

I sometimes ask people if I smell funny, they say no but it doesn't sound sincere. My sense of smell is poor so I can't even tell if I do smell funny. I used to wash my clothes 2-3 times a week. I cry sometimes because I don't know what to do. I know its not B.O, my clothes just smell sour. I am afraid to wear perfume.

I am becoming more depressed every day. Today I went straight to the nearest clothing store and purchased a whole outfit and then on my lunch break went out and purchased bras because I noticed they smell really bad. Please help me or I might just lose my job.

Debbie from NY
---
Most Recent Answer
October 16, 2015
Hi Debbie,
Look into colloidal silver. 2 cups of 10 ppm colloidal silver added to wash cycle and/or rinse cycle will disinfect clothing.
The problem is that today, natural (less harsh and less chemical) laundry detergents are not killing the bacteria during the wash. This, plus using cold wash temps (to prevent fading) are creating a breeding ground for bacteria and mildew transfer between clothes.
You can buy colloidal silver (8 oz, 16oz, 32oz, etc). Or you can buy a generator and make your own. Just google "Colloidal Silver in Laundry."
---
By Deborah 2
I have some foul smelling clothes. I tried vinegar, fabreeze, lestoil, baking soda the works. I have to wash my clothes 2 times a week and the smell is still there. Any ideas.

Deborah from NYC
---
Most Recent Answer
October 21, 2015
Actually, after further experimentation the colloidal silver doesn't appear to be a viable option. It does some disinfecting, but not good in comparison to ozone.
You can buy a moderately priced ozone generator from as little as $50-250. Wash clothes as normal, run through dryer (as normal), then use ozone generator on dried clothes.
The ones with a hose and tube stone for inserting into air tight container will allow you to put your clothes (from dryer) in a trash bag or plastic tub, insert the ozone tube, tie up the bag (so ozone doesn't escape), then run the generator for a disinfecting cycle (usually 30 mins).
Ozone kills the fungus and mildew (that survived the washing process by oxidizing "burning" them away). Ozone is 3,000 times the power of chlorine (bleach). This is useful, because "color" garments would otherwise fade with liquid bleach. Ozone uses simply O3 (extra oxygen molecule) and won't fade (as long as you apply to dry clothes).
---
Sometimes I forget I have a load of wash in the washing machine that has begun to smell musty. How can I get rid of the smell that sometimes remains in the cloths even after washing them again?
By Mary Jean from Budd Lake, NJ
---
Best Answer
October 30, 2010
With towels use the hottest water you can vinegar is good to use so is oxi clean. I use oxi-clean instead of clorox, clorox eats up the clothes oxi clean doesn't. With the clothes vinegar or oxi-clean (dissolved first). Use at least warm water on clothes.
---
By Josie 1
How can I get my laundry to smell good?

By Josie from Washington, MI
---
Most Recent Answer
February 9, 2011
I always use Febreze SPORT on my work and workout clothes! Works GREAT for me!
---
Why do my clean clothes smell after awhile? I rewashed clean clothes because they smelled and now they smell again after being in the laundry basket. Please help
By Barbara from Youngstown, OH
---
Most Recent Answer
April 15, 2010
Also, you can clean your washer by running a load with just water and a cup or two of white vinegar.
---
How do you get the smell out of nylon shirts? I've worn one twice and now the stench is unbelievable. (None of my other clothes smell this way....)

Lee
---
Most Recent Answer
May 11, 2004
You could also be overheating the materials in the shirt. Try drying the garment on low, cool heat or hanging it to dry.
---
By Paul D 1
I washed my clothes and later used a hand towel to clean my face with. It had a bad sour smell to it. I had a cut so I used a towel again and poured hydrogen peroxide on it and noticed it started bubbling. Doesn't that only happen if there is bacteria present? I need help with this matter. Do I change detergent or try vinegar or ammonia to clean the washer? Why do my towels have bacteria on them after washing?
---
Most Recent Answer
August 30, 2015
This happens to me especially in summer. If I don't put the clothes in the dryer soon enough also. I found that washing the load again on hot with an oxyclean type powder added will kill the sour smell present in the clothing and towels. I also periodically wash my towels on hot with this same thing added to prevent whatever buildup happens over time. I normally wash on cold with liquid detergent. I wonder if this happens to people who consistently wash on hot?
---
My work clothes get washed regularly by themselves. The smells don't go even after they've been washed. Shall I hand wash it? Any recommendations would be helpful.
By F. C.
---
Most Recent Answer
By happy.now 2 50 Flag
February 7, 2015
Some times I use All liquid detergent and baking soda. I used this even after a fire for the soot smell. Thought this might help. J
---
Recently I discovered my clothes have started to smell sour like vinegar. I use Gain detergent and fabric softener along with baking soda. What else can I do?
By Laken M
---
Most Recent Answer
February 11, 2015
1. Run your washer with bleach to kill bacteria in your washer.
2. Use white vinegar or Borax in your wash instead of baking soda. Don't overload your washer and put clothes in the dryer right away. Don't let them sit.