June 19, 2011
0

found this helpful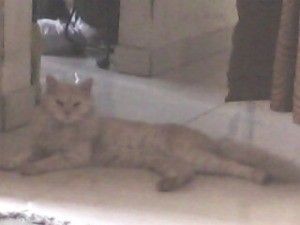 I have a male Persian cat and he is peeing almost everywhere and not using the litterbox at all. But in the case of poop, he uses the litter box or the bathroom very properly. Please help me find solution; it's urgent.
By Afrin from Navi Mumbai, India
June 19, 2011
0

found this helpful
I'm not a cat person but if he were mine he would pee in the box or pee outside. Cat pee stinks up a house with odor that refuses to go away.
June 19, 2011
0

found this helpful
I would keep him in a room with a litter box with grass or hay on top of it. Could he have a bladder infection? A UTI or be diabetic, which makes a cat pee all the time and can cause a UTI. A vet check up would be in order. Is the litter box clean? Cats sometimes don't like the feel of a particular litter. Try a different litter, and as a last result, buy some catnip spray and spray some of it on the litterbox. He will have a good experience then of the litterbox.
Here are some further ideas, and I hope the cat gets to feeling better.
http://answers. 010125448AAsog9f
Blessings,
Robyn
Related Content
(article continues below)
June 19, 2011
0

found this helpful
If he is not neutered, he may be "spraying". They do this to mark territory, especially if there is another male cat.
June 19, 2011
0

found this helpful
Good advice so far. They will mark territory when confused. I.E. flood earthquake scared in general. mine did ht after air conditioner backed up and hall and closet were soaked.
June 20, 2011
0

found this helpful
I agree with Robyn Fed's advice. I have a cat rescue and the first thing we do when receiving a rescue is a trip to the vet for a complete physical and shots and neutering/spaying.
They also make some cat foods that are especially for cats who have a problem with pH balance issues which results in painful urination and UTI's. They will do as your cat is doing oftentimes when this is the problem.
And also, some male cats are "sprayers" and will never stop this. In that case they will have to become an outside cat, which will of course lower their chances of a long life by many years.
June 21, 2011
0

found this helpful
I have a male cat that sprayed in the house after we got a new kitten. I cleaned all the carpets with pet odor shampoo and used a steam cleaner on bare floors. When it was all dry, he went back to the litter box. I can only assume he was looking for the familiar smell of his previous accidents. When the smell was gone, the urge to remark was gone too. I had been cleaning the floor in the usual manner with a mop and cleaner. the steam cleaner seemed to clean more effectively.
June 22, 2011
0

found this helpful
Please take him to your Veterinarian for a checkup. There might be an underlying medical problem.
August 2, 2014
0

found this helpful
My cat is having the same issue. He's 19ish. We've taken him to the vet numerous times and the vet says it's kidney related but no UTI what so ever. We've got 5-6 different size boxes spread out amongst the 2 floors. We've tried different types of litter.
When he does go, it's like he backs up and just goes. But if you put him in the box or lock him in the bathroom for 10-15 minutes he won't go. All the corners of our house reek of pee.
We've tried every cleaning product on the market. We have 3 other cats and a dog but everyone gets along really well. Help!
March 2, 2015
0

found this helpful
In order to get rid of the smell of cat urine use peroxide. Just pour it on the area and let it soak in. Works wonderful best thing out there to get rid of the smell of cat pee
December 3, 2016
0

found this helpful
I have an 18 year old cat,arthritis and have tried boundary,odo-bam,cat odor eliminator and nothing works. Husband shampoos carpet weekly,scoops box daily without success. Shadow still has 2 pee spots used always and poos in box!! One pp spot is about 2 feet in front of litter box.. HELP!!
My older cat uses her cat box to poop, but when it comes to peeing she has been peeing all over the house. I bought puppy pees pads and she is using them. I just don't know what to do.
By Christy
August 30, 2012
0

found this helpful
That is the classic sign of a bladder infection in cats. Be sure and get her to the Vet to be checked. The infections are quite painful, so dont wait.
August 31, 2012
0

found this helpful
1. Change the kind of litter. 2. Add another litter box 3. Take her to vet to make sure she is ok. 4. Scrub the box you have with basic cleanser and hot soapy water. even if you cant smell it, she can ( been there, done that, made the changes). Normally it's the simple things that make the difference and solve the problem. :)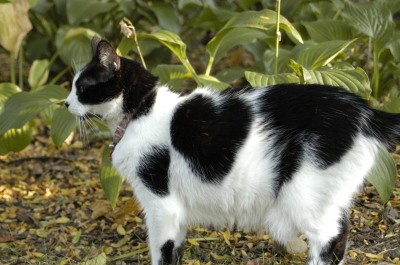 September 2, 2012
0

found this helpful
Our daughter had a cat that started doing that and it was a bladder or kidney infection. I think it would be wise to have that checked.
lifn2ndgear, that's a beautiful cat. Love the heart shaped black spot.