Books that have been stored or shelved for a long time can sometimes start to smell musty, especially if they have been in a slightly damp environment. This is a guide about removing the musty smell from books.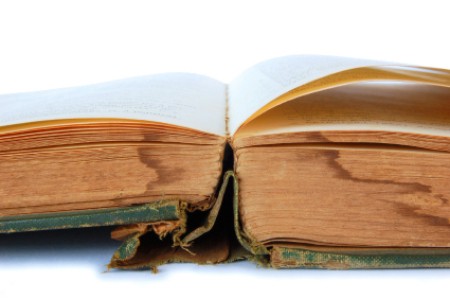 I have tried many different methods for trying to remove the smell from musty books, and this is the best I've found.
Take the book and place a sheet of newspaper between the pages (need not be every single page, don't worry!), then seal in a tape box surrounded by more newspaper which you've crumpled into balls for three days. The newspapers absorbs the odor, and is better than using cat litter because the litter gets caught in the pages and spines of the books.
By AlaskanAurora from Dutch Harbor, AK
How do I remove the musty smell from books?
By Booklover from Galesburg, IL
---
Best Answer
May 10, 2011
I use Snuggle dryer sheets when storing books or for moving, so maybe a week or so in a plastic bag with fresh dryer sheets might work. I also use fresh bars of Tone Soap when packing anything including books.
Good Luck
Pookarina
---
By Nacey 1
What I did was take the book and spread it out, blowing it with the blow dryer. I flipped the pages back and forth to get them all. Then, I sprayed the outer cover (it is vinyl) with some Febreeze fabric spray and then wiped it off. Then, I put it on a table in the sun. A few hours later - the musty is almost completely gone!
I have 4 big boxes of smelly books that were stored in a garage for 19 months. I can't do any labour intensive work as I am sick, can I just set them out on the floor to hopefully air out?
By Catrina
---
Best Answer
By Lewissan 40 230 Flag
September 10, 2012
The most common solution I have seen is to put newspaper between some of the pages, then wrap the book in newspaper and then put the books in a box full of more newspaper for few days. Some variations use charcoal as well. You read all the way down this page you can read lots of ideas about this subject:
http://www.thriftyfun.com/tf585248.tip.html
By Randa Wagner 61 8
If you have musty books, sprinkle talcum powder between pages, wrap the book in brown paper and store for several days. Remove and brush out powder.
To keep books from becoming musty, pull them out, away from the back of the shelf. Line up the spines along the front edge of the bookshelf. They'll look better, and the air will circulate behind them, so they'll smell fresher. Remember to dust behind them! And remember to READ them, too, so they'll bring you lots of pleasure.

By zballoongirl
Put the book into a microwave oven along with a cup of water. Microwave for few seconds. Fan the book. Repeat until the book is very warm. This will remove a lot of moisture and smell.
In damp summer weather, keep papers and books as dry as possible to help control mold growth. If you have an enclosed bookcase, keep a small electric light lit continuously in the bookcase or use a chemical dehumidifier, keeping the doors closed as tightly as possible.

Remove any dry,loose mold from paper with a clean, soft cloth. If mildewed paper is damp, dry it first--in an airy place, if possible.

To dry wallpaper, heat the room for several hours or even days to dry the plaster as well as the paper. Plaster should be dried slowly to prevent cracking.

If mildewed paper is washable, wipe it gently with a cloth wrung out of thick soapsuds, then with clear water. Take care not to wet the paper more than necessary. Do not scrub it. Finally pat with a soft, dry cloth. If stains remain, bleach with a solution of a household bleach, then sponge with a cloth wrung out of clear water. For small stains, a commercial ink eradicator may be useful.

Spread pages of books out fanwise to air. If the books are very damp, sprinkle cornstarch or talcum powder between the leaves to take up the moisture. Leave starch or powder on for several hours then brush off.

This article was written by Anne Field, Extension Specialist, Emeritus, with reference from the USDA bulletin, Mildew.

Source: MSU Extension
To get a musty odor out of old books, place the books outdoors in the sun and frequently fan out the pages so that the air can reach them. Brush off any mildew or mold. If the pages are damp, sprinkle cornstarch between them and brush it off after a few hours.

By joesgirl