How Do You Take Cuttings From Plants?
I was wondering what kind of plants or trees can be multiplied by the cutting method. I remember my mom collecting cuttings from everywhere and she would "root" them. What do you do with the cuttings and how long does this take? I think that she stuck the twig or leaf in a small pot of wet soil. That is about all that I am sure of.
Do you need the rooting compound? How long do they need to stay in the soil before they have roots? Should you use potting soil or plain old dirt? Do I need to put them under something to keep the humidity in or would that make them rot?
Ellen
We are giving away $200 in Amazon gift cards for people who answer questions on ThriftyFun this month! Click here to find out more...
Add your voice! Click below to answer. ThriftyFun is powered by your wisdom!
June 9, 2005
0

found this helpful
Some plants like Coleus you can put in water and it will root in a few weeks. A plant like a Maternity Plant, you just stick in water. Woody plants usually need a rooting compound. A container of it sells at Walmart for around $3 -- and it lasts a long time. I frequent the forums on a site called www.gardenhere.com. The people there are very helpful and friendly when it comes to questions! Good luck.
June 9, 2005
0

found this helpful
June 9, 2005
0

found this helpful
The previous posts contain excellent information. However, I would like to add that if you are rooting something in water, I have had the most success when I do it in a clear glass, and place it somewhere where it will get some light. When I go to plant things that I have rooted, I generally use a potting soil like Miracle Gro. It has fertilizer in it already, so you don't have to purchase a separate fertilizer. There is also an air method of rooting plants. If I am not mistaken, this method is called air grafting. You attach the cutting to a branch on the original plant, and you wrap plastic wrap around the cutting and the branch to which you are grafting it. Dipping the cutting into a rooting compound is a good idea. This works best with plants like begonias. These are plants that are formed from tubers or rhizomes.
By guest (Guest Post)
July 29, 2007
0

found this helpful
whendo I try to take hoya clippings and what do I do with them
July 30, 2007
0

found this helpful
About the hoya clippings, you should just be able to put them in a clear glass with water and they will root in a couple of weeks. If you buy Rootone and dip them in it first or add a plant food, it will help but isn't really necessary. I have found that hoya and philodendron just grow like crazy in water.
We have a couple of different kinds and would love to get more. Hoyas have the most beautiful and unusual flowers. I think they smell like chocolate.
Jess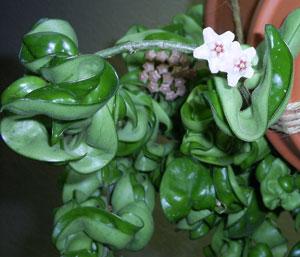 Add your voice! Click below to answer. ThriftyFun is powered by your wisdom!
Related Content