Freezing Grapes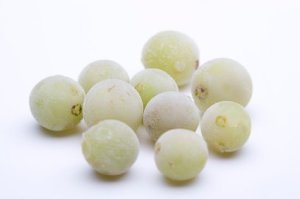 A great way to preserve grapes is to freeze them. They can be used as tasty ice cubes or make for a great frozen treat on their own. This is a guide about freezing grapes.
Solutions
Share on ThriftyFunThis guide contains the following solutions. Have something to add? Please share your solution!
Freeze grapes before they go bad. They make a wonderful garnish in wine and keep it cool! Place red grapes in white wine, and white grapes in red wine! You'll be the hit of the party. Enjoy
By Darnie from Langley, BC Canada
April 20, 2010
0

found this helpful
My daughter prefers frozen over fresh grapes as a snack (no wine!). And, as a bonus, they don't go bad in the freezer like they do in the regular part of the fridge. I think they taste sweeter after they've been frozen. :-)
April 21, 2010
0

found this helpful
What an interesting and very colorful idea. Thanks for the suggestion!
April 21, 2010
0

found this helpful
That's a simple & classy idea! I'll be sure to do this over the upcoming summer!
This summer I wanted to cut down on sugar consumption when grandkids visited. I put assorted colored grapes on wooden skewers and froze the individual skewers. Voila! Grapesicles! (Unfortunately, my husband and I loved them so much, we are now in Frozen Grape Rehab!)
By Mom L from Graham, TX
September 11, 2010
0

found this helpful
Another delicious low sugar treat is to pull all the stems from the grapes then freeze them. When they are completely frozen, put them in a bowl and mix with light whipped topping. The whipped topping freezes on the grape. Super treat! I eat these all year long.
I believe a cup of grapes this way is only about 50 calories.
September 12, 2010
0

found this helpful
Lots of sugar in grapes. As a diabetic, I can only eat about 10 at a time, and I love them frozen.
September 12, 2010
0

found this helpful
Yes I used to do this when my children were small. Big bunches of grapes don't last long on the counter after they are bought. I would leave half out for them to eat and freeze the rest for them to eat later. They did love frozen grapes.
Just wanted too let you all know this, I am sure some already do, when grapes are on sale, buy them and freeze them. They make a great frozen snack. Be sure and wash them good before eating. The kids love them.

By Sue from Shoals, IN
By guest (Guest Post)
October 31, 2007
0

found this helpful
Bing Cherries work well too.
February 5, 2015
0

found this helpful
I also freeze banana slices and dices apple with the peeling. Because of the natural sugar in these fruits, they don't freeze really hard. And a very healthy snack.
February 9, 2015
0

found this helpful
Dice up an apple, peeling and all, and freeze on a layer of plastic wrap in a small cake pan to keep the pieces separated. Freeze and store in a Ziplock bag. Do the same with a sliced banana. Give the kids a mix as a snack. They will love them. And so will the grownups!
Harlean from Arkansas
Just wash and freeze green grapes. They taste fantastic and - clearly - this makes them last longer too!
March 17, 2013
0

found this helpful
They are good and great for snacking when you want something to nibble on.
August 27, 2008
2

found this helpful
I take whatever seedless grape is on sale, take them off the "vine" and rinse and dry them. I put them in quart sized Ziplock and freeze them. At night when I'm watching TV I always crave something to snack on, so I eat a small bowl of frozen grates. They are terrific on a hot day in a tall glass of Orange Juice, or for a breakfast treat - try making a Mimoza (champagne and orange juice) and using frozen grapes as the "ice cube".
By Yarralumla
July 20, 2007
1

found this helpful
I've been freezing red, seedless grapes for years. I buy 10-15 lbs. at a time. I separate the grapes from the stems, place in a large colander, rinse well and then place them in another collander in layers with paper towels in between to absorb all the moisture. I then place them in quart size ziplock freezer bags. It takes a few days for all the grapes in each bag to freeze.

At times I eat them plain but for a real treat, try the following: Place about 1/2 cups worth of frozen grapes in a small bowl and add a couple of teaspoons of plain yogurt, mixing well until all the grapes have a fine coating of yogurt. This keeps the grapes from sticking together. Then add about a teaspoon full of rice pudding and mix again to coat the grapes with a bit of the rice pudding on top of the yogurt. The combination of the grapes with the light coating of yogurt and rice pudding makes a desert that's a treat by themselves, or as a desert after a meal.

When I treat friends to this special treat, they can't believe how great it tastes. They're a treat each and every time. Give it a try,you won't be dissappointed.

By BB
April 17, 2006
0

found this helpful
I can never seem to finish a whole bag of grapes before they go bad. So, out of curiosity, I put them into a blender, pureed them, and froze the puree in small plastic containers. I didn't need to add anything else. When frozen, it's similar to an Italian ice. The small pieces of the peel add an interesting texture.


February 15, 2015
0

found this helpful
I wash and dry the grapes and freeze them whole, but this sounds like a good alternative.
I happen to like red flame grapes frozen. I wash the grapes, let them drain, and pat with paper towels to remove most of the water. I don't separate the grapes, I just put them in ziplock freezer bags and pop them in the freezer.
Read More...
March 23, 2006
0

found this helpful
When seedless grapes are on sale, I buy a large quantity, keep out what I guess will be eaten and flash freeze the rest of them on a cookie sheet lined with wax paper.
Read More...
Archives
ThriftyFun is one of the longest running frugal living communities on the Internet. These are archives of older discussions.
September 10, 2010
1

found this helpful
A healthful summer treat for little ones on a hot day: Give them frozen grapes! Simply freeze in a single layer in a cake pan and, when frozen, store in freezer bags. Or thread, alternating red, purple and green grapes, onto wooden skewers and freeze untill needed. They taste surprisingly good and are a better choice than popsicles which are loaded with sugar and artificial ingredients.

By Anne from Green Bay, WI
Answers:
Frozen Grapes for a Sweet Treat
Yum! Frozen grapes are great! I recommend them highly. :-) (07/09/2008)

By WildIrish
Frozen Grapes for a Sweet Treat
Another great "hot" summer day treat is frozen watermelon chunks! (07/11/2008)

By
Frozen Grapes for a Sweet Treat
Love the idea of skewers of colors - a great way to use grapes while on sale. (07/13/2008)

By kimhis
Frozen Grapes for a Sweet Treat
JUST A NOTE OF CAUTION
My grandson choked on a grape when about 2 years old - luckily we were right there and were somehow able to eject it - a frozen grape might be more difficult . We don't want to be killjoys but fore warned is fore armed. (07/19/2008)

By Bob Kennett
Related Content