I would like to find recipes for lettuce other than salads or on sandwiches. I looked on this site and found lettuce bread, can't wait to try it. Any other suggestions?
By Linda from Lowell, MA
Ad
---
Recent Answers
Here are the recent answer to this question.

By soizic bluestone [5]01/28/2010
Maybe you try doing some summer rolls. The Vietnamese rice paper rolls

*rice paper - soak for 1/2 minute for the paper circle to turn transparent
*protein - mostly done with shrimp - I use chicken or steak
*sprouts
*basil
*rice noodles
*lettuce

++ dipping sauce of hosin and peanut butter with chili paste

Lay the rice paper out just like a tortilla
place all ingredients in layers toward bottom center
fold bottom up over ingredients then both sides toward center
roll the rest of the way to the lip of circular paper

So delicious, time consuming, but consumed quickly!
Site with video how to: http://www.chow.com/recipes/10641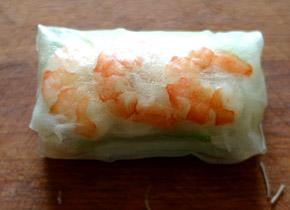 By Lynda [47]01/24/2010
Taking a piece of lettuce, then putting cold cuts or cheese on it and then rolling up the lettuce and eating it like a sandwich.

By Dana [6]01/22/2010
You can use lettuce as putting small portions of stuffing like chicken salad for finger food.

By Laura01/22/2010
Iceberg lettuce can be used for Stuffed Cabbage. Mom used to do this when we were kids and it was great.

If it is the leafy green lettuce you can always cook it:

1 head of lettuce washed and cut up
1 tsp of extra virgin olive oil
1 or 2 cloves of garlic sliced thin (or crushed)
1 Tbsp of canned tomato sauce (opitonal)
S&P to taste

Heat about a teaspoon of extra virgin olive oil in pot, med. heat. Slice up one clove of garlic and add it. As soon as you smell the garlic begininng to cook add the wet greens. Stir a bit, it will shrink down to nothing. Soon as you have room you can add the tomato an the S&P, Lower and simmer

Let it simmer for a bit till tender and serve. Loaded with vitamins and it tastes good too. Grandma didn't waste a single thing in our house.

By Kathryn Visser [16]01/22/2010
Cream of Lettuce soup? Wraps instead of bread?
Answer This Question
Add your voice to the conversation. Click here to answer this question.