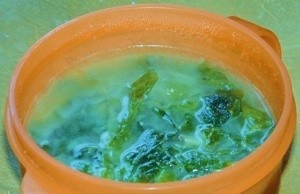 I know this sounds a little weird. Okay, a lot weird. But, this recipe is a great way to clean out the getting old and bitter lettuce in your garden, and it's also good enough to merit using regular lettuce. I like using garden produce that would otherwise become waste, but I really like the frugality, flavor, and versatility of this soup; it's very easy to customize with additions and seasonings. It's also lightning-fast to make!
Ingredients:
1 cup chopped onions
1 chopped garlic clove
3 Tbsp. butter
3/4 tsp. ground coriander
1 bay leaf
1 1/2 tsp. garlic salt
1/2 tsp. black pepper
3 cups chicken broth
1 tsp. brown sugar
1 tsp. Italian seasoning
3/4 cup diced (really tiny dice since the soup doesn'tsp. cook long) potato
8 cups coarsely torn lettuce--any kind that is getting bitter in the garden
dash nutmeg
1/3 cup instant mashed potatoes (optional)
Directions:
Saute onion and garlic in butter until soft. Add seasonings and stir well. Add broth and brown sugar and stir well. Add potato and lettuce and bring to a boil. Cover and simmer ten minutes. Add dash nutmeg and instant mashed potatoes if you want it to be thicker.
Now here's where it gets fun! Feel free to add stuff to the basic recipe above. Cooked chicken, browned sausage, toasted walnuts, a beaten egg, leftover cooked rice, quinoa, or barley, even a little peanut butter and sweet chili sauce! Have fun! Happy Harvest!
Servings:
4
Time:
10 Minutes Preparation Time
10 Minutes Cooking Time
Source: Based on a recipe from Grant Family Farms CSA. Includes my own tweaking.
By Stephanie from Anchorage, AK
Read More

Comments
Clean and dry lettuce. Remove tough stalks and chop leaves into long thin strips. Bring chicken stock to boil and add vegetables. Simmer about 10 minutes. Add milk, lemon juice and seasonings. Heat but do not boil. Serve immediately.
Read More...