Browse
Featured
Videos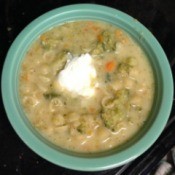 Broccoli Mac SoupThis is a classic "clean out the refrigerator" soup. Learn how to make this kid favorite by watching this short video.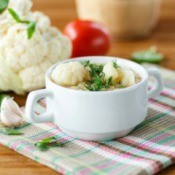 Roasted Garlic and Cauliflower SoupRoasted garlic and cauliflower compliment each other so well. Check out this video and learn how to make Roasted Garlic and Cauliflower Soup and test out this delicious flavor combo yourself.


Recent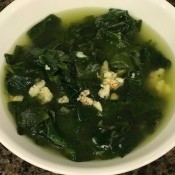 Green Malabar Spinach & Shrimp SoupWe just started growing green malabar spinach in our backyard and wow, it has grown very quickly within the last two months. Here's an easy and classic method of making this soup.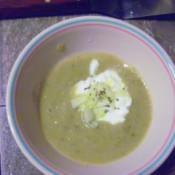 Creamy Cucumber SoupWith an overabundance of cucumbers in our garden this year, I tried this hot or cold cucumber soup recipe using avocado for the creamy consistency instead of cream. We loved it and I think you will as well!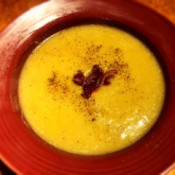 Creamy Zucchini Bacon SoupI had an overabundance of white zucchini so I thought I'd try to make a soup with it. You can use regular zucchini in lieu of white zucchini for this. I used bacon as the flavourful base for it, then topped it off with crispy bacon as a stir-in garnish. It was so hearty and delicious!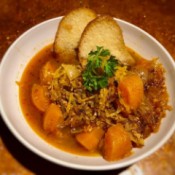 Spaghetti Squash SoupIt's very common to use spaghetti squash as replacement for pasta. You've probably seen many spaghetti and lasagna recipes using it. How about using it to replace the noodles in your soup? This is a great way to use up your fall harvest of the delicious squash. Simmering it brings out the flavour of the squash into the soup, and the beautiful strands become the noodles to this hearty dish.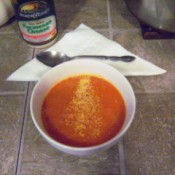 Fresh Garden Tomato SoupThis is the season to enjoy tomatoes like no other time! Using your own garden tomatoes (whatever kind including cherry tomatoes) you can make this simple but delicious soup in a half an hour, with the cooking taking 20 minutes of the total time. Make a fast, fresh and inviting meal!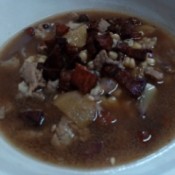 Corn Soup with Pork CracklingWe had steamed corn last Friday but none of us dared to eat it, because it was "literally hard" to eat. It went through pressure cooker several hours but nothing happened. I wanted to save the corn from the waste basket. Here's what I did.


Questions
Advertisement