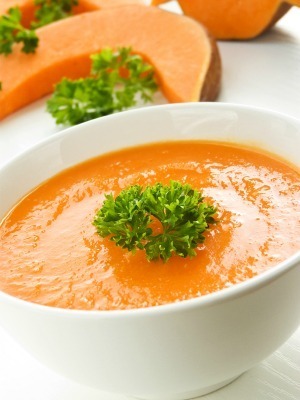 This recipe is very old and originated, (I believe) in the mountains of New Zealand. It was introduced to our family by an exchange student from that country while he was living with our next door neighbors and studying in the USA. He was quite a cook for a teenage boy and I was so surprised how well we could work together in the kitchen. He'd been taught by his mother and grandmother just as I was by mine and it was fun to share stories of culinary favorites and adventures.
Pumpkin is excellent for you. It has no cholesterol, it is low in fat and sodium and rich in vitamins, in particular beta carotene and vitamin A. On top of being good for your health, it tastes good too. That's why it is part of the diet in almost every country in the world.
Ingredients:
2 (15-16 oz.) cans plain pureed pumpkin (not pie mix)
6 Tbsp. Butter, divided
1 large onion, finely chopped
3 cups water
1 (12 oz.) can evaporated milk
4 Tbsp. flour
freshly grated nutmeg, to taste (about 1/2 tsp. to start)
salt
pepper
1 egg yolk (optional)
homemade croutons
Directions:
Cook onion in 2 Tbsp. butter for 10 minutes over a low stove setting, stirring frequently. Set aside.
Melt remaining 4 Tbsp. butter in large pot and stir in flour. Allow to cook slightly, then add milk, water, pumpkin, and cooked onion stirring until well blended. Season with salt, pepper, and nutmeg.
Simmer 20-30 minutes or until thoroughly heated through. If the egg is desired take out a little soup, blend with the beaten egg yolk, and stir back into the soup mixture just before serving.
Ladle into bowls, top with homemade, pan-toasted croutons and serve.
Servings:
6-8
Time:
10 Minutes Preparation Time
40 Minutes Cooking Time
Source: Our young friend Chester from New Zealand who is now a very young 40 year-old father himself.
By Julia from Boca Raton, FL
Read More

Comments
Does anyone have a pumpkin soup recipe that uses tomatoes? Years ago there was a recipe in the newspaper that was so good, but we lost it.
Thanks.
By joan
Answers
April 24, 2012
0

found this helpful
You might be able to obtain it from that newspaper. Contact them.
April 25, 2012
0

found this helpful
Contacting the newspaper is a good idea if you remember which paper, what year and whether they have an indexed archive or not ;-) Just checked out oodles of pumpkin and tomato soup recipes and, in my humble opinion, this one sounds scrumptious and would be very easy. Personally would do both simmers for ten minutes instead of five minutes though.
Pumpkin and Tomato Soup
2 cups finely chopped onions
1/3 cup butter or olive oil
1/2 teaspoon nutmeg
1/4 teaspoon cayenne pepper
1/2 teaspoon fresh thyme, minced
1 can (1 lb 13 ounce size) pumpkin
1 can (14.5 ounce size) diced tomatoes
1/4 cup parsley, finely chopped
1 tablespoon honey
6 cups chicken stock
1 cup heavy whipping cream
1 can rinsed, drained small white beans
salt and pepper to taste
Sauté the onions until limp an translucent. Add the nutmeg, pumpkin, tomatoes, honey and chicken stock, stir and simmer for 5 minutes. Puree, add the cream and beans, simmer 5 minutes. Stir in parsley, adjust seasonings and serve.
**Southwest Variation: Replace nutmeg and thyme with 1/2 tsp each ground cumin and coriander; replace cayenne with chipotle powder. Replace parsley with chopped cilantro.
**North African Variation: Replace nutmeg and thyme with 1/2 tsp each ground cumin, coriander and paprika.
Answer

this Question
How do you make pumpkin soup? My family enjoyed a bowl at the American Indian Museum in the food court. It was yummy. I have not been able to duplicate it. Any ideas would be great! Thanks.
krc from Madison, IN
Answers
October 15, 2007
0

found this helpful
This site has great pumpkin soup recipes, take your pick!
October 16, 2007
0

found this helpful
Go to www.allrecipes.com for ideas. fantastic website.
Or www.topsecretrecipes.com
Joyce
Answer

this Question