February 17, 2010
1

found this helpful
Best Answer
Ingredients:
2 T. vegetable oil
about 4 c. beef, cut in small cubes (you can use a
chuck roast)
2 stalks celery, chopped
1 medium onion, chopped
about 2 c. mixed frozen vegetables (carrots, corn,
peas)
1-1/2 c. green beans, chopped
1 c. zucchini, chopped (optional)
1 can diced tomatoes with juice
1/2 to 3/4 c. tomato paste
2 c. potatoes, pared and cubed
2 handfuls barley (optional)
1 T. dried or fresh parsley
Salt & pepper to taste
Celery salt to taste
Beef bouillion, to taste
1 c. small pasta (ditalini, small shells, etc.) (optional)
Brown cubed beef in oil in a large, heavy pot. When browned well, add onions and celery. Add water to cover by about 4 inches. Add barley, if using.
Bring to a boil and boil slowly for about 1/2 hr. Add all other ingredients, except pasta. Cook for about an hour. Taste and adjust seasonings, add bouillion, if needed. Add pasta and cook until done.
Tip: The beef and all vegetables should be cut in small bite-sized pieces - you don't want big chunks or you'll have something resembling stew.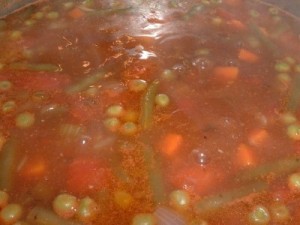 February 17, 2010
1

found this helpful
Best Answer
I make homemade Vegetable soup with left over pot roast.You should try this it really turns out very good and is gone in no time at my house. I usualy buy a Beef Shoulder or Chuck roast between 3 and 4Lb. I start out making Pot Roast with it and I cook extra Potatoes & Carrots in with the Pot Roast so I will have some left to add to the Homemade Vegetable Soup and turn in to Homemade Vegetable Beef Soup.
Cut leftover Pot Roast into cubes- 1-1/2 to 2Lbs. should give you a big pot of soup.
Cut 2-3 Medium potatoes into cubes
15 to 18 Baby Carrots cut in half
1- 14.5oz. can cut Green Beans
1- 11oz. can Whole Kernel Corn
1- 14.5oz. can Diced Tomatoes
1/4 cup Tomato Paste
2-cups Tomato Juice
1/2 cup Beef Broth
I cook my pot roast in my crockpot by adding 1-Pkg. McCormick Pot Roast Seasing using the water called for on the pack , 1-Pkg. Lipton Onion Soup mix using water called for on the box on their Pot Roast recipe on the back.
The only way I cook this is in a crock pot but could be cooked in a soup pot on top of the stove.
Put meat, potatoes, carrots, corn, green beans, diced tomatoes, tomato paste & tomato juice in your crock pot or soup pot & beef broth. ( Also put juices or gravy that cooked with your pot roast.)
You can add any other vegetables you like in soup. Bell Pepper, Celery, Squash what ever you like.
I cook this on low in my crockpot 8 hours 6 hours on high or longer, I like it because I can start it in the AM and let it go all day and don't have to worry about it.
You can make this using stew meat browned and start with raw potatoes & carrots if you don't have left over Pot roast with potatoes and carrots.
February 18, 2010
0

found this helpful
Best Answer
Beef Barley Vegetable Soup
www.thriftyfun.com/tf84287790.tip.html
This recipe has been in my family for over fifty years. It is a hearty, stick-to-your ribs soup. The combination of the barley and the variety of vegetables gives it a wonderful flavor. Rye bread with this soup is a must in our family. It is very easy to make; takes some time, but worth the wait.
We freeze it at times. It's not the same as fresh but still very good. If you are not sure if you like it frozen, freeze a small portion and taste it before freezing a large batch. Can also be cooked in a crock pot.
Ingredients:
3 lb. chuck roast, trimmed/cut; bite size pieces or stewing beef
1/2 cup barley, rinsed
(2) 15-oz. stewed tomatoes, chopped
(3) medium onions, diced
(1/2) head cabbage, chopped
(3) ribs celery, sliced
(3) medium white potatoes, diced
(3) carrots, diced
large rutabaga or (3) small turnips, cubed
large yam, cubed
10 oz. pkg. frozen succotash
10 oz. pkg. frozen vegetable mix
low salt beef broth/bouillon, optional
2 Tbsp. cider vinegar
Directions:
Cover meat with water and bring to a slow boil in large stock pot; cover. Skim water of fat. Add stewed tomatoes and barley; simmer for half-hour.
Add cabbage, simmer until almost done. Add remaining vegetables. Add more liquid if needed using broth/bouillon. Season with salt and pepper to taste. Simmer; covered, for 1 to 1 1/2 hours or until vegetables are tender. Add cider vinegar towards end of cooking time.
Suggestions:
If using beef bouillon, add water accordingly.
All vegetables can be cooked slightly to speed cooking time. I combine all the fresh vegetables with some water and slightly cook in the microwave. I do the same with the frozen vegetables. Add the extra liquid to the soup.
Or roast fresh vegetables and meat at 400 degrees F for about 30 minutes before adding. Slightly cook frozen vegetables.
Add extra vegetables for a "stoup".
Servings: 8 or more
Time: 30-45 Minutes Preparation Time
2 Hours Cooking Time
February 18, 2010
0

found this helpful
Best Answer
This recipe came from a friend of mine and with a few changes to suit my family this is it . Warning It will grow !
Use as much left over roast beef as desired or brown ground beef and drain well.
In a skillet put a little margarine and slowly cook 1 to 1 1/4 cups chopped onion (depends on strength of onion
In a large stockpot put about 1 1/2quarts water or beef broth if desired (I use soup base for my broth).
Bring to a boil and add:
1 1/2 cups finely sliced cabbage
3/4 cup sliced celery
1 cup sliced carrots
15 ounce can diced tomatoes with juice
meat
cooked onion
Lower heat once it begins to boil ,cover and cook until celery and carrots are tender but not done
Add more broth as needed or desired
Then add:
1 1/4 or so cubed potatoes cook until all vegetables are tender: Add
1/2 cup green beans
1/2 cup corn
You may also add your favorite cooked noodles at this time. We use a Kluski style noodles
Add Beef Soup Base as desired
Stir in 1 Tablespoon of Tomato Paste at a time until soup tastes as desired
Of course you add or delete any vegetable you like or dislike Adjust all seasonings and enjoy .As a general rule I don't like vegetable soup but do enjoy this one it takes a bit of adjusting but is well worth it t. I save all left over roast beef and half cans of vegetables and cooked noodles in the freezer until needed. You can freeze it but I like to give it to family and my elderly friends. It warms the heart and soul!
February 18, 2010
0

found this helpful
Best Answer
Old Fashioned Vegetable Beef Soup
2-3 lbs. beef shank or meaty soup bones
1 tbsp. salt
1/4 tsp. leaf thyme or marjoram
6 peppercorns or 1/4 tsp. pepper
1 bay leaf
2 whole allspice
2 cubes or tsp. beef bouillon
6 c. water
2 med. potatoes, peeled and cubed
2 stalks celery, sliced
2 med. carrots, sliced
1 sm. onion, chopped
2 c. (1 lb. can) undrained tomatoes
1 1/2 c. (12 oz. can) drained whole corn (or any combination of vegetables)
Combine beef, salt, thyme, peppercorns, bay leaf, allspice, bouillon and water. Simmer, covered 2 1/2 to 3 hours or until meat is tender. Remove beef shank, peppercorns and bay leaf; cut meat from bones and return to soup. Add remaining ingredients. Cover and continue simmering about 30 minutes or until vegetables are tender.
February 17, 2010
0

found this helpful
I don't have a vegetable beef soup recipe since I follow a vegetarian life style. Why don't you check the following website, they have lots and lots of recipes. www.recipezaar.com/
February 17, 2010
0

found this helpful
I use stew meat cut into small bite sized pieces and water(depends how much soup you want) boil the stew meat and add fresh vegetables or frozen. When the meat is done add a large can of tomato juice and heat for 30 minutes. My kids love this.
February 18, 2010
0

found this helpful
These all look so great! Makes me want some. Just wanted to share a trick from my family. The Forneys on my mom's side always include a red beet (or two, but no more or the soup turns purply red) to our vegetable soup. It's some added, different vitamins and gives it a little sweetness. We all love it! You could easily add them to any of these along with the potatoes so that the beet has time to soften up.
February 18, 2010
0

found this helpful
This is semi-homemade. I use the Mrs Wylers soup oacket. It has the seasoning, pasta and some veggies. Then I add extra veggies. Either a can of mixed vegetables or leftovers from dinners that I save and freeze just for this purpose.
February 20, 2010
0

found this helpful
(submitted via email)
I just wanted to thank everyone who answered my request for homemade beef vegetable soup. Thanks again.
Lynda