Does anyone have a recipe for homemade beef vegetable soup?
By Lynda from Kearny, NJ
Answers
February 17, 2010
1

found this helpful
Best Answer
Ingredients:
2 T. vegetable oil
about 4 c. beef, cut in small cubes (you can use a
chuck roast)
2 stalks celery, chopped
1 medium onion, chopped
about 2 c. mixed frozen vegetables (carrots, corn,
peas)
1-1/2 c. green beans, chopped
1 c. zucchini, chopped (optional)
1 can diced tomatoes with juice
1/2 to 3/4 c. tomato paste
2 c. potatoes, pared and cubed
2 handfuls barley (optional)
1 T. dried or fresh parsley
Salt & pepper to taste
Celery salt to taste
Beef bouillion, to taste
1 c. small pasta (ditalini, small shells, etc.) (optional)
Brown cubed beef in oil in a large, heavy pot. When browned well, add onions and celery. Add water to cover by about 4 inches. Add barley, if using.
Bring to a boil and boil slowly for about 1/2 hr. Add all other ingredients, except pasta. Cook for about an hour. Taste and adjust seasonings, add bouillion, if needed. Add pasta and cook until done.
Tip: The beef and all vegetables should be cut in small bite-sized pieces - you don't want big chunks or you'll have something resembling stew.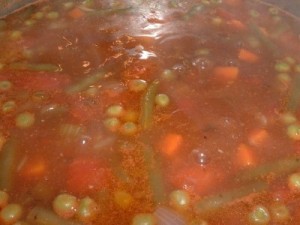 February 17, 2010
1

found this helpful
Best Answer
I make homemade Vegetable soup with left over pot roast.You should try this it really turns out very good and is gone in no time at my house. I usualy buy a Beef Shoulder or Chuck roast between 3 and 4Lb. I start out making Pot Roast with it and I cook extra Potatoes & Carrots in with the Pot Roast so I will have some left to add to the Homemade Vegetable Soup and turn in to Homemade Vegetable Beef Soup.
Cut leftover Pot Roast into cubes- 1-1/2 to 2Lbs. should give you a big pot of soup.
Cut 2-3 Medium potatoes into cubes
15 to 18 Baby Carrots cut in half
1- 14.5oz. can cut Green Beans
1- 11oz. can Whole Kernel Corn
1- 14.5oz. can Diced Tomatoes
1/4 cup Tomato Paste
2-cups Tomato Juice
1/2 cup Beef Broth
I cook my pot roast in my crockpot by adding 1-Pkg. McCormick Pot Roast Seasing using the water called for on the pack , 1-Pkg. Lipton Onion Soup mix using water called for on the box on their Pot Roast recipe on the back.
The only way I cook this is in a crock pot but could be cooked in a soup pot on top of the stove.
Put meat, potatoes, carrots, corn, green beans, diced tomatoes, tomato paste & tomato juice in your crock pot or soup pot & beef broth. ( Also put juices or gravy that cooked with your pot roast.)
You can add any other vegetables you like in soup. Bell Pepper, Celery, Squash what ever you like.
I cook this on low in my crockpot 8 hours 6 hours on high or longer, I like it because I can start it in the AM and let it go all day and don't have to worry about it.
You can make this using stew meat browned and start with raw potatoes & carrots if you don't have left over Pot roast with potatoes and carrots.
February 18, 2010
0

found this helpful
Best Answer
Beef Barley Vegetable Soup
www.thriftyfun.com/tf84287790.tip.html
This recipe has been in my family for over fifty years. It is a hearty, stick-to-your ribs soup. The combination of the barley and the variety of vegetables gives it a wonderful flavor. Rye bread with this soup is a must in our family. It is very easy to make; takes some time, but worth the wait.
We freeze it at times. It's not the same as fresh but still very good. If you are not sure if you like it frozen, freeze a small portion and taste it before freezing a large batch. Can also be cooked in a crock pot.
Ingredients:
3 lb. chuck roast, trimmed/cut; bite size pieces or stewing beef
1/2 cup barley, rinsed
(2) 15-oz. stewed tomatoes, chopped
(3) medium onions, diced
(1/2) head cabbage, chopped
(3) ribs celery, sliced
(3) medium white potatoes, diced
(3) carrots, diced
large rutabaga or (3) small turnips, cubed
large yam, cubed
10 oz. pkg. frozen succotash
10 oz. pkg. frozen vegetable mix
low salt beef broth/bouillon, optional
2 Tbsp. cider vinegar
Directions:
Cover meat with water and bring to a slow boil in large stock pot; cover. Skim water of fat. Add stewed tomatoes and barley; simmer for half-hour.
Add cabbage, simmer until almost done. Add remaining vegetables. Add more liquid if needed using broth/bouillon. Season with salt and pepper to taste. Simmer; covered, for 1 to 1 1/2 hours or until vegetables are tender. Add cider vinegar towards end of cooking time.
Suggestions:
If using beef bouillon, add water accordingly.
All vegetables can be cooked slightly to speed cooking time. I combine all the fresh vegetables with some water and slightly cook in the microwave. I do the same with the frozen vegetables. Add the extra liquid to the soup.
Or roast fresh vegetables and meat at 400 degrees F for about 30 minutes before adding. Slightly cook frozen vegetables.
Add extra vegetables for a "stoup".
Servings: 8 or more
Time: 30-45 Minutes Preparation Time
2 Hours Cooking Time
February 18, 2010
0

found this helpful
Best Answer
This recipe came from a friend of mine and with a few changes to suit my family this is it . Warning It will grow !
Use as much left over roast beef as desired or brown ground beef and drain well.
In a skillet put a little margarine and slowly cook 1 to 1 1/4 cups chopped onion (depends on strength of onion
In a large stockpot put about 1 1/2quarts water or beef broth if desired (I use soup base for my broth).
Bring to a boil and add:
1 1/2 cups finely sliced cabbage
3/4 cup sliced celery
1 cup sliced carrots
15 ounce can diced tomatoes with juice
meat
cooked onion
Lower heat once it begins to boil ,cover and cook until celery and carrots are tender but not done
Add more broth as needed or desired
Then add:
1 1/4 or so cubed potatoes cook until all vegetables are tender: Add
1/2 cup green beans
1/2 cup corn
You may also add your favorite cooked noodles at this time. We use a Kluski style noodles
Add Beef Soup Base as desired
Stir in 1 Tablespoon of Tomato Paste at a time until soup tastes as desired
Of course you add or delete any vegetable you like or dislike Adjust all seasonings and enjoy .As a general rule I don't like vegetable soup but do enjoy this one it takes a bit of adjusting but is well worth it t. I save all left over roast beef and half cans of vegetables and cooked noodles in the freezer until needed. You can freeze it but I like to give it to family and my elderly friends. It warms the heart and soul!
February 18, 2010
0

found this helpful
Best Answer
Old Fashioned Vegetable Beef Soup
2-3 lbs. beef shank or meaty soup bones
1 tbsp. salt
1/4 tsp. leaf thyme or marjoram
6 peppercorns or 1/4 tsp. pepper
1 bay leaf
2 whole allspice
2 cubes or tsp. beef bouillon
6 c. water
2 med. potatoes, peeled and cubed
2 stalks celery, sliced
2 med. carrots, sliced
1 sm. onion, chopped
2 c. (1 lb. can) undrained tomatoes
1 1/2 c. (12 oz. can) drained whole corn (or any combination of vegetables)
Combine beef, salt, thyme, peppercorns, bay leaf, allspice, bouillon and water. Simmer, covered 2 1/2 to 3 hours or until meat is tender. Remove beef shank, peppercorns and bay leaf; cut meat from bones and return to soup. Add remaining ingredients. Cover and continue simmering about 30 minutes or until vegetables are tender.
Answer

this Question

...
Does anyone have a recipe for homemade vegetable beef soup? I have used beef shank in the past, but was unable to find any this time. I used a soup bone without meat on it, and read that the bone should be roasted first. Does anyone know why?

Any recipes for veg-beef soup, and the type of meat that could be used would really be appreciated. I don't want to use a ready made canned beef broth. I would rather do it from scratch.

Thanks.
P.J. from Delaware

Answers:
Vegetable Beef Soup From Scratch
I use chuck roast in mine. Simply put it in a slow cooker, till it falls apart. Then I add tomato juice and veggies to it. (01/18/2006)

By suzanne
Vegetable Beef Soup From Scratch
I have always used browned hamburger meat. We love it and it is so easy. I use canned vegetables, tomato sauce, and as I like lots of potatoes in my soup, I cook a pot of stewed potatoes and add to my pot of soup. (01/18/2006)

By Priscilla
Vegetable Beef Soup From Scratch
For my vegetable beef soup, I get some stewing beef at the grocery store and chop it up into little pieces. I put it in with how much water I want for the soup and bring it to a boil. Simmer for awhile until the beef is cooked.

When it's done, I add a tablespoon (or cube) of beef bouillon such as Oxo or whatever to what I think it needs. For instance 8 cups of water, I would add about 5 or 6 tablespoons bouillon.
Add whatever frozen veggies you want, mixed is good.

Sometimes while the beef is still cooking, I add some well-drained pot barley as added fiber.
Or you can add some cooked macaroni or broad egg noodles before serving. Hope this helps. Enjoy.
This also keeps well in containers in the freezer for a few months.
(01/18/2006)

By Tanya
Vegetable Beef Soup From Scratch
1 to 2 pounds beef
1 cup chopped onion
10 cups water
10 beef bouillon cubes
1/2 teaspoon basil leaves
1 (16 oz.) can stewed tomatoes (optional)
1 cup sliced carrots
1 cup cubed potatoes
1/2 cup sliced celery
1 (10 oz) frozen corn, thawed
1 (10 oz) frozen green beans, thawed
In a large kettle combine beef, onion, celery, water, bouillon and basil; bring to a boil. Reduce heat; cover and simmer 2 hours. Add tomatoes, carrots, and potatoes; bring to a boil. Reduce heat; cover and cook 15 minutes. Add corn and green beans, cook 15 minutes longer.

I loved soups and stews in the winter time. Hope you can use this recipe.

Paula (01/18/2006)

By Paula
Vegetable Beef Soup From Scratch
I have done this for so many years I could do it in my sleep. Everytime I cook veggies anything that's left I put into a big bowl in the freezer, the next day put those in too. When that bowl gets full "It's homemade soup time". I buy a pound or two of beef stew meat (cheaper the better as I will cook it till tender anyway) and after it's done I add the bowl of veggies to the pot of meat. You don't even have to do any seasoning cause you've done that when cooked the first time. Good luck.
Jackie (01/18/2006)

By Jackie
Vegetable Beef Soup From Scratch
Beef stew will have more flavor if you flour the meat cubes and brown in a little hot oil before adding the veggies and whatever seasoning you prefer. Roasting the soup bone is another way of adding more flavor, but I would only do this if you are using the oven for something else. It's not very frugal to heat the oven to roast a few bones. Enjoy. (01/18/2006)

By Joan
Vegetable Beef Soup From Scratch
I love making homemade beef soup!

This is the easiest recipe I know for making it.
Ingredients
1 lb of beef stew meat - cut into small pieces
2 packets of Lipton Beefy Onion Soup mix
6-8 potatoes
1 small bag of baby carrots or about 4-6 peeled and diced carrots
3 celery stalks sliced
8-10 cups water
Instructions
add beef to water and soup mix
add vegetables
Simmer on stove in a 5 qt pot or larger for approx 1 1/2 hour or until vegetables are tender.
Enjoy.
God Bless.
Kim (01/18/2006)

By Kim-from MN
Vegetable Beef Soup From Scratch
First, cook roast, potatoes, and carrots in gravy for one meal. Purchase a roast larger than you need for one meal. Leftovers are already flavored and you add cabbage, cans of veggies, leftovers from freezer from previous meals, tomato sauce, onions, basil, bay leaf, and cayenne pepper. Also, whenever I peel or chop veggies the part you normally throw away I put in a freezer bag and when I'm ready I boil it all (just cover with water) strain it and I have a nicely flavored vegetable broth. (01/19/2006)

By Angelique
Vegetable Beef Soup From Scratch
This may not be what you were looking for, but I made it recently and it's really yummy. It's definitely a veggie soup and I would imagine good for ya. Don't let the long list of ingredients scare ya, I had everything on hand, but the cabbage.

Italian Vegetable Soup
Prep Time: 20 Minutes
Cook Time: 50 Minutes Ready In: 1 Hour 10 Minutes
Yields: 8 servings

INGREDIENTS:
1 pound ground beef
1 cup chopped onion
1 cup chopped celery
1 cup chopped carrots
2 cloves garlic, minced
1 (14.5 ounce) can peeled and diced tomatoes
1 (15 ounce) can tomato sauce
2 (19 ounce) cans kidney beans, drained and rinsed
2 cups water
5 teaspoons beef bouillon granules
1 tablespoon dried parsley
1/2 teaspoon dried oregano
1/2 teaspoon dried basil
2 cups chopped cabbage
1 (15.25 ounce) can whole kernel corn
1 (15 ounce) can green beans
1 cup macaroni
DIRECTIONS:
Place ground beef in a large soup pot. Cook over medium heat until evenly browned. Drain excess fat. Stir in onion, celery, carrots, garlic, chopped tomatoes, tomato sauce, beans, water and bouillon. Season with parsley, oregano, and basil. Simmer for 20 minutes.
Stir in cabbage, corn, green beans, and pasta. Bring to a boil, then reduce heat. Simmer until vegetables are tender and pasta is al dente. Add more water if needed.
(01/19/2006)
Vegetable Beef Soup From Scratch
Roasting the bone first caramelizes it, releasing a lot of intense flavor. (01/19/2006)

By Holly
Vegetable Beef Soup From Scratch
My mom always used beef short ribs-they made great soup. (06/03/2006)

By Cathy
Vegetable Beef Soup From Scratch
Great to see the many recipes for beef vegetable soup from scratch.

I, too, use lean ground beef, fry in pot until nicely brown. Add a couple of minced large cooking onions, water or beef broth plus celery, cabbage, and 1 carrot, a little tomato juice, or canned tomatoes, taste, if needed add 2 or 3 beef cubes. Simmer for an hour or two, taste, add salt and pepper, if needed. Enjoy. I find more carrots make soup too sweet. I often add 2 or 3 tablespoons of lemon juice which we enjoy. (05/15/2008)

By Elizabeth
Vegetable Beef Soup From Scratch
I always use oxtails, or soup bones with meat on them and never precook them. For the meat I use a chuck roast or sirloin, round steak the least expensive one, and put in a 12 oz. can of salt free V8. Yum.
(05/28/2008)

By MAG
Vegetable Beef Soup From Scratch
The easiest recipe that I have came up with is to pressure cook 2 roasts or round steaks, have the meal with it the first time and whatever else is left gets put into a pot with whatever vegetables that's let from that meal, or vegetables from meals at least 2 days prior. Salt and pepper or whatever spice you like, maybe from time to time you might have to add a little cornstarch with water to thicken, but you can't fail and it's never a bad meal.
I hope this helps. (09/10/2008)

By Kathy
Vegetable Beef Soup From Scratch
I use stew beef chunks. I put in large pot and sprinkle with Worcestershire sauce and brown for a few minutes. Then I add canned beef broth (depending on how large the pot) I use 4 cans. I add 4 large cans stewed tomatoes. Add sliced fresh carrots, onions, celery, (chopped) bay leaves (2), fresh parsley chopped, or parsley leaves (about 2 tblsp.), black pepper to taste, aproximately 1 tsp ground sage. I taste as I go, and check seasonings. Cover and cook on medium about 4 hours, add chopped white potatoes. I make them "chunky".

Cover and continue to cook until potatoes are done. Meat should be "fall" apart done by then. Sometimes I add a little bit of garlic powder or fresh garlic. Also you can add frozen corn at the end 1/2 hour and or frozen green beans. I'm making some right now, and my husband loves it. (01/08/2009)

By Kathy