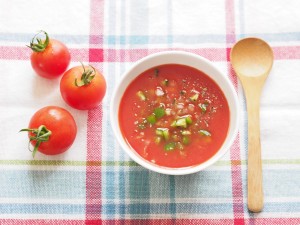 With fresh veggies beginning to come in, this cold summer soup is wonderful. The kids loved it; called it salad in a soup bowl! Serve with grilled cheese sandwiches for lunch or as a first course for a nice dinner.
Ingredients:
Soup:
2 large firm red tomatoes, cut into wedges
1 medium sized green pepper, cubed
1 medium sized cucumber, thickly sliced
1 small onion, thickly sliced
2 Tbsp. tomato paste
1/2 cup fine dry breadcrumbs
1/4 tsp. cumin
1 clove garlic crushed
2 Tbsp. mayonnaise
2 Tbsp. of red wine vinegar
3 cups chicken broth
1 tsp. salt
Freshly ground black pepper
Garnish:
1 small green pepper, finely chopped
1 medium sized tomato, chopped
1 small cucumber, chopped
1 small onion, chopped
2 hard-boiled eggs, finely chopped
1 1/2 cups toasted croutons
Directions:
Place the tomatoes in the blender and blend a few seconds at high speed. Add the green pepper, cucumber and onion slices a few at a time, and blend a few seconds after each addition.
Add the tomato paste and bread crumbs and blend until the mixture is thoroughly combined.
Place in a bowl, cover and chill in the refrigerator.
Combine the cumin and garlic in a small bowl. Stir in the mayonnaise and vinegar. Add the broth and mayonnaise mixture to the pureed vegetables.
IF desired, force through a sieve, pressing down on the residue to extract all the juice. I like the texture the residue gives to the soup.
Season the soup with salt and pepper and refrigerate for two to three hours.
Place each of the garnish ingredients in individual serving bowls. Before serving, stir the soup thoroughly and place in individual soup bowls. Pass the garnish ingredients separately
Servings:
6
Time:
15 Minutes Preparation Time
0 Minutes Cooking Time
Source: A combination of recipes plus our family's tastes
By Nancy from Roanoke, VA
Read More Comments
Blend onion, cucumber, pepper and tomatoes in blender. Place in large bowl and add tomato juice, consomme', oil, lemon juice, Tabasco, salt and pepper. Stir well. Let sit at room temperature about 3 hours to blend flavors well.
Read More...
This classic chilled tomato soup is chock full of garden-fresh vegetables, cholesterol free, and made with very little added oil.
Ingredients
4 cups tomato juice*
1/2 medium onion, peeled and coarsely chopped
1 small green pepper, peeled, cored, seeded, and coarsely chopped
1 small cucumber, peeled, pared, seeded, and coarsely chopped
1/2 tsp. Worcestershire sauce
1 clove garlic, minced
1 drop hot pepper sauce
1/8 tsp. cayenne pepper
1/4 tsp. black pepper
2 Tbsp. olive oil
1 large tomato, finely diced
2 Tbsp. minced chives or scallion tops
1 lemon, cut in 6 wedges
Directions
Put 2 cups of tomato juice and all other ingredients except diced tomato, chives, and lemon wedges in the blender. Puree.
Slowly add the remaining 2 cups of tomato juice to pureed mixture. Add chopped tomato. Chill.
Serve icy cold in individual bowls garnished with chopped chives and lemon wedges.

Yield:6 servings--Serving Size: 1 cup

Each serving provides:

Calories: 87
Total fat: 5 g
Saturated fat: less than 1 g
Cholesterol: 0 mg
Sodium: 593 mg*
*To cut back on sodium, try low-sodium tomato juice.

National Heart, Lung, and Blood Institute