February 17, 2010
10

found this helpful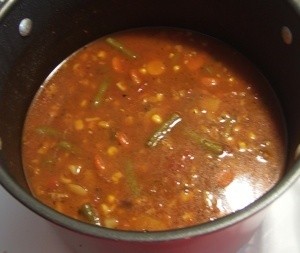 A delightfully simple turkey vegetable soup to warm your kitchen and heart.
Ingredients:
1 can beef broth*
1 can green beans
1 can corn
1 can chili with beans
1 can carrots
1 can potatoes
1 can spaghetti sauce
2 cans condensed vegetable soup
1 can 28 oz. can diced tomatoes
1/2 Tbsp. minced garlic
1/2 Tbsp. parsley
1/2 Tbsp. oregano
1/2 Tbsp. garlic salt
1 Tbsp. fajita seasoning
1 pound ground turkey
* all cans are just standard size unless specified
Directions:
Cook ground turkey in skillet. Add to stockpot. Put all ingredients in stock pot (undrained), add spices.
Cook covered over Medium heat on stove top for 30 minutes. Serve with corn bread or chili Fritos.
Servings:
12
Time:
15 Minutes Preparation Time
1 Hours Cooking Time
By Karen S. from Springfield, MO
Comments
February 18, 2010
0

found this helpful
Here is a quick cold weather warm up meal. add or subtract ingredients to your taste. Soup & salad, alone add corn bread, or a grilled cheese
I have made this, I left out the potatoes, I added more veggie & have used left over beef, cut very small, or hamburger.
Instead of Sauce, I used crushed tomatoes. But each their own, love this recipe!