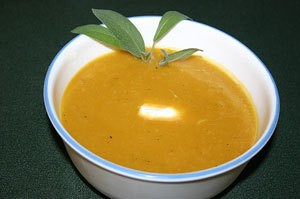 Try this smooth, golden soup that can be made with an inexpensive seasonal ingredient that tastes "like fall." Roasting the squash in a hot oven browns the edges and brings out the sweetness in this simple but healthy soup.
Ingredients
2 medium butternut squash
2 small onions
2 Tbsp. olive oil
salt
pepper
dried rubbed sage
several cups of chicken broth or stock
sour cream or heavy cream (optional)
Directions
To peel whole squash, set a large pot of water to boil. After it reaches a boil, add whole squash and boil, submerged, for 4 minutes. Remove quickly to cold water to stop cooking process. Once cool to touch, peel with vegetable peeler. (Boiling the squash makes for much easier peeling, please don't skip this step.)
Cut peeled squash in half lengthwise and scrape out seeds. Cut into 1 inch cubes and place in large bowl. Peel onions and cut into quarters. Place in bowl with squash cubes and drizzle olive oil over all. Sprinkle liberally with salt and pepper and lightly with sage. Toss gently, so as not to break apart onion pieces. Pour in a single layer on a large cookie sheet. Be careful not to crowd, you may need to use two cookie sheets.
Place in pre-heated 400 degree F oven for 12-15 minutes, checking often to guard against burning. Flip over a piece of squash to check for browning on the bottom side. Once browning is reached, flip squash and onion pieces with spatula so more areas can be browned. Continue cooking, checking often, until squash is soft and many pieces have browned edges.
Remove from oven and let cool a few minutes before scraping into blender or food processor, making sure to get the browned bits off the pan. Add some chicken broth and process until smooth and of desired consistency. The amount of chicken broth needed will vary. You may have to puree in multiple batches. Once smooth, pour into pot and heat gently just until serving temperature, adding more salt, pepper, and sage to taste if desired.
If the soup does not taste as sweet as you'd like, stir in a teaspoon or so of honey or brown sugar until desired sweetness is reached. You could stir in a bit of heavy cream or add a dollop of sour cream to each individual serving, but these additions are entirely optional.
Note: This soup freezes well. To re-heat, allow soup to thaw most of the way, then puree in blender to regain the smooth texture. Heat gently until serving temperature.
Another Note: If you do not wish to make soup, the squash and onions roasted as detailed above are delicious as is.
Source: My own recipe.
By Shawna from Paris, TN