Wonderful Tomato Soup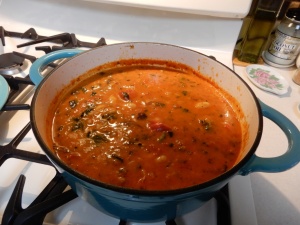 I like chunks of veggies in my soup. I whirl them in the blender or use an immersion blender until the veggies are chopped well, but not puréed. I use enough veggies to make probably 2 cups or so. I use onions, mushrooms, zucchini, yellow squash or even frozen stir-fry veggies. I season my veggies with Johnny's Seasoning Salt, lots of garlic powder, pepper and herbal seasoning. That one makes a huge difference in the flavor. I don't measure the seasonings, just eyeball it. You don't have to grill them on the BBQ. You can season the veggies and roast them in the oven till they are nicely caramelized.

Prep Time: About 45 minutes if you have to roast the veggies.
Cook Time: However long it takes to heat it up.
Total Time: 1 hour
Yield: Not sure
Source: I made it up.
Ingredients:
1 carton Roasted Red Pepper Tomato Soup (such as Trader Joe's)
1 14 ½ oz. can of Petite Diced Tomatoes with the juice (plain or flavored with green chilies or whatever flavor you like).
2 cans low sodium chicken broth or veggie broth
grilled veggies or roasted under the broiler
1 can white beans, drained and rinsed
chopped fresh spinach and/or ½ a bag of frozen chopped spinach
Yakisoba noodles, rinsed, or cooked spaghetti
fresh basil or dried basil (or both!)
1 tsp baking soda*
milk or 1/2 & 1/2 (I use fat free half & half OR fat free evaporated milk)
seasoning salt (I prefer Johnny's instead of Lawrey's), Trader Joe's 21 Sauté (or your favorite herbal seasoning), garlic powder and pepper to taste
*This is important if acidity bothers your stomach like it does mine.
Steps:
Pour the tomato soup, diced tomatoes, chicken broth into a big pot and bring to a boil. Take the pot to the sink and then add the soda. It will foam like crazy and sometimes it overflows (that's why the sink!). You also need to do this so the milk or half and half don't curdle. The soda also takes away some of the acidity. Stir until the foam goes away. Return to the stove and add the pureed veggies, beans, noodles and seasoning. Gently simmer for a while.
When you are just about ready to serve, add the basil and the chopped spinach and cook. Then add the milk or whatever you may like.
Serve with garlic croutons or little oyster crackers or toasted cheese sandwiches! Delish!
Published by ThriftyFun.
© 1997-2022 by Cumuli, Inc. All Rights Reserved.
https://www.thriftyfun.com/Wonderful-Tomato-Soup-1.html