No matter what kind of cat food we have tried, Bailey seems to keep throwing up. What kind of food can we give him? He doesn't throw up everyday all day but almost every other day it seems like and it might not even be that frequent but it's enough to notice.
There are times when the food is completely chewed up but there are several times when he throws up that only partial of the food looked chewed and the other part doesn't, almost like he just swallowed without chewing. Please help. I mentioned it to the vet but he didn't seem too disturbed by it.
By WarpedAngel
Ad
---
Recent Answers
Here are the recent answer to this question.

By Katie M.01/13/2013
Is your cat running around alot after he or she eats, the reason I ask, is because my cat throws up sometimes after she eats and then runs, my husband and I spent $1100 at the vets to find out that she has nothing wrong. It was alot of money at the time but just to know she was ok made it worth it.

By Kathryn Kistner04/27/2009
You do not mention whether your cat is an inside, inside/outside, or outside cat. Our cat, Divinci, is inside/outside, and he would throw up his food if he was outside before meals. With close watching, we found that he was eating grass; then when he ate, his food came up.

When we fed him first, and then let him go outside, he did not throw up. Good luck on finding your solution. From Kathryn Kistner in Texas, who's now saying, "Fortunately, our solution was easy."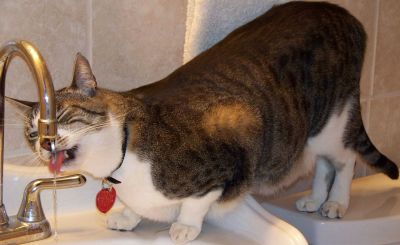 By Krysti [1]04/20/2009
You cat might have 'irritable bowel syndrome'. You need to see a vet to get it figured out.

By Grandma J [46]04/13/2009
The food could be an issue, with all the pet food recalled, I would use a good name brand only (that never hit the recall list). Limit amount of food given. As also listed CLEAN water and food dishes daily. I use regular dishes from the cupboard that go through the dishwasher daily. Assures no contamination from anything. I have a dog, but similar issues can happen.

By Laura Meller [6]04/11/2009
Years ago I had a dog, she did the same thing. Most of the food was half and half, chewed. The vet said to raise the food up off the floor, they can only swallow fast at ground level. I will tell u this, it worked well. She had to take smaller amounts at a time, and chew it to. Please try this and let us know. Oh, and the water to.

By Beth [25]04/11/2009
You don't have one of those cat drinking fountains do you? My cat began throwing up every day. The vet didn't know what the problem was. One day it just hit me that it started shortly after getting the drinking fountain. She loved the fountain, but they are dirty. They might clean out particulate matter, but they don't CLEAN the water. If you have one and you pull out the pump to clean it, you'll see what I mean. I went back to stainless steel bowls that I can wash and replace all of the water in every day. No more throwing up!

By MiMi [5]04/11/2009
Thank you everyone! for responding. It's nice to know that it might be normal but we'll more than likely take him to a different vet just to make sure.

By Rachel04/11/2009
I have a 10-year-old calico that has nothing wrong with her, it just happens alot. Don't get worried (P.S. the cat in the picture's name is Annie, she's the same breed as yours-a Maine Coon)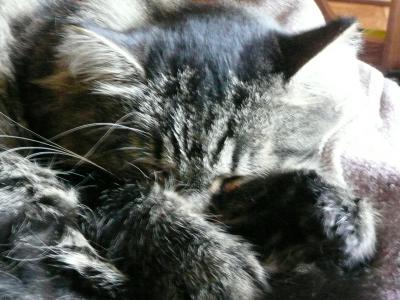 By d horner [1]04/11/2009
You might try more grooming and brushing to get rid of excess hair and see it that helps any in case it is partly caused by hairballs.

By gail caldwell04/11/2009
My cat used to do that too. I buy the cat food that is the indoor formula, it seemed to help.

By Jill Wright [1]04/10/2009
My Emily does the same thing. Can't figure it out. Thinking it might have to do with hairballs?

By Sandra [13]04/08/2009
Get another vet. Your cat might be allergec to his food. One of our cats had this problem and we changed his food a number of times until he stopped getting sick.

By Marlene [19]04/07/2009
We also have "a puker" he has done this for 10 yrs. He has been checked over and over by the vet and is fine. We have found it is best to give him the same food every day once we find one that stays down. We found him in the woods as a kitten and we can't imagine what he may have eaten then. As long as he isn't losing weight I wouldn't worry to much.

By Judi [17]04/07/2009
Get another vet who will take your concerns seriously. Even if it's "nothing" you should feel listened to.
Answer This Question
Add your voice to the conversation. Click here to answer this question.