Robyn Fed
Silver Post Medal for All Time! 398 Posts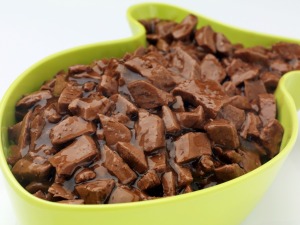 I saw that it is better to feed a cat homemade or canned food than to give it dry food, since a cat will not drink enough water for it's own health. Probably a better idea might be to mix soft food with dry food or do all soft food.
Also, neutering a male cat too young can lead to problems later in life.
Source: pethealth101.com
By Robyn Fed from Hampton, TN
Read More

Comments

I recently rescued a stray cat. He is a beautiful, affectionate cat. He loves canned (wet) cat food, but it seems to give him massive diarrhea. Is there a brand that I can pick up at the grocery store that is safer on their stomachs without breaking my budget at the same time?
Just an FYI, he's been spaded, had all his shots, and is doing well health wise. He only has the diarrhea problem when fed the wet food.
By Lee from VA
Answers

December 30, 2010
0

found this helpful
Lee,
Any cat loves wet cat food. I would try to switch him to dry food. At first, yes, he will act like he doesn't like it, but if you refuse to feed him anything else he will adjust! Especially, since he was a rescue, I find it hard to believe that he won't adjust to the dry food within the same day.
On the other hand, if he refuses to eat dry food I suggest switching him to a better canned cat food. I have a cat on Nutro wet cat food. She has a lot of allergies to regular cat food and didn't digest it well (i.e. your cat's diarrhea). It's about 70 cents a can but it is the smaller cans. I know it's about double of what Friskies cost but it's so much better for your cat. I recently switched all of my cats food, the dry and canned to Wellness cat food and Nutro wet cat food. I did some research and most cat foods you buy in the grocery stores have wheat, corn, etc. I read if the first 5 ingredients have more what, corn than meat products it is the worst thing you can feed to your cat. Cat's need a high protein diet, no high carbs. It is a bit more expensive but in the long run your cat will be eating better, be healthy and your vet visits in the long run less expensive!! FYI-Pet Supply Plus carries better nutrition cat food.
Hope this helps! Yay for you bringing in a rescue. The 3 of ours are also!

Cyinda
Bronze Post Medal for All Time! 213 Posts
December 30, 2010
0

found this helpful
This food is not canned, but dry. I give my cat PurrinaOne "Sensitive Systems". It's the one with the Turquoise label. My cat had bad gas, & this calmed her stomach. There are better cat foods, but my cat does well on this one.
A second suggestion to either prevent to stop diarrhea is to give your pet plain yogurt with no sugar added. The good bacteria can stop diarrhea. You can add a teaspoon or two to your cats food. If you give your cat dry food, & only give him or her a teaspoon or so of wet food once in a while for a treat, it should give him any problems.
I would stick to dry food & your wallet & your cat will be happy!
For treats, you can buy a small bag of the top-notch brand from the pet store or even the DT kind(from the vet) made to help keep their teeth clean. It's a healthy treat for cats & dogs! We keep the cat treats in empty vitamin bottles, this keeps them fresh. Another good treat is "Greenies", they help keep the cats teeth clean. You can get a free sample on the Greenies web site.

December 31, 2010
0

found this helpful
Just a suggestion, but perhaps mixing a bit of high fiber, dry food with your cat's preference for canned food might reduce the lose stools. Then again, some cats just can't tolerate canned food. A close relative has tried everything in favor of giving her cat canned food, and her vet finally simply said "no go!"
This is a very pampered cat, but all that love him agreed that canned (wet) food just doesn't work for this guy on a regular basis. No one wants to be the bearer of bad news, but truth be told, this cat is healthier only getting (wet) canned food a few cans at a time a few times a year.. He is a rescue cat that is now nearly ten years old and honestly living the good life.
I wish you much luck, but whether the furs like it or not, restricted diets are often in their best interest. Take care and best wishes!

January 1, 2011
0

found this helpful
I work at a pet store and am very familiar with many lines of pet foods. First of all, try to stay away from foods that contain by-products (those are the extras from the slaughter houses, i.e. beaks, feat, etc) Also stay away from corn ingredients. Corn is just a filler and it does not digest easily. Look for something more natural that includes holistic ingredients such as fresh fruits and vegetables and real meat, such as turkey.
Even then, don't overload your cat with canned food as it is not good for them to always have it unless they truly need it (old, missing teeth, kittens, etc) Hard food helps to keep teeth healthy by removing plaque when they eat. Just a tablespoon of canned food is plenty. Canned food is known for causing poo problems.

January 2, 2011
0

found this helpful
I have found a brand that seems to work for little Precious and he is a very healthy and happy cat right now. As crazy as this sounds, the cheaper "Fancy Feast" works great for the cat. Walmart has 6oz cans for 47 cents each. Cheaper than the Friskies and the Iam's I still give him a little dry food in the afternoon though and so far he has been really good. No diarrhea problems and he seems to be a much happier cat over all. Thank you everyone who responded. I haven't owned a pet since I was a teenager and I am now in my mid 30's and this cat is like our 2nd child. So pampered.

Dena Roberts
Bronze Feedback Medal for All Time! 102 Feedbacks
January 3, 2011
0

found this helpful
Try the Fancy Feast. That's what I feed my cats, but they have to be the flavors with no gluten! There are several of them. Make sure to read the ingredients list, the gluten gives my cats the runs, and they stink! But the Fancy Feast is the best one.

Sherri
Bronze Feedback Medal for All Time! 180 Feedbacks
January 4, 2011
0

found this helpful
Hello,
Please take your baby and a stool sample to your veterinarian. Your doctor can advise you on what to do. Good luck
Answer

this Question