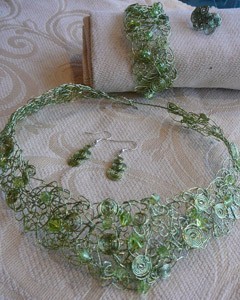 Gorgeous gorget jewelery made with florist wire. The inspiration for this jewelery came from gorgets worn with medieval armor.

By Isobel from Scotland
Ad
---
Feedback Forum
Feedback about this article is posted here. Want to contribute? Click above to post feedback.

By Annie Rios Hill [14]03/19/2009
Gorgeous!

By jessica [1]03/13/2009
I love that! Its beautiful! I bet you could sell those and make a lot of money! Let us know if you decide to sell them and you'll probably have customers on here! Us frugal girls like to be pretty too. LOL : )

By Lorraine [20]03/13/2009
This is absolutely beautiful.

By Elaine [173]03/13/2009
That IS gorgeous! Had to have taken you hours to do. I would like for you to share the method too please!

By Coreen Hart [78]03/12/2009
Omigosh! That is gorgeous!

By Kendy [5]03/12/2009
This is lovely, is it crocheted?

By marion davidson [22]03/12/2009
That is such a beautiful colour. Must have taken you hours to make.

By Carolyne bush03/11/2009
That is amazingly beautiful! So intricate! Can you share with us how you made it? I would greatly appreciate it! Thanks!

By Barb Hopkins [6]03/11/2009
This is absolutely gorgeous! How do you do it and what thickness is the wire? Thank you so much for sharing!
Post Feedback
Add your voice to the conversation. Click here to share feedback.