Jewelry Making Tips
Solutions
Share on ThriftyFunThis guide contains the following solutions. Have something to add? Please share your solution!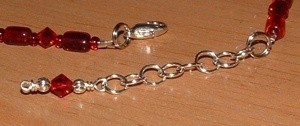 When making a necklace or bracelet as a gift (or for yourself!), you can achieve a professional effect and practical function by adding 8-10 (or however many you want) jump rings on the end of one side of the strand opposite the clasp. This allows the wearer to adjust the length of the necklace or bracelet, especially nice for aligning a necklace to different necklines.
Then, for a really nice, finished look, place something decorative at the end of the jump rings. In my photo, I've used jewelry wire to create a crystal and silver bead ornament for the end of my jump rings on a red crystal necklace.
Source: My own idea, but I was inspired by various jewelry catalogs including Sunset.
By stephanie from Anchorage, AK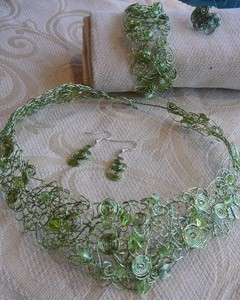 Gorgeous gorget jewelery made with florist wire. The inspiration for this jewelery came from gorgets worn with medieval armor.

By Isobel from Scotland
I am a jewelry "remaker". I buy old and create one of a kind "new" stuff.
During a recent trip to Wallyworld for paper goods, I wandered into the craft section. I found a really great disparity in the sizes and prices filament. Those who fish knew this; now we will too.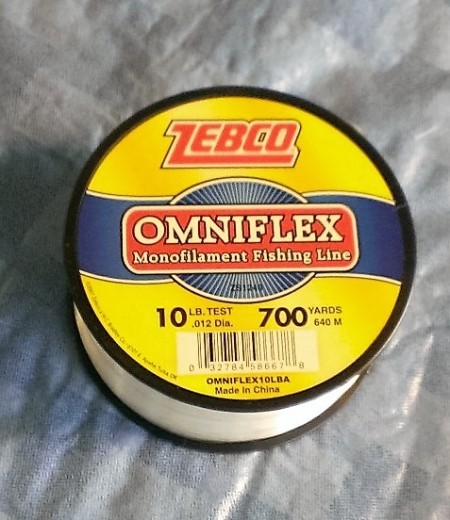 If you go into the jewelry making section, you will find 25 yards of 8 lb filament for $2.38. If you go into sporting goods, you will find 700 yards of 10 lb. test weight for about $6.50. Quite a difference.
Next time you need some for either fishing or jewelry, you will know the better price.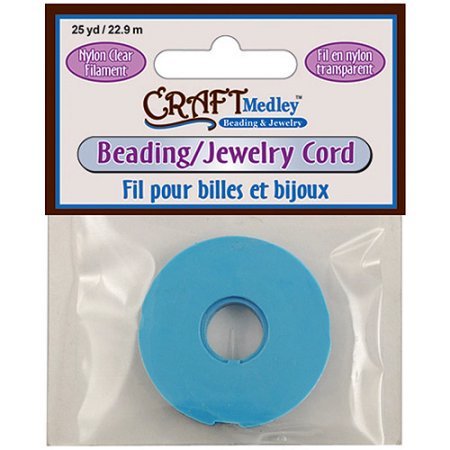 Recycling is such a beautiful thing. I save bits and pieces of things, and eventually find a use for them. If you don't have something you need, check your local thrift store also.
They are treasure troves for finding things you need, for very little money.

Read More...
Whenever I am using glue to anchor an eyepin into a top-drilled jewelry component, I grab my dried rice, pour it into an appropriate-sized container, and set the piece in there so I can keep on going.

Read More...
I have a plain string of turquoise beads I picked up for a song. It was too plain to be stylish so I put on a stone pendant I had made out of a black rock I had found at the seashore which I had wound round with jeweler's wire.
Read More...
I just finished a bead necklace that looks like it would cost $100 in Anthropologie and strung the beads on silver metallic elastic.
Read More...
I wanted to make a necklace, but the layout of the stones wasn't functioning well on the grooved necklace board from the craft shop. The doughnut shaped stones with a hole in the middle kept on falling over onto their flat sides.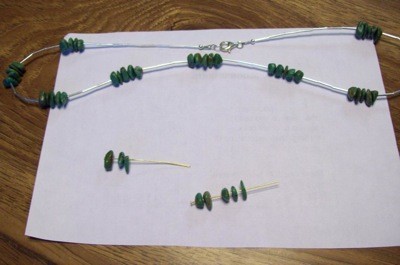 Read More...
Instead of throwing out old inexpensive beaded necklaces, bracelets, or mismatched or single earrings I no longer wear; I dismantle them and recombine them into a new piece of jewelry for myself or for a gift.
Read More...
Making silver jewelry is fun and you can use the jewelry afterwards, but silver is expensive, especially to practice on. So I'd advise using regular wire instead of silver.
I've used regular wire for quite some time to practice on and I actually used it for some jewelry.
Read More...
What to do with scraps of fabric and yarn? Make a fiber art bracelet. Take any old plastic bangle and start wrapping your scraps. Knot each piece all over till you get the feel you want. You will be such a fashion plate.
Read More...
Photos
Share on ThriftyFunCheck out these photos. Click at right to share your own photo in this guide.
I was looking for large pendants but never found anything I liked that was not way out of the price line I wanted to spend.
I looked at my local leather repair shop and was lucky to find some sharkskin in the remnant box.
I used A York Mint tin and some boot shoe string and some beads. This is how it turned out. A one of a kind over sized pendant.
By Arther from Salem, OR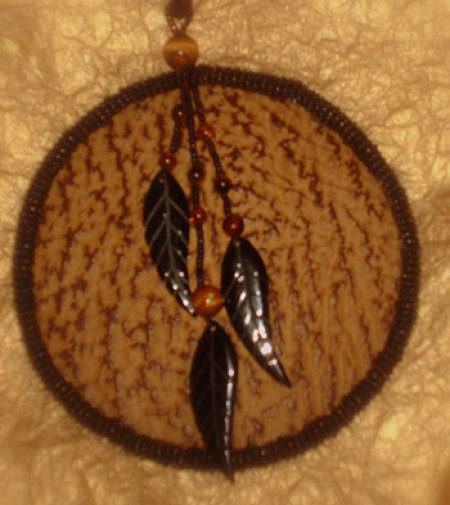 Related Content