Tips and ideas for removing set in stains from clothing. Post your ideas below.
By Lana
Ad
---
By Paulette Gulakowski 7 178 01/09/20100 people found this helpful
I use a week long OxyClean soak. I routinely soak my dishtowels and dish cloths for a week in OxyClean plus some of my band members really stained t-shirts, a bedspread that had been used outdoors etc. - all with set in stains. The gold cotton bedspread did lighten up a bit but it was even and a huge stain that had been washed and dried for years came out! I use a half cup of powder to 5 gallon bucket of hot/warm water.
By Judith Ardis 22 01/09/20100 people found this helpful
I've gotten the best results from OxyClean powder. I make a paste, rub it into the stain, let it set for a while, then wash it. It may take two or three tries, but the stain always comes out.
By delta 15 01/10/20100 people found this helpful
I buy and sell vintage linens. Lots of stains, some 50+ years old! Oxyclean works well but I really like Biz powder (there is a liquid but I like powder better).

Trick is to fill a bucket with hot water, dissolve a good sized scoop of Biz, stir, and add the item. Leave for as long as it takes to get the stain to leave. Two days, seven days, whatever. It never hurts the fabric. If water turns a very nasty tea color,it is working, pour water off, fill with hot water and keep soaking. If you have to pour off a few times, add a bit more Biz (I don't like the liquid Biz as much as it is blue colored so harder to see if the Biz is pulling out the stains).

If stains are especially bad, add some Tide with bleach alternative to the water too. That doubles the punch of the Biz.
This removes 50 year old coffee stains off of tablecloths and napkins and removes all the grime and dirt of being stored that long.

Make sure to rinse the Biz/tide off very very well or you end of with some of the smudge going back on fabric as long lines or drips.

Another tip that works for really really hard to remove stains like tea, only if fabric is white of course, is soak stain in lemon juice and put out in the sun. That usually will do it to remove the stain. Of course rinse it well after the stain has bleached out.
By Savannah 1 04/22/20100 people found this helpful
Help! I was in a hurry washing my husband's work shirts (plumber) and I forgot to flip them inside out!
I accidentally washed and dried them all and now the stains are set in. What do I do? I have oxyclean powder, and his scent free detergent (he's allergic to the scents in regular detergent) and I can't use vinegar because I'm allergic to it. Help? They all look like this!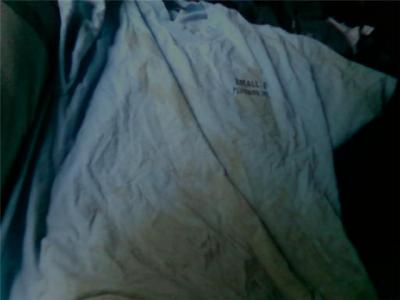 By RL Gusman 1 07/09/20100 people found this helpful
Red Jello stain: I made a paste out of OxyClean powder and Baking Soda to remove a red jello stain that had dried on a beige tee-shirt. I brushed the paste in with a toothbrush and let it sit for a while (I had already tried Shout and vinegar which didn't work). I tossed it into the wash and "Hurray!" It worked! This even worked on a Mustard Stain on the same shirt! Don't know which combination worked but I'm a happy camper! Thanks for the tips. By Rosie
Questions
Here are questions related to Stain Remover For Set-In Stains.
My daughter has a white cotton comforter that has some odd set-in stains. I am not even sure what they are, maybe chocolate milk or something she ate in bed (7 year olds do this). The comforter has been washed and dried several times, so the stains are set in stone. I can't use bleach because there is some lovely light gold embroidery on the end of it. I've tried letting the liquid detergent sit on it for an hour or so (just on the spots) and that hasn't worked. I washed it with Oxiclean on hot water - no change. I've read ammonia may help, but I don't have ammonia nor do I want to use it. Any other ideas? I need it clean ASAP for guests!
By Delancey
AnswerWas this interesting? Yes No
---
Most Recent Answer
By jean leiner 15 395 02/10/20150 people found this helpful
You have nothing to lose at this point, so try this. Get powdered dishwasher detergent, and pour the entire box into your washer filled with warm water. Agitate enough to dissolve the detergent. Place the comforter in the machine, and make sure it is submerged, especially the spots. Let soak over night. If partially successful, repeat. Then wash as usual. Air dry if possible I use the el cheapo detergent from the dollar store, and it removes a lot of stains. I buy clothes at garage sales and thrift stores for my grand and great grandchildren, and they are frequently stained. This method helps salvage many of them. I hope this is helpful.
Archives
Thrifty Fun has been around so long that many of our pages have been reset several times. Archives are older versions of the page and the comments that were provided then.
I used the following method to get out some set-in stains. (Red jello and spaghetti sauce mashed in and dried in the dryer, other unidentifiable stains noticed after clothes were dried.)
Make a paste out of Shout gel (or your favorite stain remover or detergent) and baking soda. Scrub this on stain with a firm toothbrush until as much is gone as possible with scrubbing. Then splash on a little white vinegar and let it foam for a couple minutes. Rinse with water as hot as is safe for fabric. Pre-treat again with a little more stain remover or detergent and toss into regular wash cycle immediately.
This saved several of my toddler's outfits.
By LynnB
---
RE: Stain Remover For Set-In Stains
Thanks Lynn. I'm going to try this with a shirt of my husband's that is almost brand new and has set in stain spots on it. Hope it works for me too. Thanks again. (08/04/2005)
By evlevo85
RE: Stain Remover For Set-In Stains
Lynn,
My daughter came in from school yesterday with her brand new pale pink blouse spotted with apple that had turned brown. I tried your method (it took three times), and it almost completely removed the stain! Thanks so much! (02/23/2006)
By Pamm
blue shirt red stain
Thanks Lynn. My grand daughter was over at my house and spilled red jello on her clothes. We tried your advice and it really worked. Her parents didn't get mad because they couldn't see it! (06/25/2006)
By Terry
RE: Stain Remover For Set-In Stains
Ahh, thank you so much. This really worked. I didn't even have the vinegar, and it worked on a stain that went through the wash twice. (02/11/2008)
By Jill
RE: Stain Remover For Set-In Stains
I used the Shout/baking powder paste followed by vinegar method on a red jello stain. It worked great. I would also recommend doing a double wash on stains (catch your machine before it starts the rinse cycle and set it back to wash again). The sooner you can get to a stain, the better! (06/02/2008)
By Lisa
RE: Stain Remover For Set-In Stains
I once dropped bright red nail polish on a very delicate white blouse. I tried everything to get rid of the red without ruining the blouse, but nothing worked, so I figured I had nothing to lose when I tried a stain remover which called for me to boil the garment in water for several minutes, and presto; it worked. The blouse survived and looks great.
I'm not sure of the name of the product, but check in the stores for the small boxes of dye for clothing and among them you will find the stain remover. I believe it is a blue and white box, but I could be wrong. (10/11/2008)
By Sal
RE: Stain Remover For Set-In Stains
For anyone looking for the box of stain remover that requires boiling the clothing item, I believe it is called "Rit". It is part of a line of clothing dyes and is used for removing colors from fabrics. (11/30/2008)
By H.G.