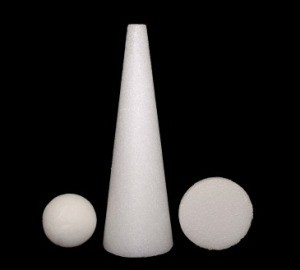 The rough porous surface of Styrofoam can make it a challenge to paint. This is a guide about how to paint Styrofoam.
Ad
---
Solutions: How to Paint Styrofoam
Read and rate the best solutions below by giving them a "thumbs up".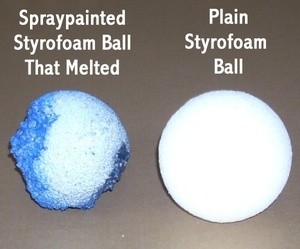 Styrofoam is a basic element to many craft projects. It can be used with different shapes, styles, and mediums. However, because of its bland appearance, Styrofoam also often needs to be painted. This tricky item can be much more difficult to paint than it might seem.

The first rule for painting Styrofoam is to use the correct paint. Only craft paints that specifically state they work with Styrofoam can be applied to the raw item.

Every other paint, especially spray paint, can contain chemicals that will react with the foam. Regular spray paint on Styrofoam causes the foam to actually "melt", making huge craters and holes in the item, not to mention a rather unhealthy mess.

So if you have a Styrofoam friendly paint, you need to follow a few steps. Since Styrofoam has holes in it, paint does not just slide on smoothly. You must "scrub" the paint into the foam, working the color over the rough surface. This will usually mean you need to do two coats, one to get into the holes and one to smooth over the surface.

If you need to use a paint that's not Styrofoam friendly, you must first cover/seal the Styrofoam. There are many products used for this task, plaster of Paris being the most popular. However you can also use products like Mod Pod or surface textures. The best product to use is "Foam Finish". It is easy to put on and can be thin or thick depending on the look desired.

When covering Styrofoam it can be difficult to keep a smooth shape. A perfect covering is done by applying the cover/seal in a thin layer and letting it dry. Then sand off any rough spots until the surface is perfect again. Then cover with another coat, let dry, and sand again. This should give you a perfectly shaped item with a strong cover.

After the covering is dry, you can apply any paint or other decoration desired without worrying about the Styrofoam reacting and melting away.
Give a "thumbs up" to the solution that worked the best! Do you have a better solution? Click here to share it!
Questions
Here are questions related to How to Paint Styrofoam.
I have to make a model for one of my assignments and I am not sure what paint I need to use on the Styrofoam balls
By Emma-leigh C.
AnswerWas this interesting? Yes No
Ad
---
---
Best Answer
By redhatterb 1 673 02/16/20140 people found this helpful
I think most cans of spray paint say whether or not it can be used on styrofoam.
---
I am trying to cover Styrofoam balls to make them smooth to paint on. I tried paper mache but it won't stick. Do I have to prep the ball somehow or can you buy round balls for crafting in the various sizes available in Styrofoam?

Diane
AnswerWas this interesting? Yes No
Ad
---
---
Most Recent Answer
By jim wilson. (Guest Post) 08/29/20080 people found this helpful
I need Help with this subject! I will Copy & Paste ALL suggestions. And try all! OK? OK!
---
What kind of paint can you use on Styrofoam balls?
By Patricia from Mount Airy, NC
AnswerWas this interesting? Yes No
---
Most Recent Answer
By Mary Lou 14 765 02/09/20110 people found this helpful
I agree with latrtatr you could use the paint especially for styrofoam. I have had very good success with craft paint especially on smooth styrofoam balls. I find it takes more than one coat though.
---
What is the best protection for an outdoor sculpture made from acrylic paint decorated Styrofoam? It needs to withstand snow and sun. Thank you.
By Marilyn
AnswerWas this interesting? Yes No
---
Most Recent Answer
By Paul @ Azenza 1 11/06/20140 people found this helpful
I seen some videos on youtube about nanotech technology water proof spray, Maybe you could look at that?
Do you put the plaster of Paris on dry?
By Alice