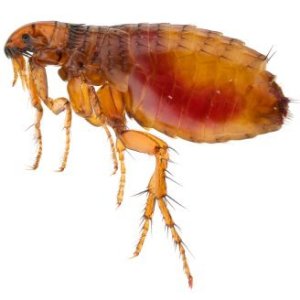 Fleas are a horrible nuisance to have around your home. get rid of these tiny pests with a homemade flea trap. This is a guide about making a homemade flea trap.
Ad
---
This is a video I saw on youtube that I would like to share with you. You take a cookie sheet and put water and a couple of squirts of soap in it. Then put it somewhere out of sight, like under the bed.
By Robyn Fed from Tri-Cities, TN
Solutions: Homemade Flea Trap
Read and rate the best solutions below by giving them a "thumbs up".
Materials
short extension cord
pie pan or small bowl
night light with Christmas type light
water
dish soap
Instructions:
Place a small amount of dish soap in the pie pan or bowl, and add enough water so fleas will not be able to swim out (about 1/2 inch). Fasten extension cord with night light plugged in so they extend out over the water. SECURE THE ELECTRIC CORD SO IT WILL NOT FALL INTO WATER.
Let this be the only light on at night. If you have small children, this will have to be removed in the day while they are awake. If no children this will even work in the day time just not as well.
The soap in the water will keep your animals from drinking the water, refresh the water and soap as needed. If this works for you like it did me, you will not be able to count all the dead fleas, and it should save you a few dollars. Also if it works for you, save others some money, and pass the tip on.
By SAVAGE12755 from Tulsa, OK
We had a dog that we took in while his parents were busy with moving house. He slept in our garage/laundry room. Soon after the dog was gone, I went into the room to do some laundry and was attacked by what I can only describe as an army of little black vampires.
I read online about a product called "The Ultimate Flea Trap" which basically used a night light and some sticky pads. "Well," I thought to myself "I am probably going to have to one up that one." I brought in my huge bug zapper, and some sticky tile, which I turned upside down. The little demons were indeed drawn to the light and heat of the zapper, and alas, after an hour or so, we had a small army of the blood suckers, cozily attached to the sticky tiles and not jumping about happily sucking us dry.

I will check back tomorrow, and let you know if the lil' darlins' are indeed gone. My freezer is also in this space, and it would be nice to be able to enter without wearing a space suit, and covered in insect repellent, and having to shed and leave my clothes outside! :)
Source: I saw a product , called "Ultimate Flea Trap"
By Lee L J. [1]
This trap uses:
disposable container, like a baking pan
water
vinegar
nightlight
Fill the pan half full with water. Add about 1/4 to 1/3 cup of vinegar and mix with water. Find a convenient outlet and plug in the night light. Place pan of vinegar and water under nightlight. The fleas are attracted to body heat. The nightlight will draw them and when they try and reach the heat they will fall into the pan and die. The vinegar works like an insecticide.
If your home has fleas, put a shallow dish of water with a little dish soap under a night-lite at night. The fleas will jump into the water and drown. (Fleas can't swim!) :)
By aeromama
Editor's Note: I have never tried this tip but here is one variation I have heard of. Take a pie pan, fill it with some water and add a squirt of dish soap. Then put a tea light in the middle of the pan. You can set the candle on a prescription bottle lid so that the candle does not sit below the water line. Supposedly, these will work as flea traps. They will be attracted to the light and then drown in the water. Use them at night in any room that you believe has fleas.
Give a "thumbs up" to the solution that worked the best! Do you have a better solution? Click here to share it!
Questions
Here are questions related to Homemade Flea Trap.
I have a little 9 week chihuahua. When we got him he had no fleas, but I have a half german shepherd/husky that lives downstairs so I think he got it from him I was wondering what I can use and will not be harsh on the lil' chihuahua and what can I use for the dog that lives downstairs. I have wooden floors all through the house. What will be a good solution to use to clean the house where the dog has been. Ana
AnswerWas this interesting? Yes No
Ad
---
---
Most Recent Answer
By Dolores. (Guest Post) 08/25/20080 people found this helpful
I have used a flea control product for 13 years now and in that time have never seen a flea inside or outside of my homw. I now sell the product and recommend it for anyone with one or multiple animals. It's easy and most importantly CHEAP!!! Only $40 a year GUARANTEED!!!. I had a dog for 18 years who was allergic to fleas and had very sensative skin. The "apply to the dog's neck" remedy didn't work for her, it was too strong for her skin. If you want to know what it is, email me and I'll give you more info.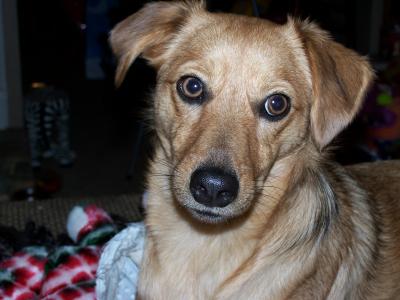 ---
Is it safe to use flea treatment on my dog with 1 week old pups and if so what? Pups have fleas but mom doesn't. Otherwise healthy.

Helen from Brisbane, Australia
AnswerWas this interesting? Yes No
Ad
---
---
Most Recent Answer
By nancy goh (Guest Post) 11/11/20070 people found this helpful
You can use johnson & johnson baby shampoo. Just apply it and gently rub from tail to head then let it stay for 2 to 5 minutes. After this comb out with flea comb then bath as usual. If it doesn't work you can use white distilled vinegar made from grain (MIZKAN - brand of the vinegar) is one of japan production. Just spray undiluted vinegar directly on the puppy and be careful for the eyes and nose then gently rub forward and let it stay for 3 to 5 minutes then rinse with warm water. After this bathe as usual using puppy's shampoo.

good luck!
from malaysia
---
Archives
Thrifty Fun has been around so long that many of our pages have been reset several times. Archives are older versions of the page and the comments that were provided then.
Put a shallow dish of water with a little dish soap under a night light at night. The fleas will jump into the water and drown. :)