Making a Fruit Fly Trap
Solutions
Share on ThriftyFunThis guide contains the following solutions. Have something to add? Please share your solution!
We have tried many things to get rid of fruit flies in our home, and this is hands down the easiest, cheapest, and most effective way. One of the most important things in order to catch them is the bait you put out. Fruit flies can be more attracted to some things more than others, whether it's vinegar, bread, actual fruit, and so on. After lots of testing here, we've found ours love a concoction of rice wine vinegar and juice from an overripe lemon. To make the trap, you just need to invert the top of a plastic bottle into its bottom. Easy enough!
Total Time: 5 minutes
Yield: 1 trap

Supplies:
1 plastic bottle
scissors
rice wine vinegar
overripe lemon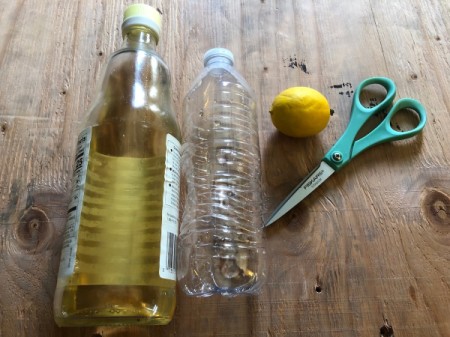 Steps:
Puncture the top of the water bottle where it curves.
Cut the top off evenly. You won't need the cap.
You can cut the bottom of the bottle shorter. It's better shortened so it does not knock over when in use.
Fill the bottom portion with your vinegar and juice mixture.
Place the top portion upside-down into the base and watch the flies jump into their trap.
This may be an off-the-wall idea, but it has worked for me. All summer, we did not have any fruit fly problems. About ten days ago, there was an explosion of fruit flies in our kitchen. It was the worst fruit fly problem we have ever had. I have always washed any produce that we buy, but for some reason it didn't work. The flies were invading my kitchen. It was a daily endless battle to rid these critters. Running out of ideas to get rid of them quickly, I came up with this idea.
I placed a large bowl of cider vinegar with a few drops of liquid detergent on a large dinner plate. I used the scraps of a fresh tomato that I had cut and placed around the bowl on the plate. I covered this loosely with wax paper with some slits on the top to allow the flies to enter easily. I let this sit with the microwave door open for about an hour.
After that hour, there were a large amount of flies on the bowl and plate. I quickly closed the microwave door and then turned in on high for one minute. The flies were zapped dead when I opened the door. I wiped it out and repeated one more time; keeping the oven door open again for an hour. This killed the majority of the fruit flies in the kitchen. A few were flying around the kitchen, but I was able to rid of them with the fly swatter. So far, the fruit flies are gone.
Be sure to use dishes/containers that are microwave proof. Since you will be cooking in the microwave, use enough cider in the bowl so it doesn't cook off. Also, use large enough pieces of fruit/produce that will not burn while cooking. Our microwave is 1100 watts so the time may vary. I used wax paper to keep any of the food from splattering, but put slits in it to allow the flies to enter. I had a concern because there are small holes inside of the microwave; I thought maybe the flies would escape, but I watched while the microwave was running and the flies did not go into any of them.
Before trying the microwave, I was using the cider vinegar with dish detergent in a bowl plus another bowl using beer. Both had worked, but I had so many fruit flies it seemed like it would never end.
Along with the vinegar/beer dishes on the counter, I had used sticky mouse traps and turned them with the sticky adhesive on the outside. I did get some that way but the microwave worked the fastest. I also got rid of any food source that would attract the flies. I also removed the trash out of the kitchen every day.
My husband said this is my craziest idea yet, but was happy with the results. It worked and worked quickly. I don't think I could have taken one more day of those fruit flies in the kitchen.
By it's.only.me from NE PA USA
Getting rid of fruit flies. First get a plastic grocery bag. Put the rotting fruit in the bottom of the bag. Set it on the counter fully open at the top with the sides pulled up.
This is so the flies will go down to the bottom of the bag.
Read More...
August 9, 2007
1

found this helpful
Fruit flies were taking over the kitchen because of my wife and I love fruit. She hates them so I used a trick I learned in science class. Put a piece of fruit in the bottom of a glass. Then make a funnel with a piece of paper and put on top.
Read More...
July 4, 2017
0

found this helpful
This is a guide about vinegar and dish soap fruit fly trap. A simple effective fruit fly trap can be made with apple cider vinegar and a few drops of dish soap.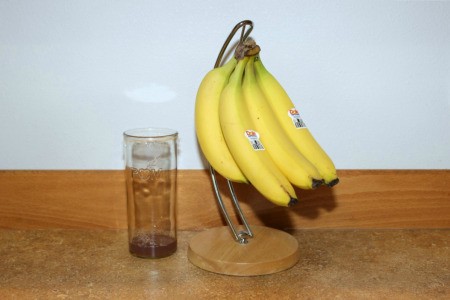 Archives
ThriftyFun is one of the longest running frugal living communities on the Internet. These are archives of older discussions.
October 26, 2009
1

found this helpful
There is an easy and very inexpensive way to rid your home of fruit flies. Simply build a fruit fly trap. All you need to build a fruit fly trap is a banana or two, a knife, some cling wrap or similar plastic wrap, a few rubber bands, and old plastic jars or bowls that can be thrown away after use.
Using an empty mayonnaise jar, plastic butter bowl, or plastic lunch meat container will work. Don't use any container that you want to keep. Be sure the container is deep enough to hold a few slices of banana.

After you have your necessary supplies together, simply slice up the bananas and divide the slices into several containers. Place the cling wrap or other plastic wrapping tightly over the opening of the jar or bowl, and place a rubber band around it to hold it snugly in place.

Using the knife's point, poke a few tiny holes into the plastic wrap. Make them very tiny. The fruit flies can get in, but once in, they can't get out. You now have fruit fly traps that will trap the fruit flies and remove them from your home.

By Sherry from Poulsbo, WA
July 14, 2009
0

found this helpful
It's that time of year when fruit flies can be a problem to get rid of. Recently when an old banana attracted them I had a "light bulb" moment.

Take any kind of container with a lid, place a piece of rotten fruit inside, let sit for awhile, when the flies are inside on fruit put lid on, throw away or take outside to empty. Works every time.

By Peggy from Cortland, Ohio

Answers:
Making a Fruit Fly "Trap"
Another suggestion, that I've had luck with. Take an empty cottage cheese container - punch a small hold, about the size of 1/2 the size of a pencil in the top. In the carton put about 1/4 inch of cider vinegar and about a 1/4 to 1/2 teaspoon of dish soap on top and mix just a little. The vinegar ( like the banana ) calls the flies. They eat the soap with it and drown. Every few days,flush the contents or throw out the whole carton and do a fresh carton. (06/06/2008)

By C. R.
Making a Fruit Fly "Trap"
A small jar with an inch of apple cider vinegar attracts and kills them naturally. (06/06/2008)

By Adele
Making a Fruit Fly "Trap"
I am the star of my whole family with my fruit fly concoction. I found it on ThriftyFun and wasn't sure it would work but tried it because those things were driving me nuts! It's the one with vinegar, sugar and dish soap.
Thanks forever from the bottom of my heart! (06/06/2008)

By Marty Dick
Related Content