I have a large frying pan, and used it to cook on my stove top. I used High heat, and because the pan was larger than the burner, It has caused a large, brown, almost burn like stain around the burner. I have tried over cleaner, and just about everything else I can think of, and still cannot get it off. Does anyone have a suggestion?

RavenSkylar
By Raven Skylar
Ad
---
Recent Answers
Here are the recent answer to this question.

By C-Crespy (Guest Post)01/25/2009
Throw away all of your old products! The best thing on the market for all of the stains listed above is Bar Keepers Friend. Once you've used it, you'll never go back! The only item on the site that Consumer Reports listed as a comparison to this product was Mr. Clean and they both ranked #1.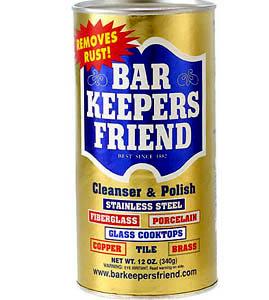 By jim (Guest Post)10/13/2008
Baking soda and water.

By (Guest Post)07/18/2007
I suspect the amt of brown stain on the stovetop has to do with the type of cooking pot we're using--so far I've found the worst is stainless steel with copper bottom and I'm sending this one to Goodwill. Any other ideas about which pots are good and which bad? Calphalon? Stainless steel?

By mandy (Guest Post)12/19/2006
try using Comet or Dutch Cleanser or a powdered cleaner such as these, I have used these for years, they will also take out minor scratches.

By kim (Guest Post)12/19/2006
making a paste from baking soda and water works. Let it soak, re-wet and scrub the daylights out of it. I got most of mine off. I used Mr. Clean magic sponge, too and it took some off. hope this helps :)

By (Guest Post)12/19/2006
same problem. i'm trying baking soda and water paste and letting it soak. will let you know the results.

By Mehr (Guest Post)10/03/2005
I accidentally left a brown candle on the ledge of my stove, which is made of some type of metal, while it was still warm. When I removed it, there was a brown discoloration on the stove as if the stove had absorbed the color. I have tried all sorts of remedies to remove it, but it seems to be permanently set in. Does anyone have suggestions?

By Trix (Guest Post)05/02/2005
I haven't tried this, but a friend of mine cleans her stove tops (with ugly black and brown marks) with one of those Mr. Clean magic sponges (try the two sided one with a scrubbing side).
If that doesn't work, try using washing soda. You can find it in the laundry detergent section of your grocery store. It works like baking soda, only it's a much more powerful base (I wear gloves when I clean with it) and I've used it to clean tons of stubborn marks with success.

By Heather, Illinois (Guest Post)05/01/2005
I have found that Palmolive Dish and Pot Scrub Super Scrub Gel Paste works wonders. It not only does great on pots and pans, it works very well on my stovetop. Good luck.

By RSocash (Guest Post)05/01/2005
This may be a source of help to you. Brown stains on old china may be removed rubbing a solution of equal parts of vinegar and salt, then rinse. What is the color of your stove top? Is the finish good on it?
Another hint may be wd-40. Look up the uses that WD-40 boasts about. There are some great ideas with the product.

By (Guest Post)05/01/2005
Try fabric softner, let it soak for a few minutes and then rub. This works on tons of cleaning problems

By (Guest Post)05/01/2005
Try using a SOS or Brillo pad. I use them on my stove all the time and they do not hurt the finish.
Answer This Question
Add your voice to the conversation. Click here to answer this question.