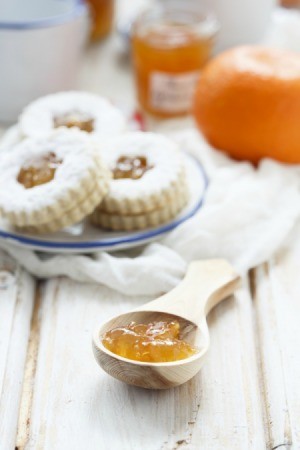 This fruit spread is delicious on bread and toast, and can be used for a variety of recipes. This page contains recipes using marmalade.
Ad
---
Solutions: Recipes Using Marmalade
Read and rate the best solutions below by giving them a "thumbs up".
Ingredients
8 oz. self-raising flour
4 oz. sugar
4 oz. margarine (or apricot jam)
4 oz. marmalade
2 eggs beaten with 4 Tbsp. milk
Directions
Preheat oven to 350 degrees F (180 degrees C). Beat margarine and sugar till creamy. Add marmalade then add other ingredients alternately.
Put in greased or floured 1lb loaf tin. (I use non stick cake tin liners which makes it easy to remove cake, too!) 1.25 hours (less in convection oven)
Source: Might have been a Bero cookbook recipe but I can't remember!
By Skinnyjinny from Scotland
Ingredients
2 Tbsp. butter, softened
3/4 cup sugar, divided
1/4 cup flour
4 eggs, separated
1 cup milk
1/4 cup orange juice
1/4 cup lemon juice, divided
1 1/2 tsp. grated orange peel
1/3 cup orange marmalade, warmed
Directions
In a small mixing bowl, beat butter and 1/2 cup sugar until crumbly. Beat in flour and egg yolks until smooth. Gradually beat in the milk, orange juice, 2 Tbsp. lemon juice and orange peel. In another small mixing bowl, beat egg whites on high speed until soft peaks form. Add the remaining sugar; beat until stiff peaks form. Gently fold into orange mixture. Pour into eight 6 oz. custard cups thoroughly coated with nonstick cooking spray. Place cups in two 9x13 inch baking pans; add 1 inch of boiling water to pans.
Bake at 325 degrees F for 25-30 minutes or until a knife inserted near the center comes out clean and tops are golden brown. Run a knife around the edges; carefully invert cakes onto dessert plates. Combine marmalade and remaining lemon juice; drizzle over warm cakes.
By Robin from Washington, IA
Give a "thumbs up" to the solution that worked the best! Do you have a better solution? Click here to share it!
Questions
Here are questions related to Recipes Using Marmalade.
Any ideas for using orange marmalade? I bought a pint jar of orange marmalade for a specific recipe which we decided we didn't like. I don't really care for marmalade on toast, biscuits, etc. so I wondered if there's other ways I can use it? I haven't tried it on the kids yet and they might like it on toast but if they don't I'd hate for it to go to waste.

Thanks for any recommendations and recipes.

Debbie from IL
AnswerWas this interesting? Yes No
Ad
---
---
Most Recent Answer
By Carol in PA (Guest Post) 07/14/20060 people found this helpful
from www.cakemixdoctor.com :

Orange Marmalade Cake

Serves: 16
Preparation time: 30 minutes
Baking time: 25 to 30 minutes

Cake:
1 package (18.25 ounces) plain yellow cake mix
1 package (3.4 ounces) vanilla instant pudding mix
1 1/3 cups orange juice
3 large eggs
1/2 cup vegetable oil
1 teaspoon pure vanilla extract
1 tablespoon grated orange zest (from one large orange)

Syrup:
3/4 cup orange juice
2 tablespoons granulated sugar

Filling:
1 cup orange marmalade

Frosting:
3/4 cup heavy (whipping) cream
3 tablespoons granulated sugar
3/4 cup sour cream

1. Place a rack in the center of the oven, and preheat the oven to 350 degrees. Lightly grease and flour two 9-inch round cake pans, and set the pans aside. Place a large mixing bowl and beaters in the refrigerator to chill.

2. In a separate large mixing bowl, place the cake mix, pudding mix, orange juice, eggs, oil, vanilla, and orange zest. (Reserve the orange for juicing.) Blend on low speed with an electric mixer until the ingredients are moistened. Increase the mixer speed to medium and blend until they are well combined, 2 minutes more. Divide the batter between the two pans and place the pans in the oven. Bake until the centers spring back when lightly pressed with your finger, 25 to 30 minutes.

3. Meanwhile, prepare the syrup. Cut the reserved orange in half, and squeeze out the juice through a strainer into a measuring cup. Add more carton orange juice as needed to make 3/4 cup. Pour this into a small bowl, and whisk in the sugar. Whisk until the sugar has dissolved, then set this aside. For the filling, place the orange marmalade in a small saucepan and heat over low until it is loose enough to spread, or heat in a glass bowl in the microwave oven.

4. Meanwhile, prepare the frosting. Pour the cream into the chilled bowl. Beat with the cold beaters until soft peaks form, then continue beating on high while adding the sugar. Beat until stiff peaks form. Fold in the sour cream, and place the frosting in the refrigerator.

5. Remove the cake layers from the oven, and place the pans on a rack to cool 5 minutes. Turn the layers out onto the cooling racks, and let cool right-side up for 20 minutes. Poke holes in the top layers with a wooden skewer or chopstick and slowly spoon the orange syrup over the surface. Allow the layers to cool 30 minutes more, or until they are at room temperature.

6. To assemble, place one layer on a cake plate. Spread two-thirds of the marmalade evenly on top. Place the second layer on top. Spoon the remaining marmalade in the center of the cake and spread toward the edge of the cake, leaving a cake border of about 1 1/4 inches. Frost the sides and the top 1 1/4 inches of cake, leaving the marmalade exposed. Place the cake in a cake saver in the refrigerator to store.
---