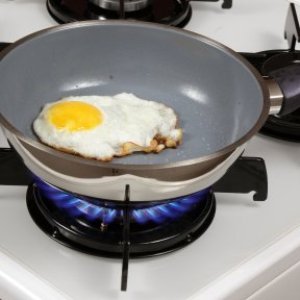 Many of us have Teflon coated cookware. Cleaning these pots, pans, and bakeware must be done with the appropriate cleaners so as not to damage the coating. This is a guide about cleaning Teflon.
Ad
---
Solutions: Cleaning Teflon
Read and rate the best solutions below by giving them a "thumbs up".
How can I clean my scummy Teflon pots and pans? Actually, this is an answer to that question from my mother.
Add 2 tablespoons of baking soda and half a cup liquid bleach to 1 cup of water.
Pour mixture into Teflon pot or pan.
Bring mixture to a simmer (not boiling) for 10 minutes, but no more.
Pour out mixture into sink. Repeat if needed.
By Kenn
Give a "thumbs up" to the solution that worked the best! Do you have a better solution? Click here to share it!
Questions
Here are questions related to Cleaning Teflon.
I was wondering if anyone knows how to clean a teflon coated griddle that has a dark buildup of cooking oil and cooking spray and is very sticky to the touch. I just can't seem to get it off. Also, I used my steam iron to apply a patch to some fusible web and now my iron seems to stick when I try to iron something and will not iron smoothly. I tried some white vinegar on a paper towel while the iron was hot and it helped alittle, but it still drags when I try to iron something. Does anyone have any idea on how to remove this buildup?

By Kathy
AnswerWas this interesting? Yes No
Ad
---
---
Most Recent Answer
By lee leone (Guest Post) 06/07/20080 people found this helpful
I can't find anything about cleaning a clothes iron. It is scorched & I need to get it off in order to iron clothes & not leave a stain. Does that one response of baking soda w/a damp cloth work?
---
Please help! I burned some food in a Teflon coated aluminum saucepan. I think it is FaberWare. The gray Teflon turned black. Is it still safe to use?
By Tashi from Coastal, NC
AnswerWas this interesting? Yes No
Ad
---
---
Most Recent Answer
By Beth [25] 03/01/20110 people found this helpful
Do you mean old fashioned teflon from decades ago or the newer non-stick stuff?
---
How do I clean off the black "baked on crust" on a Teflon pan? The cause of "crust" is not known.
By Jason_bb from Melbourne, Australia
AnswerWas this interesting? Yes No
---
Most Recent Answer
By Maryeileen [76] 10/05/20100 people found this helpful
How do you prevent food from sticking in a Non-Teflon coated frying pan? We have one S.S. pan that we fried scrambled eggs in and they stuck to the bottom of the pan. (I believe we melted butter in it first and then added the eggs.)
---
How do you get rust off of a Teflon coated baking dish?
By Denise from Benecia, CA
AnswerWas this interesting? Yes No
---
Most Recent Answer
By regina [1] 03/15/20100 people found this helpful
My daughter has a rusted pan she lines it with aluminum foil or non stick baking & cooking paper paper before she cooks.
---
My husband burnt grease onto my Teflon pan; any ideas how to get that gunk out? I've tried baking soda and peroxide. Any help would really be appreciated.
By Holly from Lancaster, WI
AnswerWas this interesting? Yes No
---
Most Recent Answer
By Elaine [173] 02/25/20110 people found this helpful
I have used straight ammonia and that seems to work.
---
Archives
Thrifty Fun has been around so long that many of our pages have been reset several times. Archives are older versions of the page and the comments that were provided then.
I have a relatively new Teflon coated baking pan. Hard as I try, I can't completely clean off the slight residue left by the cooked food. I'm afraid to use any abrasive cleanser that would scratch the coating. How should I get the residue off?
Thank you.
Nancy from Pennsylvania
---
RE: How to Clean Teflon
You can buy Teflon-safe scrubby sponges, but I use a scrubby that my sister crocheted out of that netting you buy by the yard in the fabric store. It doesn't scratch the Teflon, and it works as good as an S.O.S. pad! If you don't have anyone that crochets, you can get some of the netting and fold in half at least once and wrap it around a scrub brush and rubber band it on the top. You can also buy those plastic S.O.S. looking pads and those work okay. (06/15/2004)
By Tawnda
RE: How to Clean Teflon
For Nancy in Pennsylvania trying to clean her Teflon. Use baking soda on a damp cloth and rub on the stains. This will take them off and not hurt the Teflon. (06/15/2004)
By Connie.
RE: How to Clean Teflon
I would try straight white vinegar, too. It seems to work well on grease and residue in general. (06/16/2004)
By Anne H.
RE: How to Clean Teflon
Use electric dish washing powder and soak overnight in the solution. Will clean up easy next day. (06/16/2004)
By Jacque
RE: How to Clean Teflon
If you are using a cooking spray (such as PAM) it will leave a sticky residue that is almost impossible to get off. Instead use oil brushed on with a pastry brush. When I first heard this I thought it was dumb, but since I quit using the sprays I have not had to replace any Teflon Pans. Also, Teflon should never be used over anything higher than Medium heat. I don't buy the sprays at all any more. Amazing how much easier it is to wash, not just Teflon, but casserole dishes, pans, etc. Good luck (06/17/2004)
By Ladyvmh.
RE: How to Clean Teflon
Thank you to Connie who said to use baking soda. It worked for me, woo hoo! (04/28/2008)
By kindsey
I have a Jenn-Air gas range, only 3 years old. One side is a Teflon coated griddle. I am unable to remove the black "stuff" that has accumulated in patches on it. The surface has no scratches, it just looks dull and yucky. Any suggestions?
By Joyjoy2 from VA
---
RE: How to Clean Teflon
I too have Jenn-Air range with 6 burners and a Teflon griddle. I cannot for the life of me figure out what will clean this mess. I have tried vinegar, baking soda, Brillo, lemon juice, carbonated soda, Soft Scrub, etc. I've tried everything that I've read on other blogs that are safe and non-abrasive, but still have an ugly mess. I thought about ordering a new one from Jenn-Air, but that would only put me back with the same mess later on down the line. I think I'm just going to find some kind of stainless steel cover for it. If anyone has a solution, please reply! (01/31/2010)
By lagoinlb