I am looking for a liquid dip film. When spread across a wire shape (a circle, oval, triangle, and so forth) it dries to a wafer thin film. I would like to make flowers, etc. I found an old book on how to make them and am really interested.
Can someone assist with what it is that I need to ask for and where I would be able to get it? Regards.
By Lynne from South Africa
Ad
---
By Keeper 58 1,056 11/29/20100 people found this helpful
Lynne, do you have craft stores in S.Africa? If not try "google"f or online craft stores to buy what you want. They'll have a phone number to call or search bar to put in what your looking for. If that doesn't work contact me through TF and I'll try to help more. Good luck.
By Loretta Brenner 1 11/30/20100 people found this helpful
I am also looking for the plastic acrylic. I used to make flowers with it in the 1960's I have been searching for several years but can't find it. Let me know if you have any luck!

Loretta, Conneaut Lake, Pennsylvania USA
By tahlula 4 203 12/15/20100 people found this helpful
I think you want "Dip It Fantasy Film Resin." It is available at clayalley.com. Good luck with your project.
By Lynne 1 1 12/16/20100 people found this helpful
Thanks to all you guys who helped. Tahlula, I think that you have found the correct thing. Keeper60, thanks that was how I found this web site was through googling it. We have some great craft shops in South Africa but unfortunately they are in the big centres and I live in a small coastal town so unless you know what you are looking for it is a bit difficult to order it. Thanks so much for your help.
By snowbird600 1 08/02/20140 people found this helpful
I believe I found what you all are trying to find. It was called Fun Film. I found an old can at a garage sale. No good but bought it anyways to show the label to you all. The company was called Cunningham Art Products, Inc. Stone Mountain, GA 30083
I am including a picture of the can. I remember so well making flowers back in the 60's and early 70's.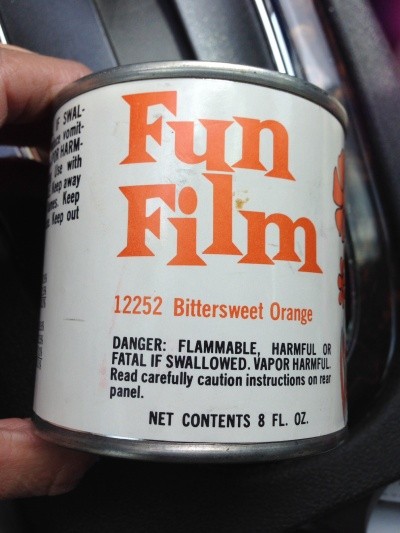 Archives
Thrifty Fun has been around so long that many of our pages have been reset several times. Archives are older versions of the page and the comments that were provided then.
I remember when I was young and did a craft to make flower petals and insect wings. You formed the petals or wings with wire, making sure it was completely closed, and then dipped it into a liquid plastic. The container looked like a small paint can with a pry up lid. I can't remember what this plastic liquid is called, can anyone help?
Mfuncare from MD
---
RE: Liquid Plastic for Crafts
They have kits for this back out in the craft stores now. I forget the name of it too, but I do remember how much it smelled before it dried. I also remember how much fun I had making these flowers. (03/10/2006)
RE: Liquid Plastic for Crafts
I have seen a similar product in the Oriental Trader catalog. I can't think of what they call it. Oriental Trader is a wonderful source for many things, especially if you're buying for groups. And very inexpensive. (03/12/2006)
By Della
RE: Liquid Plastic for Crafts
Try Mod Podge, it's a product found in the craft stores used for decoupage. It comes in satin and high gloss finishes. It may not be the same product you are talking about, but it might serve your purpose. (03/13/2006)
By Claudia from MD
RE: Liquid Plastic for Crafts
I found liquid plastic at Hobby lobby. (09/23/2006)
By Angie
RE: Liquid Plastic for Crafts
The stuff I had growing up was called Fun Film. I am looking for it, too. I want to make more of those lovely flowers to bring back my fun childhood. (09/28/2006)
By Debra
RE: Liquid Plastic for Crafts
I've found Fantasy Film in the UK, but they won't ship it overseas, nor will they let you order it from them unless you have a credit card issued from the UK. I have spent a few hours looking for this product today and about 10 years prior to that. My mother used to make mobiles out of it and I used to poke my fingers through the great colors. Mom wasn't happy about that.
This was back in the 60's, and my guess is there has to be a new product like it, since I also think it was banned due to the carcinogen components. Any help finding this product would be so great. You can see what it is by typing in "fantasy film". Should bring you to a pretty cool site that shows all the neat things you can do with the stuff. Thanks for the help. (11/11/2006)
By Peanut
RE: Liquid Plastic for Crafts
I had an old can of Whimsy Dip from my dad's old crafting supplies from the 60s. It was purple and looked like a little paint can. When you Google Whimsy dip there's a posting from someone talking about how it was pulled off the market due to toxicity and burns. (03/08/2007)
RE: Liquid Plastic for Crafts
In the Netherlands, Belgium and France this liquid varnish is called VITRIFLORE. It comes in various colours, high gloss, and satin. You can order it via a Dutch internet Hobby-Shop. (02/08/2008)
By Elke
RE: Liquid Plastic for Crafts
They have liquid plastic at Hobby Lobby $21.99 for a 16oz. bottle and they have other things that will work that are the same thing that are cheaper. (05/03/2008)
By Ronda
RE: Liquid Plastic for Crafts
In the USA, it was called "Whimsy Dip" it was made by the same brand as Mod Podge. I wasn't alive back then, but I found an ad for it in an old magazine and thought it looked fun. (05/07/2008)
By Jen
RE: Liquid Plastic for Crafts
Just found it on line it is Dip It Fantasy Film. Thank you. Hope this helps. (09/29/2008)
RE: Liquid Plastic for Crafts
I just ordered it here:
clayalley.com
(10/11/2008)
By Yitz
RE: Liquid Plastic for Crafts
Try using Angelina film with wire. This is used for wings, also. You could make flower petals with this and it is non-toxic. The results are amazing. You can do a Google search for "angelina film". (07/16/2009)
By EINNOC
I need that film for making film flowers. I have a dark blue mobile and need to fix it. Can someone advise me as to where I can purchase it?
Chrissy
---
RE: Liquid Plastic for Crafts
I found it! 2010! They now call it "Dip It Fantasy Film Resin" available in all colors at
clayalley.com
Enjoy! (06/30/2010)
By Phranc