I saw a "window table" while I was driving by a yard sale. I found it to be interesting. I don't know how useful it would be other than for decoration. The flat part of the table was an old window with multiple panes in it. The legs were four patio columns which were affixed to the window.
I have some windows I am going to do this with, but I might just use regular lumber for the four legs. I looked at the prices at Lowes for these wooden patio columns, and I would not pay over $100 for four patio columns to do this project, but I am going to tweak it and use something else for the legs of the table.
By Robin F. from TN
August 24, 2011
0

found this helpful
Top Comment
I saw a similar table at a craft store and fell in love with the idea. My thought about less expensive legs is to check yard sales and second hand stores for old tables or chairs with interesting legs and recycle them for this project. Good luck! Donna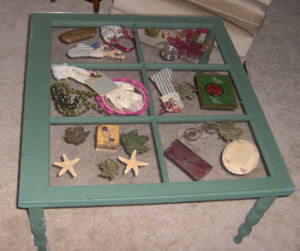 Here is a photo of a coffee table I made out of a window. I left the panes in, put in some old items, then bought a piece of plastic for the top. I bought some legs at a Menard's store.
By Gintoddy37 from IL
May 10, 2006
1

found this helpful
How Creative! Really good job and a nice way to
recycle. We built a greehouse with our old windows
but have a couple around here somewhere. I'm
going to try to make a coffee table too.
Thank you so much for the idea.
All the best,
Julia in Orlando,
FL
May 10, 2006
1

found this helpful
Beautiful great job
May 23, 2006
0

found this helpful
Great Idea! I also found they work great as a picture frame for old family photos or new pictures made to look old using a sepia tone!
June 11, 2006
1

found this helpful
Cool idea for recycling. I really like that. I also like that you can put objects on it and cover them. Thanks for sharing.
May 1, 2007
1

found this helpful
I have also seen this done with a box with hinged "window lid" so you can store your clutter under and still see it.
September 8, 2007
1

found this helpful
What a great idea.... I love it. Could you tell me how you fastened the legs. Thanks Collettee
January 4, 2008
1

found this helpful
Love your recycled coffee table and would love to post on my craftygardeners web site for the members. I will send you the link so you can check it out and I would love to have your permission and membership. My e-mail is jogebczyk@yahoo.com
JoAnn from IL.
June 15, 2008
1

found this helpful
Cool table - love it!
October 22, 2008
1

found this helpful
I have seen many cool coffee tables made out of windows. Here is another cool table which I find from robomargo . For more cool coffee tables, you may see http://www.made-in-china.com/produc ... hot-china-products/Coffee_Table.html . Nice work!

March 28, 2010
1

found this helpful
I did the same thing for our condo in Cabo San Lucas.
I also leave some space and tell our guests/renters that they can add to it if they want.
There is a notebook on it and everyone writes what they added, when and what it meant to them.
I have memories and treasures every time I look at it!
July 21, 2012
1

found this helpful