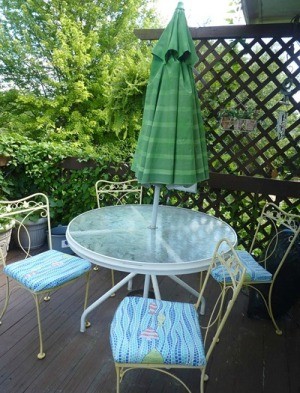 My community has recycling once a month. It is amazing the things you can find that people are throwing out. For example, our deck table needed an umbrella and someone threw one out. It was faded but otherwise in pretty good shape. I decided to spray paint it using an indoor/outdoor paint that is good for wood, metal, and more. I worked perfectly and I have had no problems with the paint running or fading. The umbrella is a little lopsided in the photo but it really isn't crooked!
By LoracMc from IA
Ad
---
By Allison 460 07/09/20100 people found this helpful
What a great idea. I would have thought the paint would crack with the constant opening and closing of the umbrella, but it doesn't seem that way.
By Trudy Shallow 3 21 07/10/20100 people found this helpful
Am I right in assuming you painted the fabric part? What was the brand of paint you used?
By Keeper 58 1,056 07/10/20100 people found this helpful
Great ideas. You also recovered your chairs with vinyl table cloths. I love your ideas. Keep em coming. Thanks for sharing.
By Stacey Silva 54 466 07/10/20100 people found this helpful
Love the deck chairs too, I'm lovin your ideas!
By Lelia Jo Cordell 51 1,936 07/10/20100 people found this helpful
You've just reinforced my view that "one person's trash is another's treasure." And there's one less item in the landfill! Good job!
By Barb 57 07/10/20100 people found this helpful
I loved your chair idea too! I will use this idea very soon since my umbrella is pretty sorry looking! Thanks.
By Barbara 20 121 07/11/20100 people found this helpful
You know, this is a really good idea. I had thought of doing it with my patio umbrella that is faded, but still in good shape. I was wondering if painting it would work but didn't know of anyone trying it yet. Your umbrella gooks new and I bet the paint makes it waterproof. I'm thinking you painted with a type of Rustoleum paint. Thanks for the post.
By Lanette 1 07/31/20110 people found this helpful
Great idea! I am going to try it.
Archives
Thrifty Fun has been around so long that many of our pages have been reset several times. Archives are older versions of the page and the comments that were provided then.
Does anyone know what I can do to improve the look of a faded out patio umbrella? It looks too difficult to recover. Can it be painted?

Kathie from So. Portland, ME
Feedback:
RE: Improving a Faded Patio Umbrella
Depending on the type of material it is, I have seen where people have taken fabric paint and either changed the entire umbrella or added different designs to help improve the looks of it. Even adding things from the craft section of your local store may help. Just because it is faded doesn't mean you can't make it look like it's supposed to be that color! (12/03/2005)