By guest (Guest Post) Flag
January 17, 2007
That looks very pretty,but I had a laugh when I read 'plant chickens in it" I was thinking ;what on earth are ;chickens' no way can she mean what I think..! Now I've seen the pic. I know.
Ellie.
By guest (Guest Post) Flag
January 17, 2007
What a clever idea, thanks for sharing.
January 17, 2007
I would love receiving a gift like this! Phyllis, do you use a special glue to attach the cup and saucer, or just regular household glue like Elmers glue?
By guest (Guest Post) Flag
January 17, 2007
absolutely great!!! I remember in high school, several decades ago, we would take a china cup and saucer and put "oasis" in it and put cut flowers in an arrangement in them...but this is fabulous!! Cheers!!
January 17, 2007
I use a product called Ammazing Goop, All porpose household contact adhesive and sealant. It dries to a waterproof, rubber-like consistency, so it won't break or crack under stress, won't become brittle like super glues.
By guest (Guest Post) Flag
January 17, 2007
Get idea, How do you keep the dirt in the cup from falling out? Where do you find the chicken plant? Never heard of before. Would any other plant work? Thanks for the help. Janet my email is mrse214 AT webtv.net
By guest (Guest Post) Flag
January 17, 2007
What a great idea -- I'm always looking for clever gifts and this is one clever gift!
January 17, 2007
Janet, these chicken plants take very little water,so the plants themselves hold the dirt in. I have not tried anyother plants, a small ground cover plant might work, you might ask at your local garden store, I get my chicken's from my Mom who has them all over her yard, I also have them in my yard that I have gotten from her, they spread so always have new ones to work with. Hope this helps..
January 17, 2007
I have always called these plants Hen and Chicks because the bigger rosette (Hen) always has little baby rosettes (chicks). It is ideal for this craft because it is a drought tolerant, succulent plant that doesn't require a lot of water. It also doesn't require a lot of soil so the little tea cup full of soil is enough for it to survive. I have even had the "Hen" flower, it grows up on a long stalk, but then the Hen dies off and all the chicks start to grow to take its place.
By David M. 1 51 Flag
August 2, 2007
This is what I have done with the saucer from an old plastic post. When I finished planting my hens and chicks I covered the dirt with a light layer of fish aquarium sand. I water them lightly once every two weeks.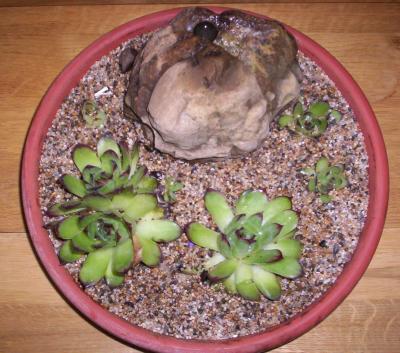 By David M. 1 51 Flag
August 2, 2007
This is what they look like just a short 2 months later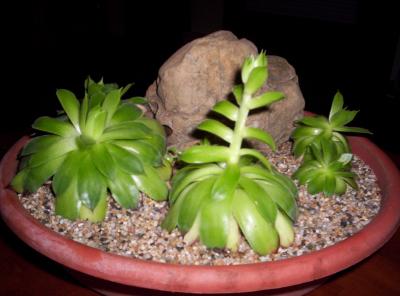 By Catherine 7 153 Flag
September 12, 2015
Hello ! The plant name is Sempervivum tectorum. In France it is called Joubarbe meaning Jupiter's barb. It was supposed to protect from thunder (which was Jupiter's attribute) as early as the Greek and Roman times and it was grown on the top of the thatched roofs of the houses. Its flowers are beautiful too and the crushed leaves cure burns and insects stings.