r on my tan, vinyl couch. I have tried everything under the sun to remove this artwork.I have tried Oops, goofoff, WD-40, magic eraser, 409, Soft Scrub, OxyClean, Lava Soap and rubbing alcohol.

Any more ideas? Help.

Thanks,
Julie
Answers
Please be sure to rate the answer which works best for you. Do you have a better answer? Click above to answer this question.

By Mary E (Guest Post)02/03/2005
Have you tried non-acetone nail polish remover?
I had sharpie marks on antique furniture and the polish remover brought it right off. Just be sure it is NON-ACETONE.
Hope that helps.


By guest (Guest Post)07/20/2005
I have tried nail polish remover, alcohol and hairspray. Any other suggestions?

By djaco138003/20/2005
try a spray at walmart called oops located in the paint aisle

By Rhianna (Guest Post)02/12/2006
My daughter scribbled permanent marker all over my leather car seats. Nothing is working. Can anyine help?



02/07/2005
Try antibacterial hand gel.

By (Guest Post)02/03/2005
Rubbing alcohol or hairspray (it has alcohol in it).

By Bobbi (Guest Post)04/19/2008
I just used the most awesome stuff to take permanent marker off a vinyl folding chair! It's called Goof Off - the Ultimate Remover and is available at Home Depot, Lowe's and most paint stores for about 5.00 a can. It took the marker off without any scrubbing or damage to the chair - good as new!

By Barbie (Guest Post)02/03/2005
Have you tried WD-40 I use it to get marker off of many things but never tried it on vinyl seats but Iused it to get pen off a vinyl purse once.....I think it should work.....

By Lisa (Guest Post)08/21/2005
Acetone....comes is a metal can like paint thinner. This is very strong so test a spot first. I just finished cleaning my husband's boat seats....attack of daughter with a ball point pen. No elbow grease needed. Wash promptly with water and then we conditioned with some "armor all" like you would a car. Acetone can dry things out. (Your hands too.)

By Debbie Curnes (Guest Post)09/23/2007
Comet on a scrub sponge

By nawllinsmama (Guest Post)09/21/2008
Be careful. I tried the coppertone sport sunblock spray as many recommended to remove sharpie marker from my leather car seats. It removed some of the marker but also took off some of the finish on my leather so now I have sharpie marker plus a dull spot. Do not rub too much as I was being gentle and it still took the finish off of my seats. I will have too look for a leather repair person and see if this can be fixed.

By cindy (Guest Post)02/21/2008
You could also try the magic eraser.

By Do dah day (Guest Post)01/17/2006
I'd like to know. Have marker on vinyl sneakers. Bleach didn't work. May try oven cleaner. Knew someone who cleaned tennis shoe soles with same and worked perfectly.

By Anna (Guest Post)12/17/2006
Hi..I read in a women's magazine that BUTTER will get ink and marker off of vinyl and plastic..it says to apply it generously and let it sit for about 45 minutes. The fats in the butter displaces the ink and absorbs it. I tried this trick on my daughters Barbie doll face...after trying everything else to no avail and ...it worked like a charm.
Good Luck

By guest (Guest Post)07/20/2005
try nail polish remover or hairspray.

By -_-Kat_-12/12/2005
Hi
I went to sleep last nght with permanent marker on my arm and it seems to have rubbed off onto a linal cat doll of mine.
How do i get it off?

I have used, clothe stain remover, toothpaste, hair spray, baking soda, & nailpolish remover. none of which have got it off.

Please help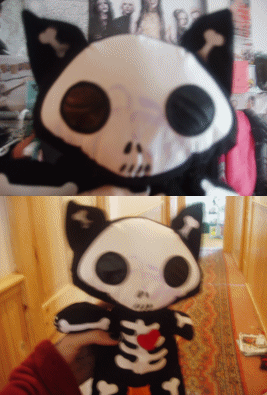 By ThriftyFun05/31/2005
How can you get sharpie marks off plastic or vinyl seats. I have tried several things and nothing seems to be removing them.

bls23 in KY
Answer This Question
Add your voice to the conversation. Click here to answer this question.