I have a John Deere 1500 series lawn mower. I can get it to start but as soon as I start the blades it cuts off. Does anyone know why? I have already checked to see if there is something caught in the blades.
Ad
---
Recent Answers
Here are the recent answer to this question.

By jim [15]04/02/2010
Usually there' a bad safety switch causing the problem. These are usually gray in color and look like a push button. Like the one you can easily see under the seat. Also a bad PTO switch will do this. There even a safety switch attached to the transmission on a JD tractor! See the loose wire?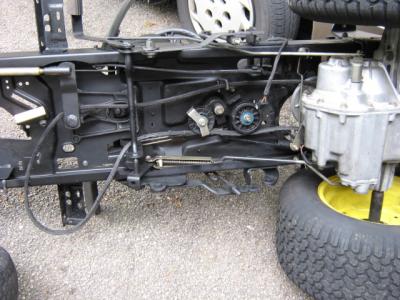 By jean05/29/2009
My husbands guess is to check to make sure the belts are on the pulleys...ot , as the previous person said, the PTO switch.


By Deanj05/26/2009
There are a lot of safety switches. For example when my John Deere is running and I get off the seat the mower automatically stops. I would check to make sure all the saftey connections are connected.

By Myrna [15]05/26/2009
My husband's guess is the PTO switch has a short in it. You may need to replace the switch.
Answer This Question
Add your voice to the conversation. Click here to answer this question.