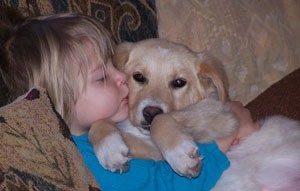 Socks is a 5 month old terrier/golden mix. I just rescued her from the pound the middle of February after receiving a call from a friend that this adorable puppy was going to be put down.

Her favorite thing to do is snuggle and sleep with her chosen owner, my daughter. Socks wasn't expected to live. She was so full of 4 types of worms that she was almost starved to death at only 6 weeks old. The first night we had her she weighed 16 pounds. A month later she weighed 8 pounds, it was all worms. Now, she is a healthy and normal 5 month old puppy.

Socks lets my 4 year old carry her around and sleep on her like a pillow. Wherever my daughter is, you will find Socks at her side. I have no doubt Socks was destined by God to belong to my daughter.

By Yvonne from St. Paul, TX
Ad
---
Feedback Forum
Feedback about this article is posted here. Want to contribute? Click above to post feedback.

By janet from toronto (Guest Post)05/23/2007
i am so happy that Socks is at a better place
God Bless u and yr family for taking her in...
regards and best wishes


By Janice C. [18]05/16/2007
They're both adorable. And it's a wonderful story of how best friends found each other. Thanks for the happy ending.

By Holly [3]05/16/2007
This is so sweet. Lucky Socks ! Please give the puppy kisses for me. Your daughter is a sweetheart also.Thanks for sharing.

By tracy (Guest Post)05/15/2007
I just love a happy ending! they are made for one another..

By Stacey Silva [54]05/15/2007
What a beautiful story!! I'm certainly glad that you found each other! God bless!

By Pat Giles05/15/2007
I would agree that that is a match made in heaven! Give both your daughter and Socks a big hug and kiss for me. God bless you!

By Jennifer [10]05/15/2007
God bless you! Simply adorable.

Jennifer CA

By Carol (Guest Post)05/15/2007
What a beautiful puppy and a great adoption story to go with it. I'm glad the pup found such a good home. PS your daughter looks like a little angel holding the puppy
Post Feedback
Add your voice to the conversation. Click here to share feedback.