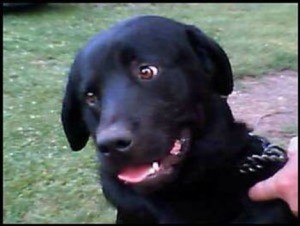 Kane is 5 years old and is a black lab and Rottweiler, rotten lab as I call him. He was orphaned in Ohio, it was either us or death. He likes to sit on me. Kane is a very loving dog and minds like a normal child!

By Deloris from Indiana
Ad
---
Feedback Forum
Feedback about this article is posted here. Want to contribute? Click above to post feedback.

By Ike Solove06/16/2012
I miss my rottlab my neighbor shot and killed him 2006-2011 RIP Boomer Rufus Solove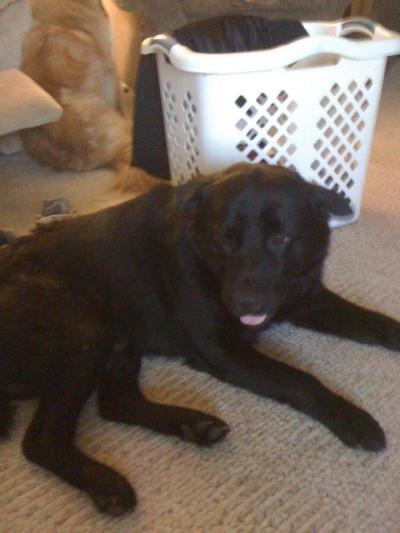 By Nefretiri11/11/2009
I just adopted an 8 week old black lab/rottie mix that I named Zeus and he is adorable! So far so good with the training but he is still a baby with accidents! But, not too many! I hear great things about this mix so I'm keeping my fingers crossed! :)

By shell (Guest Post)01/03/2009
Aww, he's really cute.

By JEFF (Guest Post)12/17/2008
Nice dog. I had to put my rot lab mix dog named Kuma to sleep a week ago. He was 15 years old and the best dog ever. He looked a lot like your dog.

By Hall (Guest Post)12/05/2008
I have a Lab rottweiler mix too her names muff.

By Mandy (Guest Post)10/04/2008
I have a black lab and rott mix she is a great dog. Her name is Snickers shes very energetic. She is 5 months old and loves everyone who will play with.

By Sara Beaudry05/31/2008
Ahh I love the picture of Kane. I m a new owner of a 12 week old Black Lab/rottie, his name is Lucky. He came to our family by chance when we were not looking for a dog, however we are very happy and Lucky he has brought much joy to our lives. Lucky at 7 weeks old.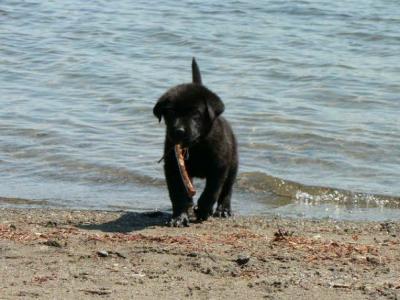 By Elizabeth (Guest Post)05/27/2008
I just got a 6 month old 3/4 Black Lab, 1/4 Rottweiler. It was either me or death. He is just a big lovable baby. I just love him so much! He loves to go for rides in the car! I am glad that I got him! I don't know what I'd do without him!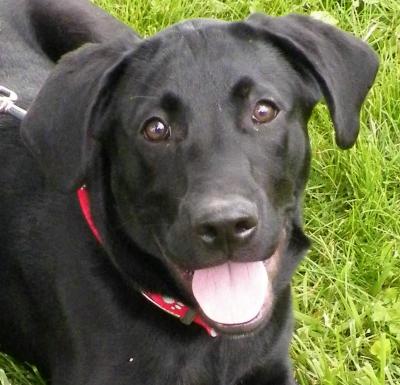 By Kariina04/22/2008
What a beautiful baby! Looks JUST like my black lab/Rottweiler mix. She was the BEST dog I ever had. She was extremely easy to train. She only went potty in the house twice before she learned to go outside. She knew without us teaching her to not dig in the garbage etc. She was just very very smart. We live in the country and never tied her up. She never left home. We all loved her to pieces. She passed away November 30, 2007. We had to have her put down because she got cancer. Something common in big dogs. She was almost 8 years old. Good luck with your new baby! :)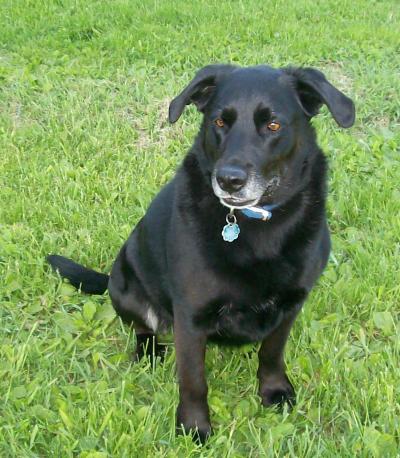 By samaree [3]11/11/2007
What a pretty boy. I hope you spoil him "rotten".

By Little Suzy [93]11/09/2007
Smile Kane, your getting your picture taken.

By Pat Giles11/09/2007
He's a handsome boy! I imagine he's quite a lap-load, isn't he? Give him a big hug and kiss from Goldy's Mom. Thanks for sharing, and God bless you.

By (Guest Post)11/08/2007
Hi! That is so unbelieveable! The love of my life was named Kane and he was half Lab and half Rott (mother)! He grew to weigh 120+ lbs and I absolutely adored him and miss him terribly. He passed on 2 years ago this month, he was 11. I had a beautiful picture of him but I had a hard drive crash and lost all my pictures, but he will forever be in my heart. Good luck with your new baby Kane! Give him a hug for me, okay? Gina in Oklahoma City.

By lavonneann [6]11/08/2007
Beautiful! You are both very lucky.

By Faye (Guest Post)11/08/2007
What a beautiful dog! I had a Rott/Lab mix several years ago and he was the most faithful dog I could have ever asked for. One thing to watch in Kane as he gets older is his hips. We lost our Max because his hips went bad, when he was about 7. I sure do miss him, too....
Enjoy your precious pet!
Post Feedback
Add your voice to the conversation. Click here to share feedback.