Crafts Using Glass Tiles
I have square, clear glass tiles with etched/frosted Celtic circles. The glass is not thick. I would love to do art project with them. Any suggestions? Thanks!
Marie from NYC
By kelly08
Answers: Crafts Using Glass Tiles
Read answers for this question below.
Make a gazing ball. See if the bowling alley will give you an old ball. Clean it off with alcohol to make sure it is very clean. You can then prime if you wish with Zinzer 123 primer or you can leave it be ....depends on what you want to show underneath. For instance, if you have mostly blue tiles, a blue ball would look good. The apply the tiles with silicone clear window and door caulk. I have used GE brand. When you apply the tiles, sit it on top of a metal coffee can or something similar so that you have a base for it while applying the tiles. I would say to do about 1/2 your ball one day, let sit and then do the other side. I have used the glass 1/2 balls and they look great when done. I would think the glass tiles would be even prettier.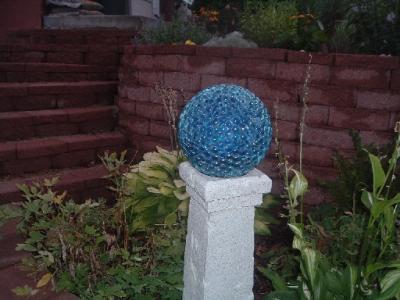 What size are the tile? How about a mobile type sun catcher ? Or ornaments to hang off plants or in windows (if they are 1" or so). I am imagining 1" tiles-- that would be a really cool craft stash!
Drink coasters would look nice and you could paint scenes on them even use stencils as your picture choice.
Answer This Question
Add your voice to the conversation. Click here to answer this question.