Read and rate the best solutions below by giving them a "thumbs up".
Crafts Using Men's Neckties
I am trying to find photos of a rug or quilt made from men's old ties. Will someone mail me a photo and an instruction book? I'm 77 and need a post retirement project. Thanks.
Bill
---
RE: Crafts Using Men's Neckties
There are probably all sorts of different styles but here is how one quilt was made with ties:
http://huntsville.about.com/od/tips/a/silktiequilt.htm
For inspiration there is a photo group at flicker where everything is made with ties. Just click on the particular "tag", like quilt or rug. http://preview.tinyurl.com/3tp97m
This blog is all about things made from ties:
http://sewingwithneckties.blogspot.com/
Good Luck on your project! (12/17/2008)
By Kaelle
---
Crafts Using Men's Neckties
I need patterns to reuse or re-purpose neckties. Thanks.
By C.L.
---
RE: Crafts Using Men's Neckties
I have a an 8 page booklet of "Create a Tie Doll" and also a one page leaflet to make a pet "snake". If you are interested, let me know and I can scan and send via email. Thanks.
Elaine aka myantoo (04/09/2009)
By myantoo
RE: Crafts Using Men's Neckties
I just read about men's silk neckties. If they have an interesting pattern on them you can use them to dye your Easter eggs. They said to wrap your egg in the tie using rubber bands and let them sit in boiling water that has 1 Tablespoon white vinegar added for 20 minutes. This is of course if you can't find any uses for the ties. (04/10/2009)
RE: Crafts Using Men's Neckties
I read somewhere that you could take old silk ties, rip out the seams, iron the tie flat, then piece with another tie prepared the same way and stitch together. Continue the process until you have a nice quilt top or wall hanging. (04/10/2009)
By Dibbs
RE: Crafts Using Men's Neckties
Make a vest out of them. Take your vest pattern, cut it out of polycotton or interfacing, etc. Fabric shop can help with ideas. Then take pieces of the ties and over lay like quilting, many ways to finish them. I have some beautiful vests done with little pieces of special fabrics. Lining should be a plain polyester that can give structure. (04/13/2009)
---
Crafts Using Neck Ties
Use Necktie on a Scarecrow.
Craft tips using old neck ties from the ThriftyFun community.
Watch Washing Instructions And Other Tips
Just a caution for all those gorgeous and lovely ties, be sure whatever you make uses ties with the same washing instructions. It is disastrous to combine washable and non-washable ties in one craft, I learned to my sorrow. Be sure and let any recipients know if the ties CANNOT be washed.
You can make a great windsock with old ties and a tall plastic container. Cut out the bottom, punch holes in the narrowest opening, add the 4 strings (kite string works best) and knot together, add a swivel hook (fishermen know what that is). Fold under the narrow end of each tie and staple. Then using an exterior glue, glue the ties close together around the plastic container, leaving the wide point of each one hanging down for the streamers. Pick matching or coordinating, or go tropical for summer.
By thriftmeg
Chair Back
At a coffee shop once, they had a ladder-back chair seat made of ties. It looked really cool!
By suzi homemaker
Curtains
You could use them as funky tiebacks for curtains, I saw that once on a decorating show and it looked really neat!
Angel and a Snake
You don't have to be too crafty for this angel:
Tie Angel
And this one came from this website:
Sneaky Snake (Made With Men's Ties)
By angelsmom10
Ties Skirt
Many years ago a friend made a skirt of old ties. Surely someone out there has a pattern for it. The wide pointy end was at the bottom of the shirt. Seems like it was about mid-calf length. And very colorful.I think the waistband was about 2 inches wide with a side zipper. And a tie added for a sash. I still have two of my fathers ties. He has been gone for 23 years. I use them to display his tie tacks. Most of which he made.
Christmas Tree Skirt
I saw a Christmas Tree skirt one time. The ties were just tacked together around the base of the tree except for two ties that when they met had hooks on one side and eyes on the other. That way you can undo it later and put it away for next Christmas.
By Susan
Purses And Clothes
I make purses from old neck ties, I have also sewn them on skirts and jeans they are really fun applique on they are on the bias so you can go anywhere. Also cut out the interfacing and press and cut bias strips to bind jacket labels, hems hats etc. (12/01/2006)
By Jackie
Make A Vest
They make beautiful vests, I have seen these on a sewing website several years ago.
By Betty
Necklace
I have seen necklaces made with a tie. You load the tie with a bead then put on a bead that you can see then again put a bead inside of the tie and so on. I have seen these and they very pretty. I don't have the full instructions though.
By sandy63
Use As A Belt
I saw a cute idea in the Family Fun magazine. You make belts with them. It sounds weird, but they are actually really stylish right now. Just look on their website under neck tie belts, and you should be able to find them. Looks really easy too! Good luck!
Use In A Shadowbox Frame
You could take a shadow box frame and use the ties as a border to "frame" pictures of your father with the children. With a shadow box frame, you just use pins, so the ties won't be damaged. You can personalize them by putting in pictures of the kids with their grandpa an make a gift for each of your children. I have to say one of my most beloved and treasured family pictures is my grandparent's engagement picture.
By Carrie029
Snake Door Draft Catcher
Once you make all those wonderful suggestions above, give the cast offs to teachers to make Door Draft Catchers. It's this fast and easy kind of craft that teachers love! My Sunday School class did these for Father's Day. Unstitch the narrow end of the tie and stuff the center with batting or other filler. (Most ties will require reinforcing of the opposite pointed wide.) Stitch it closed! Then take the wide pointed end of the tie and glue on eyes and a felt tongue. Voila`! Instant Snake Door Draft Catcher.
By galoosh
Pillow
Cut about 18 inches from the narrow end of the ties and then use these pieces and weave them in to a square. Cut a square from a piece of material and sew this onto the outer edge of the ties. Fill the inside with stuffing and you have a pillow.
By Selma
Necktie Pillow By Martha Stewart
Martha Stewart featured a decorative pillow using old neckties which looked great. If you're interested, check out her website at
http://www.marthastewart.com
and search on necktie pillow.
By Claudia
Dad's Ties In A Skirt Or As A Memory Quilt
My dad just passed away and he too had a collection of ties. One of the ideas that I had was to make a skirt from the ties. With the rest that we have, we're going to have small quilts made from them that us kids can pass onto our kids.
By Mara
Neck Tie Quilt
My aunt made a fabulous quilt using old ties. She made a "star" pattern in the middle laying the ties in a circle and stitching them together. Then filled in the rest with other ties. She may have cut the ties in half - I can't remember. Good luck - this could be a fun project.
By Pam
Quilt With Matching Pillow My sister made a beautiful quilt from her hubby's ties. A quilted throw pillow cover would be nice too. I'd just sew them together on the sewing machine. They don't have to actually be quilted. Rip the seams. Lay them end to end. Sew on the machine. It will be like a "crazy" quilt pattern, I think. I'm not a quilter or crafter, but I think it would work.
Warm regards!
By Carol in PA
Quilting Patterns For Neckties
There is a quilt pattern called Dresden Plate which you can use to cut and join your ties. Another pattern you might consider is Grandmothers Fan. You don't have to make a quilt, of course, but it's nice to have the patterns for the ideas. There is also a book about making quilts and things from neckties. I think the title is something about "Your father's neckties." I wish I could remember the correct title for you.
By BLINDQUILTER
If you have an idea to share, post it below.
---
RE: Crafts Using Neck Ties
Hi. I am collecting ties to make a quilt. My grandmother made quilts out of ties and they were beautiful. She would open up the ties and put them on a sheet and then the batting and back piece. I am 60 and have had one quilt for many years. My grandmother died when I was 10 so have had it for many years. My husband loves it on the bed because it is so warm and heavy. Barb from Rothbury, Mi (10/03/2007)
By dameemag
RE: Crafts Using Neck Ties
I make chair covers by weaving neck ties. I also make neck tie pins. They are beautiful. (08/05/2008)
By Beverly Nutter
RE: Crafts Using Neck Ties
I make Christmas wreaths out of old neck ties. I make them for the Christmas fair in the 'special needs' center where I work and they sell extremely well. Three ties are platted together then formed into a double ring and stitched by hand. Small ornaments or pine cones and berries can be added at this stage. Try it, it's a great way to use old ties. (11/09/2008)
By Irene H-B
---
Crafts Using Neck Ties
Does anyone have any craft ideas and instructions for reusing or recycling silk ties?
By sumarks from Minneapolis, MN
---
RE: Crafts Using Neck Ties
Make skirts with them. (12/24/2009)
By kffrmw88
---
Crafts Using Neck Ties
I am looking for uses for men's ties.
By Janet from Indianapolis, IN
---
RE: Crafts Using Neck Ties
Wow! I was about to post this neat craft I found before I saw your question. (I was searching for a craft question about Valentine's boxes that I saw a few days ago). Anyway, here's a really pretty bag you can make, called a Neck Tie School Bag (it looks like a clutch purse) at Craftbits.com (I'm a member there, and it's great! There is a growing supply of crafts there!)
God bless you and Happy Valentine's Day! (02/08/2010)
By Erin813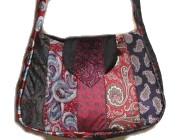 RE: Crafts Using Neck Ties
I've done dyeing the Easter eggs using silk ties. Wrap the egg(s) in silk tie using rubber bands. Boil eggs for hard boiled eggs. The pattern on the tie will be on the egg. And I found that each tie will make 10 eggs. Also, you could make a skirt or a quilt out of ties. (02/14/2010)
RE: Crafts Using Neck Ties
I used to have a book called Daddy's Ties that had a ton of ideas and instructions. Hope you can still find it! (02/15/2010)
By elle1972
RE: Crafts Using Neck Ties
Here's a cute heart pin made from neckties. I would wear it all year long, not just for Valentine's Day. Good luck!
craftstylish.com (02/15/2010)
By Momof1
RE: Crafts Using Neck Ties
Here is a neck tie wreath that was posted a couple of years ago and I absolutely love the idea!
thriftyfun.com
(02/15/2010)
By Deeli
---
Crafts Using Men's Neckties
I am looking for ideas with using neckties. Making angels, etc.