Raid your husband's closet for silk ties he no longer wears and create beautiful silk rose pins from them. You can also purchase them for $1.00 each at Goodwill. Wear them on a blazer, pin on a tote bag or purse, or use to embellish a pillow. The possibilities are endless!
Approximate Time: About 30 minutes
Supplies:
silk tie
hot glue gun and glue sticks
bar pin
ruler
scissors
Instructions:
Beginning at the narrow end of the tie, begin rolling it up, adding a drop of hot glue as you roll. You will want to roll it up about 10-12 inches (that's where the ruler comes in) to create the center of the rose.
Then begin twisting the tie, applying a little glue about every 1.5 inches, and forming it around the center. Your rose will begin to take shape.
Once the flower appears to be the size you want it, trim off the excess leaving about 2 inches to fold to the back. This creates a nice, smooth backing.
Glue down the portion that is folded back, then glue on your pin back. I have also used the entire tie to create a larger flower which I pinned on a pillow (see photo). As you can see, I left the pointed end sticking out from it.
By Rachel's Mom from Wilkesboro, NC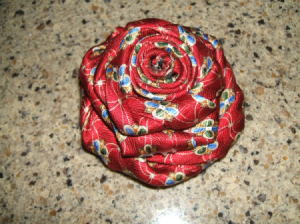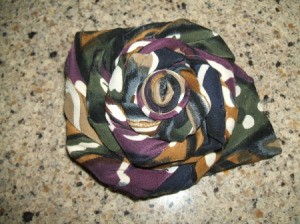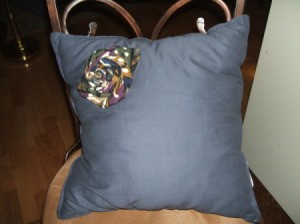 Teri Clark
0

found this helpful

If you have an adult male in your home, you are bound to have a huge array of ties. And if it is anything like at my house, I'll bet that many of those ties go unworn year after year! Don't let those old ties go to waste - instead, create a quick, easy, and adorable snake for your child's stuffed animal collection!
Materials:
Old tie
Polyester Fiberfill
Wire coat hanger
2 googlie eyes
Pipe cleaner
Tools:
Needle and thread
Glue Gun
Scissors
Instructions:
The body of the snake is first:
Unbend the wire coat hanger so that you have a long, relatively straight piece of wire. You may need to clip off the hooked end of the coat hanger if you can't get it undone.
Lay the tie on a table, face down. You will see that the tie is hollow. Start pushing fiberfill into the hollow of the tie starting at the wide end.
As you get more fiberfill into the tie, you will need to push it down to the other end using the straightened out coat hanger. Be sure to fill the entire tie with fiberfill.
Once the entire tie is filled, thread the coat hanger into the tie. This will allow your snake to be twisted and posed.

Now it is time to create the head and the tail:

The wide end of the tie has a lining. Pull the lining away from the tie and stuff this area with fiberfill.
Using your needle and thread, sew the lining edges together so that no fiberfill can leak out.
Repeat STEPS 5 and 6 on the small end of the tie to create a tail.
Using the hot glue gun, glue on two googlie eyes.
Cut your pipe cleaner in half. You will only need one of the halves.
Bend the pipe cleaner half in the middle.
Using the hot glue gun, glue the pipe cleaner on the point of the head to create a tongue.

Once the hot glue is dry, you can coil your snake! My daughter coils hers around her bedpost and it is a great conversation starter when she has friends sleep over!

Additional Ideas: Add dried beans to the tail instead of fiberfill to create a "rattle" snake!

© 2005 ThriftyFun
I am looking for a pattern to use my Dad's ties. If any one can help please let me know.

Lee from Paragould, Ar
February 7, 2008
0

found this helpful
I like the idea of "WEAVING" them back & forth, then sewing the sides (to hold then in place) then using them to make or cover a throw pillow... What a wonderful conversation piece for your bed or living room! ... I bet you could also make woven ties into square chair pads or even sew a table runner from ties that are sewn horizontally & every other one changes direction. GOSH! .. I never thought of using ties to decorate with before, but the idea sure is growing on me! ... You know, come to think of it, I wonder if you could put a spring-rod across a doorway (in a teenager's room) & hang ties from it to make a room divider, like we did with beaded curtains! This would work well especially in an older boy's room where beads might be considered to "girly"...
By guest (Guest Post)
Flag
February 11, 2008
0

found this helpful
I saw a chair once, like a ladder back chair with the seat part weaved out of neck ties. All of the chairs in this coffee house were different, so it fit in very well.
May 2, 2008
0

found this helpful
Martha Stewart had a special on using silk ties to dye eggs for Easter. The larger end of the tie can be used to make a holder for your cell phone, even to wear around your neck fashionably.
A family member recently died and left quite a few men's neckties behind. We are looking for a craft or something that can be made from them for his four children. (Please don't suggest the necktie skirts, that idea didn't fly). Maybe something like a picture frame, wreath, or something to hang. Any ideas? This would be for an adult male and 3 older teen girls.
By April from Plattsburg, MO
December 7, 2011
0

found this helpful
I am sure that you will find lots of ideas. You can use old picture frames, and wrap and glue the ties around. You may have to end up 'gluing' the backing to the frame as the fabric will prevent it from closing properly. You would then leave the top open, so the photo can be slid down from the top.
You can make bed or couch pillow covers from the tie fabric. Several ties can be sewn together to make a hanging earring holder. The person then just pins the earrings through the fabric.
There are multiple things I can think of that I would love to have made from ties, and hope you find lots of ideas, and hoping that the family loves them very much!
December 7, 2011
0

found this helpful
I posted a craft on Thrifty Fun showing how to make silk tie rose pins from men's ties. Here's the link and a photo: http://www.thriftyfun.com/tf77898661.tip.html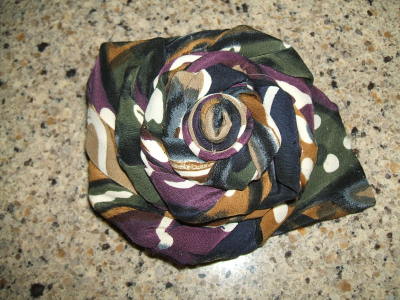 December 7, 2011
0

found this helpful
There is a really cool necktie wreath that someone posted here about three years ago and it doesn't need to be used simply for Christmas or only to hang on the front door. I can't find the instructions for it now but I know it's somewhere in the ThriftyFun archives. Maybe someone else remembers it and knows how to find it? Contact ThriftyFun through their contact button and they should know how to find the original instruction link for it.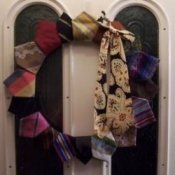 I have a collection of old ties and would like new ideas for using them in sewing or quilting projects.
By Kathy E.
August 24, 2011
0

found this helpful
I used my now retired husband's work tie collection for coffee and tea pot cosies, a Christmas tree skirt, and a stocking for him to hang on Christmas Eve (we're newlyweds, got married last January). You can piece together the ties as they are, or you can open them up, cut them into patches and create a larger piece of fabric. I've done both, have to say that leaving them whole made for a very pretty tree skirt. But the piecing I did on the cosies was very cute too.
August 24, 2011
0

found this helpful
You can make cool wind socks or use as belt ties. Hope this helps.
August 25, 2011
0

found this helpful
Grandmothers Fan quilting pattern lends itself nicely to the use of ties, also dresdan plate. I recently saw where ties were used to cover the shade of a bedside lamp and it looked lovely. I myself am going to try making wind socks with some ties I have collected with a christmas and halloween theme.
I was wondering if you wash the men's ties before cutting and sewing them together? If so, do you use hot or cool water and do you put them in the dryer? What other process would you go through before cutting them into strips or what ever design you choose?
By Carol F. from Mesa, AZ
September 16, 2012
0

found this helpful
I would go by if they had been cleaned and never worn again. Many years ago my late aunt made a gorgeous quilt out of men's ties. I don't know if she washed them or not, but I know if she did, it was by hand and at that time she didn't have a dryer. She also ironed them.
All she used was the wide front part of the tie and in the sewing process she laid one tie one way, and then the one beside it she laid that one so that the wide part of it was next to the narrowest part of the first tie, that way she kept the shape of the quilt in a square shape, when she got the quilt the size she wanted it, she feather stitched around each piece in varigated colored thread. For the backing she used red satin fabric.
September 17, 2012
0

found this helpful
I make tie skirts from ties that people give me, and ties that I buy in thrift stores. Since I don't know how clean they are, I hand wash them in detergent and warm water by soaking them in small batches for a half hour in a basin, then rinsing until the water is clear.
I usually fill the basin for rinsing and empty it about 3 times. Then I take the dripping wet ties and finger smooth them and drape them over something where they can drip and air dry. The horizontal grab bar in my tub works well for this. When dry, I press with a press cloth if needed, then sew. Most of the time, the weight of the water pulls then smooth enough, especially if there is polyester in the fabric. Have completed 12 skirts to date, some to wear and some for gifts. Hope this helps.
September 24, 2012
0

found this helpful
Always check the fiber content of the tie; some are silk some polyester, etc. wash in cold if possible and line dry. some fabrics may stretch when washed. Good luck!