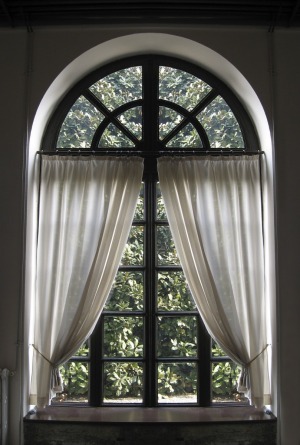 Questions
Here are questions related to Making a Curtain for an Arched Window.
Turning to my ThriftyFun friends again! I am moving to house with a rectangular window that has an arched top. I'm wanting to cover the whole window, not just a portion where the window is arched. The window is at the front of the house so nothing ugly.
This is a bedroom for a night worker who is sleeping in the day. I have black out drapes for the window, but I'm wanting to put up blinds in addition. I can't afford custom made blinds. Can you give me any frugal ideas. Thanks
By tx.Betty from TX
---
Most Recent Answer

By susan [33]01/31/2013
They have window roller kits that you can buy, where you add your own fabric and laminate it; of course this would not cover the arch but if you already are using a black out curtain for the whole window that shouldn't be a problem.
Can someone please describe how to make a curtain for an arched window?
By rajeswaran from Manama, Bahrain
---
Most Recent Answer

By Kerry03/21/2010
Hi, here is a link to a pdf file that may be what you are looking for. It is the installation instructions for the Graber arch curtain rod, but it gives details on how to finish the fabric for arch, oval and more.
http://decor.basicq.com/pdf/archedwindowinstallation.pdf
Solutions: Making a Curtain for an Arched Window
Do you have knowledge about this guide topic? Feel free to share a solution!